SBI Kiosk Account is a liberalized KYC account with limitations that provides banking services to people who do not have a lot of documents to create a bank account.
The kiosk banking model was developed by RBI to promote financial inclusion amongst the citizen, especially in the rural areas.
Anyone can open a bank account in the Kiosk branch of the bank using their Aadhaar card but the account will be limited like withdrawal limit of Rs.10,000/- per day, no cheque book facility, etc.
This limitation can be removed if the account holder transfers his/her SBI Kiosk Account to SBI Main branch account.
In this column, we will discuss How to Transfer SBI Kiosk Account to SBI Main Branch Account, documents required, account transfer process, etc.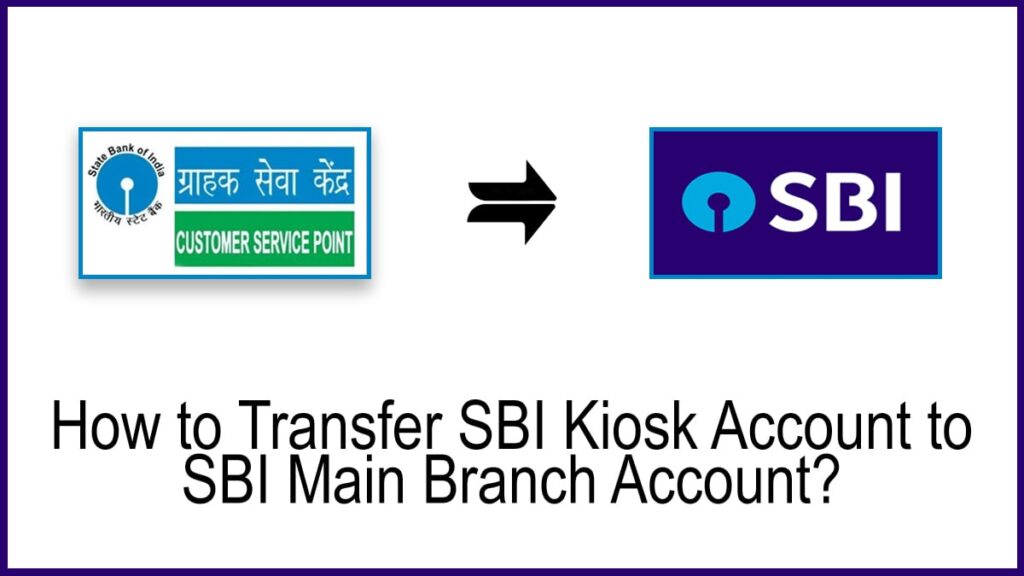 Transfer Process of SBI Kiosk Account to SBI Main branch account
Technically, you cannot transfer your bank account from the SBI Kiosk account to SBI Main branch account. To resolve this problem, you can apply for a new SBI Bank account in the main branch and close the old account.
The following are the process using which you can transfer the SBI Kiosk Bank account to SBI Main branch account-
Visit the SBI Kiosk Bank branch and write a letter stating that you want to close the bank account in the respective kiosk branch and submit the letter to the bank representative
After reviewing the letter, the bank representative will sign and stamp the letter
After that, you have to visit the SBI Main Bank branch with this letter, all the documents mentioned below, and fill the application form
After filling the application form, attach the letter, and documents and submit them to the SBI Main branch representative
He/she will process your application form and documents and on successful verification, your account opening process will begin
After the account has been successfully opened, you'll receive a welcome message stating your account has been opened with the SBI branch
Now, within 7 working days, you'll receive SBI welcome kit which contains SBI Debit Card, Cheque book, passbook, etc.
Your bank account has been opened successfully and you can use an SBI Bank account as usual
You can also open SBI Bank Account online for faster and easy bank account opening.
Documents Required for SBI Main Bank Account
The following are the documents required for opening a bank account in SBI-
Type of Document
Document List
Proof of Address
Credit Card Statement
Salary slip
Income/Wealth Tax Assessment Order
Electricity Bill
Telephone Bill
Bank account statement
Letter from reputed employer
Letter from any recognized public authority
Ration Card
Proof of Identity
Passport
Voter ID card
PAN Card
Govt./Defence ID card
ID cards of reputed employers
Driving Licence
Other Documents
2 Passport Size photograph