Employee Provident Fundco (EPF) is a saving tool for an employee. This tool is managed by equal contribution by both employee and employer so that at the end of the termination period, or at the end of a job change, the employee is provided with a lump sum amount.
5 Ways to Check EPF Account Balance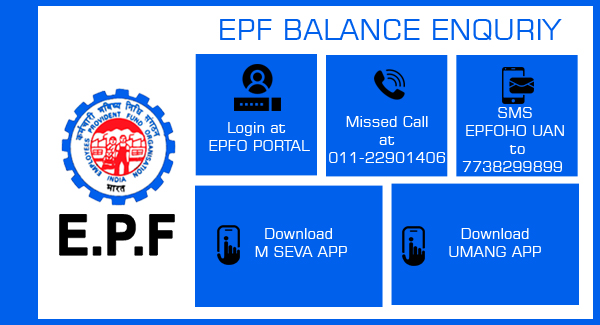 EPF is an important part of an employee's savings and a worker can use it for a number of purposes. The EPF helps in expense planning and also in taking loan against and existing balance. Hence, it is important to check EPF account balance to make an informed fiscal decision. The government o Indfian provides five easy ways to check this balance from the comfort of your homes.
1. EPFO Portal Login/ EPF Passbook Login
An employee can check the EPF account balance on the internet through EPFO Portal Login or through EPF Passbook Login. The facility is only for registered member. Hence, to view the Member Passbook, an employee has to register on the Unified Member Portal. The passbook will be available after a period of 6 hours of registration at Unified Member Portal. Any changes in the credentials will also come into effect after 6 hours. However, to get latest entries, the passbook should be reconciled at the EPFO field offices. The passbook facilities are not provided to Exempted Establishments Members, Settled Members, and Inoperative Members.
The access your account you need to activate your UAN. The UAN is unique to each employee and remains the same irrespective of any work change. The steps to check EPF account balance through PFO portal are as follows:
Log on to the EPFO portal. Go to the tab 'Our Services' and select the option "for employees" from the drop-down menu.
Now, click on the option 'Member Passbook' under the "Services" tab.
A login page will appear. Enter your UAN number and password to check your EPF account.

After logging in, you can check your passbook for each employer at left side as a PDF. In the PDF passbook, there are two columns "Employee Share" and "Employer Share". Total of both side is your EPF balance.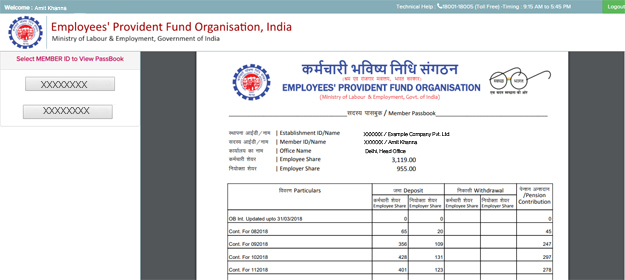 2. EPF Account Balance by SMS
A person can easily find out about the EPF balance through the method of an SMS. However, before sending the SMS, you need to ensure that your UAN (Universal Account Number) is integrated with your KYC details. The KYC details can be updated through bank account details, PAN, or even Aadhar, The SMS can only be received on your registered mobile number and no other phone. The steps to check the EPF account balance through SMS are as follows.
Send an SMS to mobile number 7738299899 with the message "EPFOHO UAN ENG".
Here "ENG" stands for English if you want the message in English language. The SMS service can be received in your preferred language and the choice of language includes English, Hindi, Punjabi, Gujarati, Marathi, Kannada, Telugu, Tamil, Malayalam, and Bengali. You can set your preferred language of communication by using the first three characters of your language of choice. For example, if you want to receive updates in Marathi, then type in "EPFOHO UAN MAR". Here "MAR" stands for Marathi.
(Also refer to "How to Update Mobile Number and Email ID" section, if mobile not registered number / wrong number updated)
3. EPF Account Balance Missed Call Number
A person can find out about his or her EPF balance by giving a missed call from the registered mobile number. However, to avail this facility, the employee must integrate the personal UAN with the KYC details.
The steps to check the EPF account balance through miss call are as follows:
Integrate the UAN with the KYC details
Give a missed call to 011-22901406 from the registered mobile number.
Check the EPF in the message received through an SMS.
4. M Seva App
M Seva App is an online mobile portal for availing the MP Transport Services (Msewa MP). Indian citizens could use this application for a variety of services that include online appointment for Learning License (LL) and Driving License (DL), and online fees payment for the services. The updates on any application are given through SMS notification and email notification. An applicant could also download the form to check the status of the application request. Employees could also use it to check their EPF account balance. The steps for checking the EPF balance are as follows:
In the app, click on "Member" and go to 'Balance/Passbook' section.
Enter your UAN and registered mobile number.
The system verifies your information. If everything is correct, it displays the result of your query, or else, an error message is displayed.
You can download the app here https://play.google.com/store/apps/details?id=converge.transport.m_seva&hl=en_IN
5. UMANG App
UMANG (Unified Mobile Application for New-age Governance) is an initiative of Ministry of Electronics and Information Technology (MeitY) and National e-Governance Division (NeGD). The app is predicted to make e-governance 'mobile first'. Its purpose is to provide a unified platform to Indian citizens so that they avail easy access to the pan-India e-Government services from the various governing bodies through app, web, SMS, and IVR channels. UMANG also provides smooth incorporation with other Digital India Services such as Aadhaar, DigiLocker, and PayGov. Hence, any new initiative by government would be automatically integrated with this unified platform. The app is secure and scalable and supports Aadhaar-based and other authentication mechanisms for access to different services. The encrypted format provides safety to the sensitive profile data.
To check your EPF details from this app the process is as follows:
Go to the UMANG homepage.
Under the heading "Employee Centric Services" access your EPF account details.
Check your EPF account balance.
You can download the app here https://play.google.com/store/apps/details?id=in.gov.umang.negd.g2c
How to Update Mobile Number and Email ID in EPF
If you have changed your email id or mobile phone then it is essential to update them at the EPF portal. The process to update your mobile number and/or email id is as follows:
Related Article- File Complaint against EPF