SBI offers a zero-balance account where an individual account holder does not need to maintain a certain bank balance. You can have zero balance in your bank account and still, no penalty fines will be charged.
If you compare it with an account where you would need to maintain a minimum bank balance, a zero balance account offers much more flexibility which adds to the financial inclusion of an individual.
The best part is that a zero-balance account offers all the banking features that you can expect from a traditional bank account like Net banking, Mobile Banking, SMS, SBI Balance inquiry number, etc.
In this article, we will discuss the entire process of How to Open a Zero Balance Account in SBI, documents required, eligibility, etc.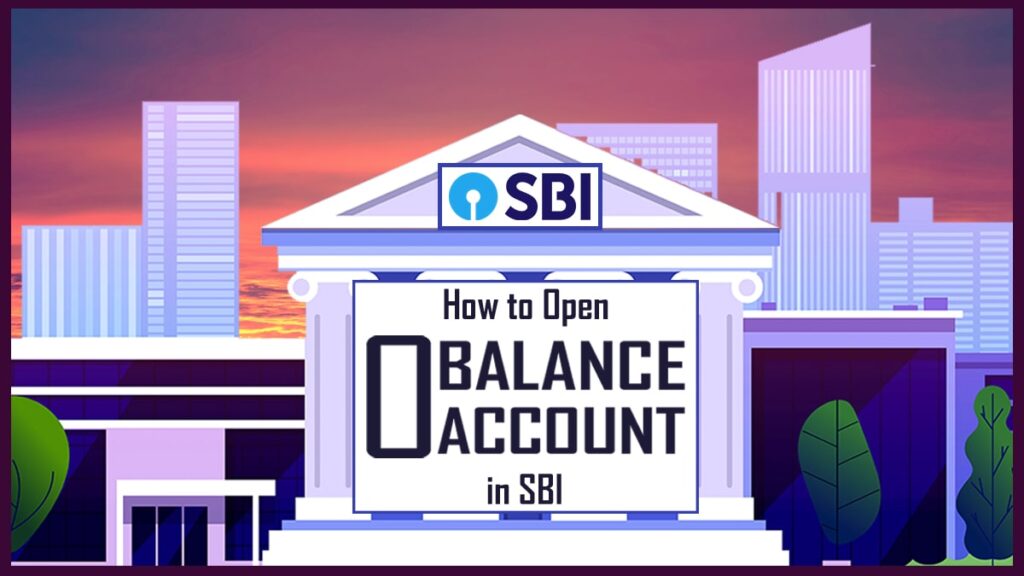 Types of Account offering Zero Maintenance Balance
There are different types of savings account where you can avail zero bank balance feature for the account opening. The following are the type of accounts offering zero maintenance balance-
SBI Basic Savings Bank Deposit Small Account
SBI Basic Savings Bank Deposit
SBI Salary Account (some subcategory offer zero-balance account)
SBI Saving Account For Minor
SBI Savings Plus Account
How to Open Zero Balance Account?
You can open a zero balance account in SBI using both online and offline methods, which are as follows-
Online SBI Zero Bank Account Opening
You can open SBI Bank Account online by visiting the official website of SBI
Now, navigate to the Personal banking tab and click on the savings account that you want to open the bank account from. To open a zero balance account make sure you've chosen the account type from the above list only.
A new page with savings account information appears where you have to click on the Apply now button
Now, you'll be redirected to the account opening form where you've to provide your mobile number and email followed by clicking on the submit button
You'll receive an OTP on your mobile number which you have to enter in the SBI portal
After verifying the OTP, you'll have to enter the PAN Card Number on the next screen followed by ticking the cheque box for FATCA declaration
Now, You have to provide a Proof of Identity and Proof of Address document number in the given space followed by clicking the next button
A form will appear where you have to enter your details like name, date of birth, place of birth, etc.
Now, you have to confirm further details on the next screen like address, resident, mobile number, etc.
Now, the next steps will be about providing nomination and joint account holders details (if any) followed by confirming the details
After confirming the details you'll have to submit the form
After submitting the form, a pdf document will be downloaded.
After downloading, take a printout of the filled account PDF and attach the printout of the documents that you've provided while filling the application form
Submit the document by visiting the bank branch and make sure you are carrying the original documents as well
After submitting the document, your documents will be processed and you'll receive the account opening information via SMS
After confirmation of account opening, you'll receive SBI debit Card, cheque book, and passbook through the post to your address
Offline SBI Zero Balance Account Opening
Offline account opening is a traditional method of account opening. Collect the documents for account opening- 1 Address proof, 1 identity proof, PAN Card, Aadhaar card
Now, visit the SBI Bank branch and request an Account opening form from the bank representative
Now, fill the form with correct details followed by attaching the photocopies of the document
After preparing the document, submit the filled account form to the bank representative
After submitting the form, the bank representative will review your form and further process your account
You'll be notified about account opening once your form is processed
You'll also receive an SBI account starter's kit which includes SBI Debit Card, cheque book, passbook, etc.
Documents Required for Zero Balance Account in SBI
The following are the documents required for opening a zero balance account in SBI-
Address Proof
Aadhaar Card
Voter ID
Passport
Driving License
Utility Bills (electricity, water, gas, mobile, and telephone)
Identity Proof
Voter ID
PAN Card
Aadhaar Card
Passport
ID card issued by central/state government
Driving License
Prerequisites
Passport size photograph
Registered Mobile Number connected with Aadhaar Card
Aadhaar Card and PAN Card linked
It is also important to have the same name on both Aadhaar Card and PAN Card
FAQ on Zero Balance Account
Can I open an account jointly?
Yes. You can open an account jointly with up to three applicants. While filling the application form, you have to mention the other applicant's name as well.
Will KYC documents be required for all account holders?
Yes, all the joint account holders are required to submit the KYC documents.
Can a minor open a Savings Bank account?
Yes, SBI provides special SBI Minor account opening for 10 years or older children.
Can I submit the documents to the branch by email?
No, You cannot submit the KYC documents via email.
Is there a time limit within which I must approach a branch after submitting the information online?
Yes, after filling the online application form, you have to visit the SBI Bank branch with the Application form and KYC documents within 30 days otherwise your application will be canceled.