State Bank of India has recently introduced a new account called SBI 3-in-1 account with using which you can open 3 different types of account in one go. These three accounts are Normal Savings Account, Demat Account, and Trading Account.
In this column, we will discuss what is SBI 3-in-1 account? account opening process, documents required, etc.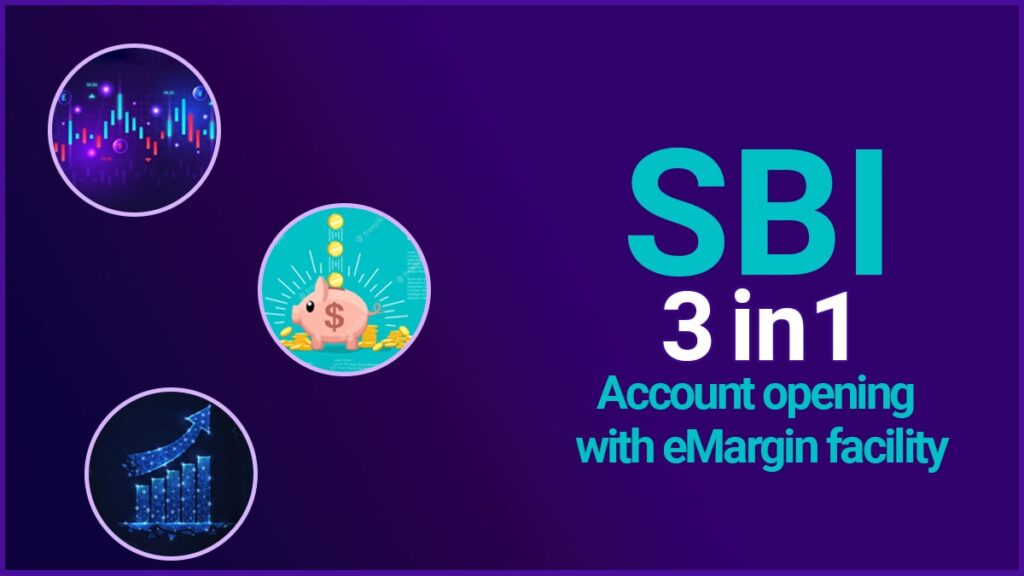 What is SBI 3-in-1 Account?
SBI 3-in-1 account is nothing but a facility to open 3 different types of accounts in one go. The three types of accounts that you get are- Savings Account, Trading Account, and Demat Account.
Earlier, you have to apply for these accounts one by one but with the launch of this account, you can simply apply in one go and all three accounts will be functioning
The best part is that this account is paperless meaning you can apply for this account online but, you also have an offline option where you can visit the bank premises and apply for SBI 3-in-1 account there.
Features of SBI 3-in-1 Account
The following are the features and benefits of SBI 3-in-1 account opening-
Facilitates account opening where you can open 3 accounts with one application
Fully paperless KYC verification, no need to visit the bank branch to enroll
You get eMargin facility for trading as low as 25% and carry forward position up to 30 days using cash or collateral
SBI 3-in-1 Account Opening Process
The following are the account opening process for the SBI 3-in-1 account-
Visit the official website of SBI securities and click on the "Open an Account" button
After clicking on the button, a small form will appear where you have to provide your name, email id, and phone number
An OTP will be sent on your Mobile number which you have to enter in the relevant field followed by clicking on the "Start Registration" button
After verification of the OTP, you have to provide your PAN Card number and Date of birth followed by clicking on the "Proceed to Personal Details" button
Now a partially filled account form will appear and you have to fill the form with correct details with information like Address details, PAN details, and other essential information
Now, in the bank details section, you'll have a choice to open a savings account or you can insert existing savings account details
If you choose a new account you have to provide some additional documents which are mentioned below
In the next step, you have to select the segmentation where you want to trade and choose the plan you want to subscribe to. You can choose the Regular with DigiFree option to open the Demat and Trading Account for free
Now, click on the "Proceed to Document Upload" button
After clicking on the button, you have to upload the documents mentioned below in the relevant section
After uploading the document is completed, click on the Proceed with IPV button where you have to provide the video verification using your mobile cam or PC webcam
An OTP will be displayed on the screen and you have to write the OTP on white paper and show it to the Cam by holding it with your face clearly showing
Now, you'll be redirected to the application form and you have to click on the proceed button to further initiate the verification process
A pop-up will appear which you have to review and click on the "Digitally Sign the KYC PDF Form"
You'll be prompted with a question is your Mobile Number and Email Id is updated in your Aadhaar card or Not, you can proceed further by clicking on the yes button
Now, you'll be redirected towards the NSDL page where you have to enter Aadhaar card number followed by entering the OTP sent on your mobile number
After E-Signing si successfully done, you can click on the Finish button and you'll be notified about the SBI securities account is under verification
After the verification has finished your account will be created with SBI with a Savings account, Trading account, and Demat account
Documents Required for SBI 3-in-1 Account
The following are the documents required for opening an SBI 3-in-1 account-
Savings Bank Account:
PAN or Form 60
Photograph
One of the Officially Valid Documents (OVD) as under:
Passport
Proof of possession of Aadhar
Driving License
Voter ID Card
Job Card issued by MNREGA
Letter issued by National Population Register containing details of name and address
Demat & Trading Account
Passport Size Photograph (One)
Pan Card Copy
Aadhar Card Copy
One Cancelled Cheque Leaf / Latest Bank Statement.