Pradhan Mantri Jan Dhan Yojana (PMJDY) is a Government of India financial inclusion program meant for Indian citizens. The aim of the program is to broaden affordable access to fiscal services like insurance, pensions, credit, remittance, and bank accounts. The program was launched by the Honourable Prime Minister of India, Sri Narendra Modi on 28th August 2014.
A person 10 years of age or above can open a Jan Dhan Yojna account in the State Bank of India with zero balance. However, if you want to avail a checkbook, then you will have to maintain a minimum balance. Once you open an account under PMJDY, you will be provided a RuPay debit card which you can use in any ATM across India to draw out money from your bank. Read the article below to find out how you can check Jan Dhan PM Account Balance in SBI.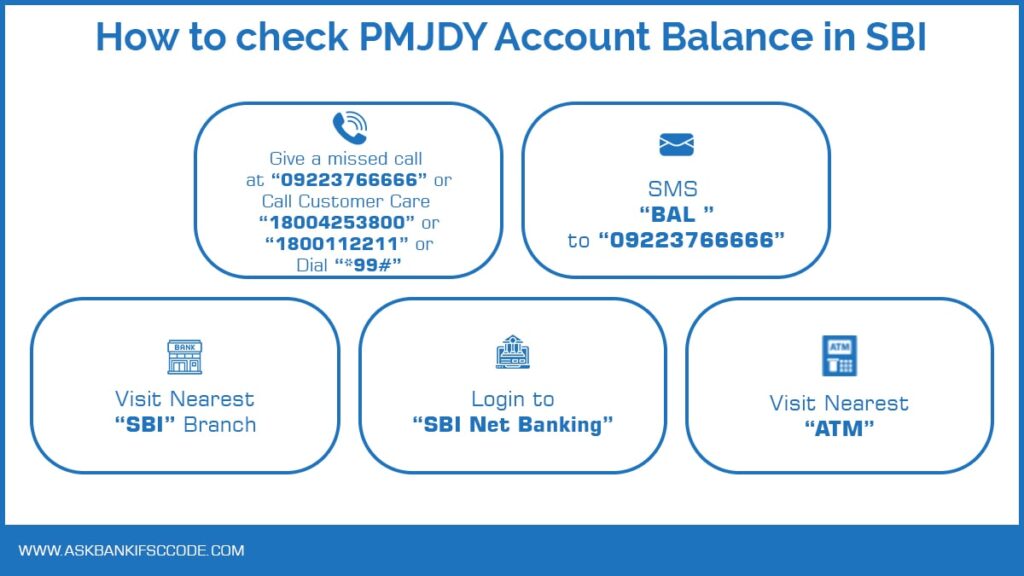 Give a Missed Call on PMJDY Missed Call Number
SBI customers with Pradhan Mantri Jan Dhan Yojana account can receive their account balance inquiry SMS into their mobile number. To get the balance update, PMJDY customers can give a missed call to 09223766666 and the customer will receive an SMS with a balance update.
For availing the service, customers first need to register their mobile number into account. In case your mobile number is not registered for the services, you will still receive an SMS as follows: "Dear Customer, Your mobile number is not registered for this facility, to register for SBI Quick facility, send a SMS REG Account Number to 09223488888".
Check PMJDY Account Balance in SBI through *99#
The *99# MMID service has been initiated by the National Payment Corporation of India (NPCI) for the facility of the Indian banking customers. You need to possess a GSM enabled mobile phone which you need to register with the SBI bank. Now you can check your Jan Dhan Account Balance through the following step.
Dial *99# from your registered mobile number.
A welcome message would be displayed on your cell phone along with a prompt to enter any one of the following details: "SBI" or the first 4 letters of your bank's IFSC code.
After entering any one of the details, press OK. A list of services would be displayed.
The "balance inquiry" option comes in the list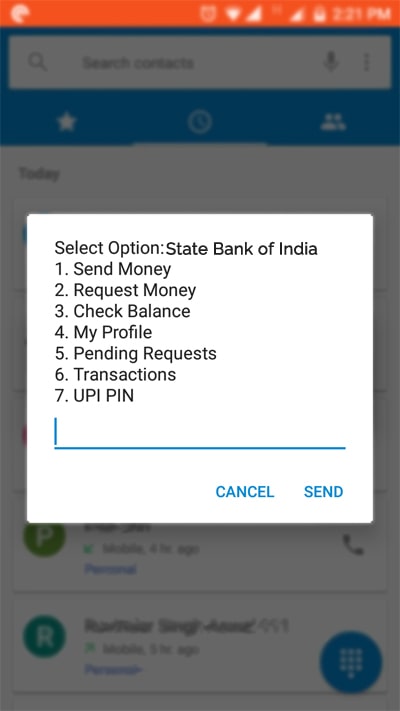 Press the number for the Balance Enquiry and then press submit.
You will receive a confirmation message followed by the present account balance of the PMJDY account.
Check PMJDY Account Balance in SBI through Customer Care Number
The State Bank of India has established two customer care numbers- 18004253800 and 1800112211, wherein you can place a call and know the existing PMJDY account balance. The numbers are toll-free and you can call them up 24X7 and every day of the year.
Check PMJDY Account Balance in SBI through SMS Banking
For getting an updated account balance in SBI PMJDY, customers can send an SMS from their registered mobile number to 09223766666.
Customer simply need to type 'BAL' and send it to 09223766666. For receiving details of last five transaction, customer can type 'MSTMT' and send it to the number above.
Check PMJDY Account Balance in SBI through ATM
Every PMJDY account comes with a RuPay Debit cum ATM card. This ATM card can be used in any ATM machine across India to instantly get your account details. The steps to know your PMJDY account balance are as follows:
Insert your RuPay Debit cum ATM card in the allotted slot in the automated teller machine
Punch in the PIN associated with your ATM card
Select "Balance Enquiry"
The current PMJDY balance would be provided in the form of a paper receipt
You can now end the transaction or opt for another transaction
Check PMJDY Account Balance in SBI through Net Banking
Jan Dhan account user can opt for net banking. The bank would provide you with a user name and password which you can change at a later stage. Once your net banking is live, you can log into the official SBI site onlinesbi.com using your user name and password. On the left-hand side drop down box, select "Account Summary". The names of different accounts associated with the user name would be displayed on the page with the option to know the available balance. Click on the link "Available Balance" to know the current account balance in your PMJDY account.
Check PMJDY Account Balance in SBI through Branch Visit
You can also easily know about your current PMJDY account balance in SBI by visiting the local SBI branch. You can visit the local SBI branch during its working hours with all the essential documents and the bank officials would assist you to update your current PMJDY account.
Was this post helpful?
Let us know if you liked the post. That's the only way we can improve.