What's New-
SBI Has recently launched new toll-free number using which you can find your bank balance. It is an IVR Based number where an automated compute device is used to provide you with the bank balance and last 5 transactions infromation.
The State Bank of India is a responsible multinational public sector bank that provides its customers with several easy and convenient methods to check their account balances from any place and any moment in time. The account balance check facility allows you to keep control of your financial life and plan your monetary investments accordingly.
There are several reasons to place a balance inquiry.
To affirm timely interest payment by the bank in a savings account.
To ascertain that a failed debited amount from an account has been credited back.
To check whether a sender has deposited money in a timely manner and whether that money has been accredited to the account.
To confirm that a particular account has an adequate amount for cheque payments, auto debits, money transfers, etc.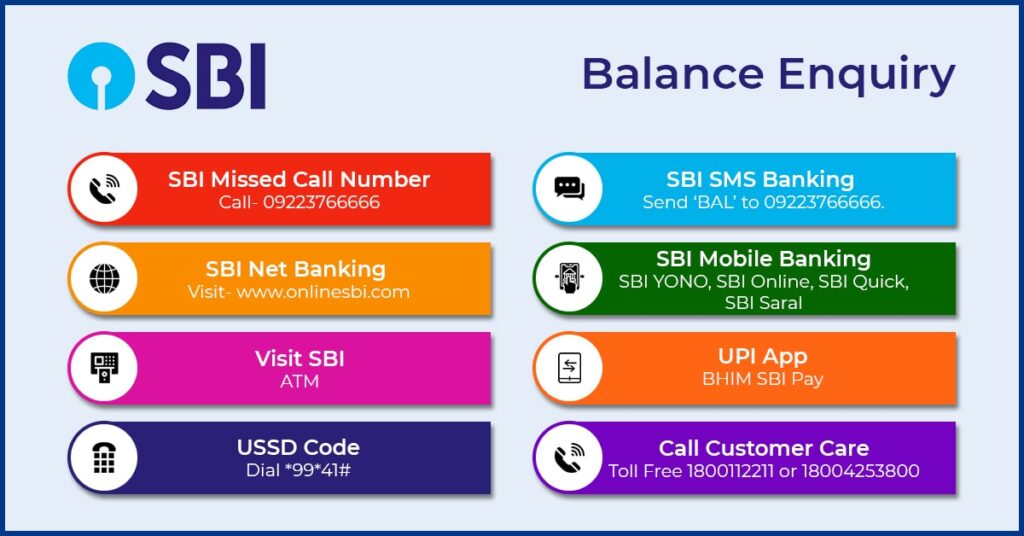 Frequent balance checking also alerts you to unauthorized transactions and allows you to take immediate corrective action. So, make it a point to check your account balance regularly and have total control over your funds.
SBI Balance Inquiry Number 2022
SBI Balance Inquiry Number service or SBI Quick is free to use service provided by the State Bank of India for customer convenience. This number can be used to check the SBI account balance by giving a missed call and getting an SMS notification on your registered mobile number with your bank balance details.
You can use the service by giving a Missed call on the SBI Missed Call Number 09223766666. Your call will get disconnected after a few rings followed by an SMS with the updated account balance. Please note this service could be availed only by the mobile number registered with the SBI account. You can use the below-mentioned method to register your mobile number.
How to Register or De-register Mobile Number with SBI?
It is mandatory for the customers to register their mobile numbers with the bank as per the RBI guidelines. At the time of opening the account, it is mandatory to mention the mobile number in the account opening form. However, you have to activate the missed call balance service on your mobile number by sending an SMS "REG<space>Account Number" to 09223488888, if not registered yet.
If you are already registered and want to de-register in SBI quick, just type 'DREG ' and send it to 09223488888.
SBI Mini Statement Missed Call Number
You can find the last 5 transaction details by giving SBI Mini Statement Missed Call Number at 09223866666 from their registered mobile number. After giving a missed call, you will receive an SMS with your account mini statement.
SBI Balance Inquiry by Toll-Free Number
SBI also has a toll-free number that can be used to find the bank balance of your account. This is an IVR-based balance check number, you'll have to call on this number and follow the command to find out the bank balance. The toll-free IVR number to find the bank balance of your account is as follows-
If you want to check the transaction details of the last 5 transactions made from your side then you can do that as well by following the instructions. The following are the steps to find the bank balance of your account as well as find the last 5 transactions by following the steps-
Dial in the number and first select the language you are comfortable with i.e. English or Hindi
Now, you'll have to press number 1 on your dial pad to find your bank balance. There are other details as well which you can find like debit card hotlisting, etc.
After pressing number 1, your bank balance will be revealed by the IVR System and you'll also receive an SMS with your bank balance details as well.
Now, if you want to find the last 5 transactions as well then you'll have to again press 1 number and the IVR system will list out the last 5 transactions
SBI SMS Banking via SBI SMS Balance Check Number
SBI provides SMS Services that can be used to find the various details related to your bank account. You can check your account balance, get Mini-statement, request Chequebook, and much more.
To get your account balance, you just need to send an SMS. Type 'BAL' and send it to SBI SMS balance check number i.e. 09223766666.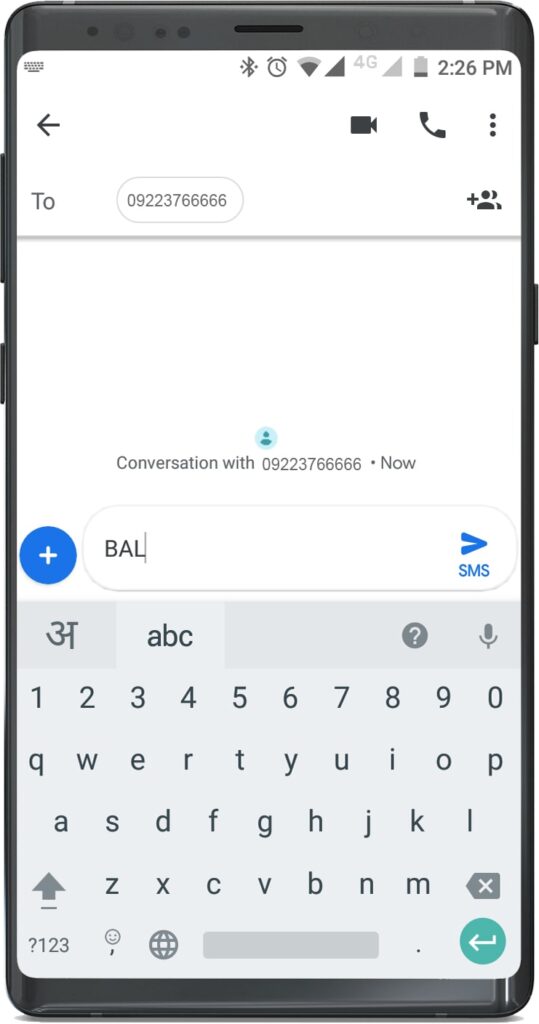 Other popular facilities supported by SMS banking are:
SBI SMS Banking Keywords and Numbers
The statement is received at your registered email id.
*Code could be any 4 digits number you want. This number will be used as a password to open the PDF file received at your email address.
SBI Net Banking
Another easy method to check account balance is through SBI net banking. To avail of this facility, you need to register for the net banking facility with the SBI bank, if not done before.
Once registered, you can visit onlinesbi.com, and use your net banking login id and password to log into your net banking account.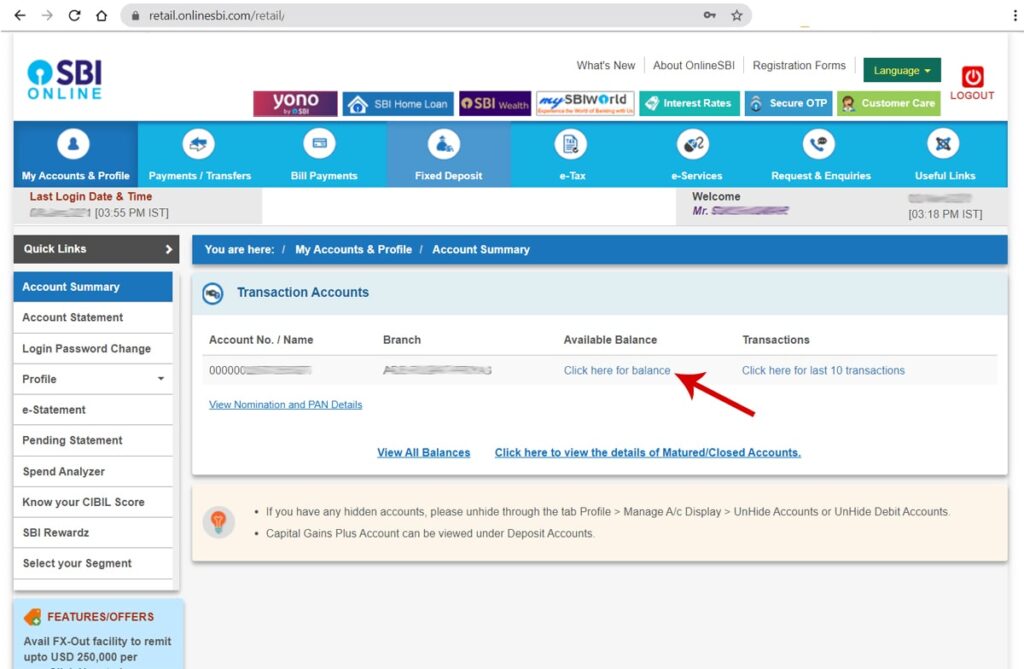 SBI internet banking is a powerful platform. Besides checking for the account balance, you can also engage in other banking activities like fund transfer, opening or closing of fixed/recurring deposits, stopping cheque payment, managing ATM Cards, etc.
SBI Mobile Banking
SBI has a range of mobile banking services wherein you can download different SBI apps (SBI YONO, SBI Online, SBI Quick, and SBI Anywhere Saral) and engage in your preferred banking activity. So, if you have a smartphone then download the app of your choice and easily check the SBI account balance. Read the below-listed steps to know-how.
1. SBI YONO Balance Check
Download SBI YONO app from Play Store App store onto your iOS or Android device.
Log in by using MPIN or net banking credentials.
Enjoy multiple banking facilities like funds transfer, balance inquiry, and checking mini statements and more.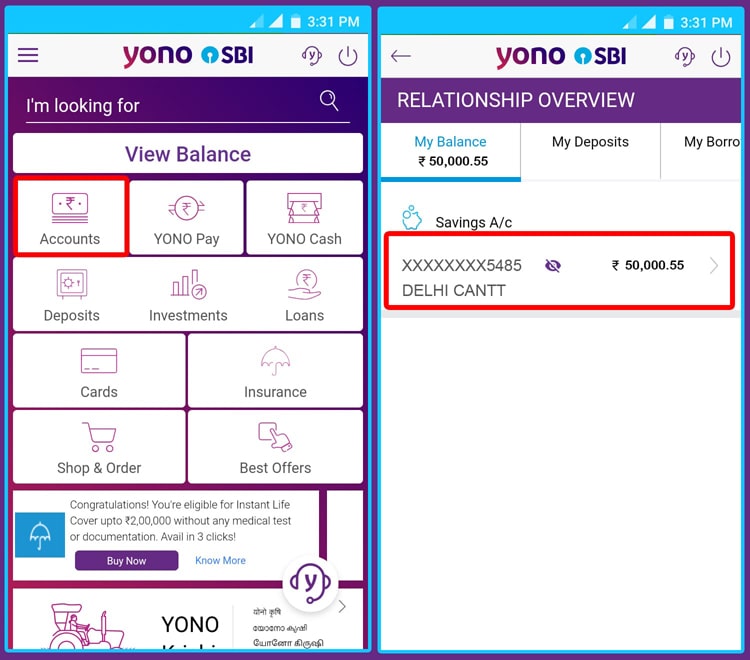 2. SBI Online
SBI online can also be downloaded through a few simple steps at any of the portals and delivers an interface experience much like the desktop website of SBI.
The service allows customers easy smartphone access to varied SBI banking facilities like checking account balances, transferring funds, getting account statements, and others.
3. SBI Quick
SBI Quick is limited to a few specific accounts like cash credit accounts, overdraft accounts, current accounts, and savings accounts. To avail of this facility, you do not require any login ID or password and just need to register your mobile number with the bank. The app does not permit a money transfer facility and you cannot engage in any financial transaction. Moreover, at one time, the app is linked with a single SBI account and if you want to know the account balance in a different account then you need to deregister the first account and register with the second account.
4. SBI Anywhere Saral
SBI Anywhere Saral is meant for corporate SBI customers. Retailers cannot use the app.
Through this app, customers can engage in different banking activities, such as funds transfer, mini account balance, mobile recharge, balance inquiry, and checking of the last 10 transactions.
Note: The steps to check for SBI credit card balance are different and managed by the SBI Card. Hence, to check your balance on your credit card, you would have to download a different mobile app.
Check Through SBI What's app Banking
What's app is a messaging app that almost every person has and now, many businesses are coming into this messaging app to provide customer service.
State Bank of India which is the largest Bank in India also provides customers with What's app Banking services using which you can find your account balance, get a mini-Statement, etc.
How to Find the Bank Balance using the SBI What's app Banking?
You can follow these steps to register your account for What's app Banking-
Open your phone contact and Save the contact number 9004022022
Now, Send a message to the activation number-7208933148 and type WAREG <Space><Account Number>
After sending the message, the bank will notify you about the successful registration of your SBI What's app banking
Now, you'll receive a What's app message from the contact that you saved during the first step
Now, to find out the bank balance of your account you have to type "Hi SBI" and send it as what's app message
Now, you will be replied with various options and you have to choose the first option which says to find the bank balance of your account
Type the number 1 and click on the send. Now, you will receive an OTP on your registered mobile number which you'll have to enter in the reply
After successful replying, you will receive the bank balance of your account in the what's app reply
ATM Visit
In case, there is an internet issue at your place, and you need to know your SBI account balance, then you can also go to the nearest ATM and check the balance through your SBI ATM card. The steps to balance check are as follows:
Swipe the ATM cum Debit card at the assigned place.
Enter the 4-digit ATM PIN.
In the various options given, select the choice "Balance Enquiry".
You will get the statement in physical format through a paper slip.
The ATM facility also allows you several other options like withdrawing money, getting a mini statement, etc. It is not essential to visit just the SBI ATM to know your account balance. You can also avail of this facility through a non-SBI ATM. However, under the latest banking rules, RBI has limited the number of free ATM transactions per card. Since balance inquiry is considered a transaction, hence every time you use your ATM card to check the bank balance, the bank will count it as a valid operation, and this will exhaust the number of free transactions. After this, you will be charged for every new transaction that is carried in the month.
Passbook Update
You can keep a tab on your spending and bank balance by regularly updating your passbook. However, the process is time consuming for you have to visit the bank every time you want to update the passbook. The main reason for its appeal is the lack of a digital system. Today there are still a few people who do not trust digital mode of payment due to security reasons and trust only physical updates carried out in person by the bank officials. An updated passbook shows the records of both credits and debits and this allows easy tracking of any illegal money transaction.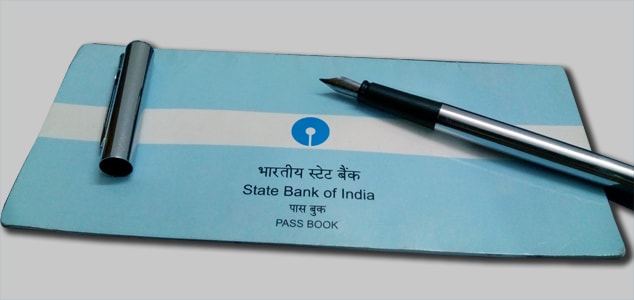 The passbook is issued to the customers at the time they open their State Bank of India account. It can be updated by visiting the local SBI branch during working hours. Passbook could be printed at SBI passbook printing machines.
Branch Visit
Even if you don't want to update your passbook, you can still get to know about your account balance by visiting the local branch. Just place a visit to the bank during its working hours with the required documents for proof of authentication, and the bank officials would update you on the latest balance available in your account.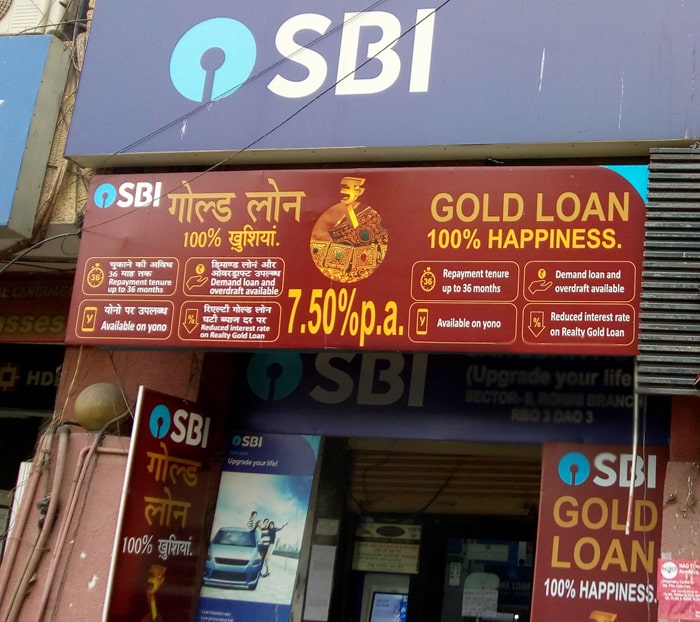 UPI Apps
The State Bank of India (SBI) provides a payment gateway in the form of a Unified Payments Interface (UPI). This facility allows you to receive and send payments through the BHIM SBI pay app. You can download the app onto your smartphone to facilitate the fund transfer process via VPA or a Virtual Payment Address.
VPA offers you a virtual identity through the medium of a virtual ID. It acts as a virtual identifier and has been an initiative of the National Payments Corporation of India NPCI. The Reserve Bank of India (RBI) monitors this payment system. NPCI keeps an eye on all national retail payments to ensure a smooth and effective process of digital transactions through the medium of a mobile application. The SBI users could access this facility in a simple manner by downloading the app 'SBI Pay' on the registered mobile number.
Steps for SBI UPI registration
Step one: Use your smartphone to download SBI UPI app from App Store or Google Play Store.
Step 2: Once the app is downloaded, verify your registered mobile phone through SMS. Make it a point to download this app on the same number which you have used to register with your bank.
Step 3: On receiving the SMS, the app does an automatic verification of the mobile number.
Step 4: Begin the registration process by a single quote virtual address, first name, last name, and email address. Next choose a secret question and remember the answer. Select your bank from the given options.
Step 5: After accepting all terms and conditions hit on the 'Next' button.
Step 6: Select your preferred bank account and click 'Register Now'. Choose a 6-digit password.
Step 7: Submit your debit card details in OTP to set up an mPin. Confirm the mPin.
Step 8: You will receive a registration confirmation message on your registered mobile number.
USSD Service
The USSD or Unstructured Supplementary Service Data is a GSM communication technology that is used for transmitting information between a mobile number and an application program available on the net. If you are an SBI user who has a current or a Savings Bank account, then you are eligible for this facility. To check your account balance through USSD code, simply dial *9999*41# and follow the instructions.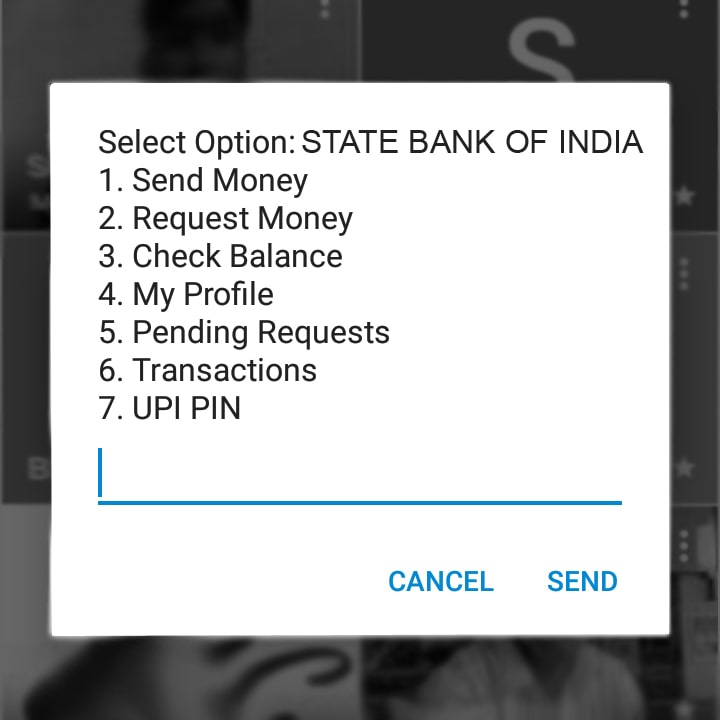 How to Register?
If you are registered for USSD services, you just need to type 'MBSREG' and send it to 09223440000. You will receive User ID and MPIN via SMS.
Other Features
You can use USSD code for other purposes with a simple feature phone only. Other tasks could be done with USSD codes like:
Mobile Recharge
Send/Receive Money
Get Mini-statement
Manage UPI PIN
Call Customer Care
You can call customer care toll free numbers 1800112211 or 18004253800 to get an instant update on your account balance. If calling from out of India, you can dial a toll number +91-80-26599990. Just dial any of the numbers from your registered mobile phone and follow the requisite steps to know your SBI bank balance.
FAQs Related to SBI Balance Inquiry
Q. How to check the SBI account balance via missed call?
Ans. SBI customers can give a missed call at 09223766666 from their registered mobile number for checking their account balance.
Q. How to get SBI to account mini statement via missed call?
Ans. SBI customers can give a missed call at 09223866666 from their registered mobile number for getting their account mini statement with the last 5 transaction details.
Q. How to check if my mobile number is registered for Missed Call Banking?
Ans. You can simply give a missed call at Missed Call Banking number 9223766666 and in case your number is not registered, you will receive an SMS stating that the number is not registered.
Q. I received an SMS: "Dear Customer, Your mobile number is not registered for this facility." How can I register?
Ans. Customers can simply type an SMS e.g. 'REG <Your A/c Number>' and send it to 09223488888.
Q. My number is registered with multiple accounts. Which account balanced will be received on missed calls?
In case you have multiple SBI accounts associated with one mobile number and you give a missed call on the balance inquiry number, then the bank will send a message containing the balance information of all the accounts.
Q. Is an ATM balance inquiry will be counted as a free ATM transaction?
Ans. No. RBI asked banks to not count balance inquiry as a free ATM transaction on 14th Aug 2019.
Q. Can I change my registered mobile number online?
No, you cannot change your mobile number online. You have to submit an application form for your mobile number change along with an identification ID to change your mobile number in your SBI Bank Account.
Was this post helpful?
Let us know if you liked the post. That's the only way we can improve.