State Bank of India is India's largest public sector commercial bank. The foundation of SBI was laid over two centuries ago when the Bank of Calcutta, Bank of Madras and Bank of Bombay was merged to form "Imperial Bank of India" which was named State Bank of India in 1955. The success of SBI in completing the needs of their customer lies in their desire to change and improve in the use of the new age technology. SBI provides one the best customer experience by the use of many different ways.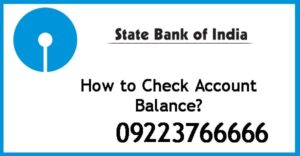 SBI provides Account Balance check by following ways.
Missed Call
SMS
Net banking
SBI Quick App
SBI Missed Call Banking
SBI Missed Call Banking is free service provided by the bank for the convince of the people. This number can be used to check SBI account balance by giving a missed call or get a notification on your registered mobile number.
Just call SBI Missed Call Number-09223766666 and you call will get disconnected after few rings. You will get an SMS with the updated account balance. Please note this service could be availed by mobile number registered in SBI account.
Check Account Balance by SMS (Simply SMS)
Before using this service you need to register your number by sending SMS, 'REG<space>Account Number' to
Send an SMS to  09223488888 
OR
Send an SMS to 5676791.
You can check the following information using SMS service:
Here "XXXX" is the last four digit of SBI CARD
Kind of Information Needed
 Send an SMS 
Balance inquiry
BAL XXXX
Available credit and cash limit
AVAIL XXXX
Block your lost or stolen card
BLOCK XXXX
Last payment status
PAYMENT XXXX
Reward point summary
REWARD XXXX
Subscribe to e-statement
ESTMT XXXX
Request for duplicate statement
DSTMT XXXX MM
(Statement Month in MM)
 SBI Quick App
SBI Quick Mobile App is free and can be downloaded from the app store app. This app does not require any internet connection it works on via SMS or missed call.
SBI QUICK APP- for Apple iTunes
SBI Net Banking
SBI through their internet services provides a net banking facility with many other features. You Can Check SBI Account Balance By Login To SBI Net Banking.
Check SBI Balance by ATM
ATM Machines provides free balance check facilities. You can use it in any bank ATM, all the bank ATM Machines can be used to check the balance.
How to check the balance?
Insert your ATM card into an ATM- Machines will allow you to check your balance for free.
Type in your PIN on the machine- A four-digit number you should have set up when you opened your account.
Select the option to view your balance- You will be able to go back and make a withdrawal or print that balance.
If you are using SBI Debit Card for the first time, you can generate SBI ATM Pin at SBI ATM and then check the account balance at any bank ATM.