SBI offers many options to the customer for transferring money from one SBI account to another SBI account. If you are a customer of SBI and indecently you happen to transfer the fund to another SBI account then it becomes very easy and convenient as the bank facilitates the money transfer. In this article, we will discuss how to transfer money from SBI to SBI account.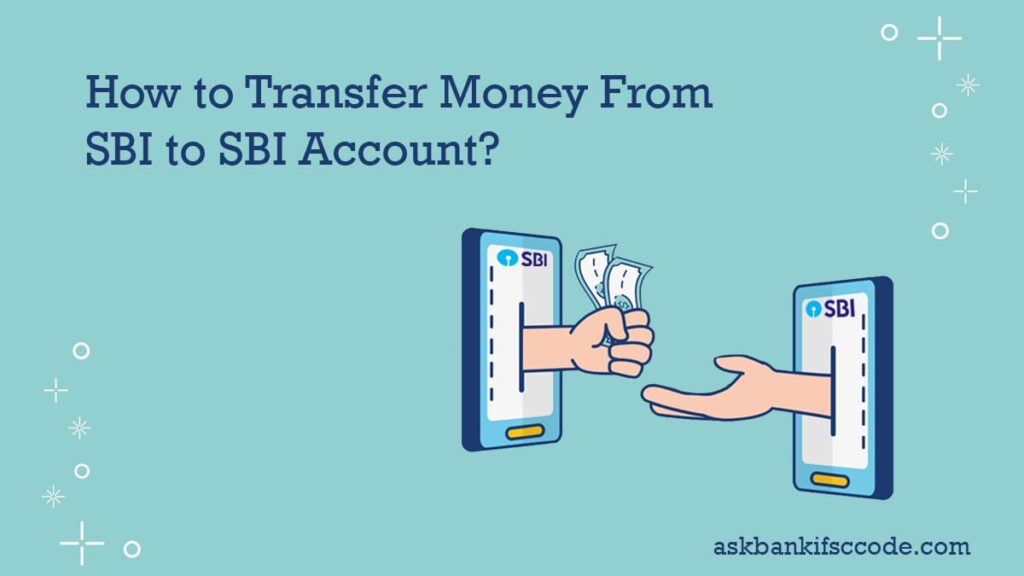 How To Transfer Money From SBI To SBI Account?
Currently, the bank has four options for transferring funds within the SBI banking system which are as follows-
SBI Net Banking
SBI Net Banking is the easiest and fastest way to transfer funds. It helps the customer in using all the banking facilities within the comfort of the home. You can access banking facilities fund transfer, SBI balance check, bill payment, account statements, and much more. You can follow these steps to transfer money from SBI to SBI Account-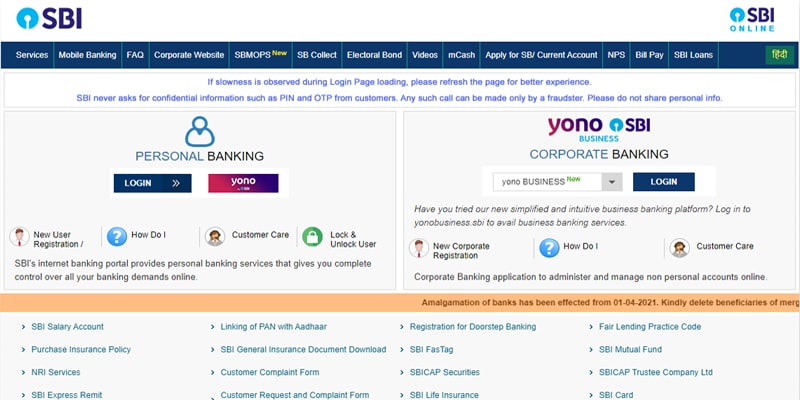 Now login to your internet banking account by using login and password
After logging in, click on the 'Payments/Transfer' tab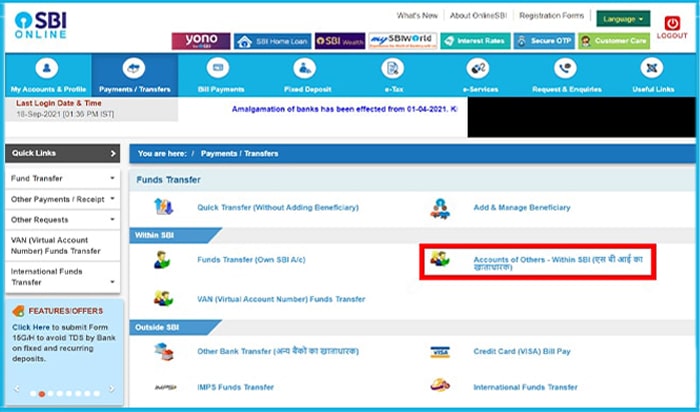 Select the "Account of Others-Within SBI" option from the listed options followed by selecting the type of transactions- NEFT, RTGS, or IMPS
Now, it is important to add beneficiaries before trying to transfer funds. Without adding beneficiaries you cannot transfer funds using net banking
From the beneficiaries list, select the SBI beneficiary you want to transfer funds to and enter the amount you want to transfer

Now, Click on the submit button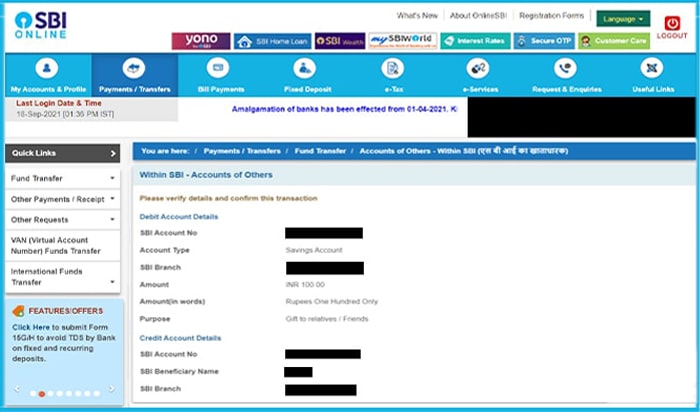 Verify the details before making the payment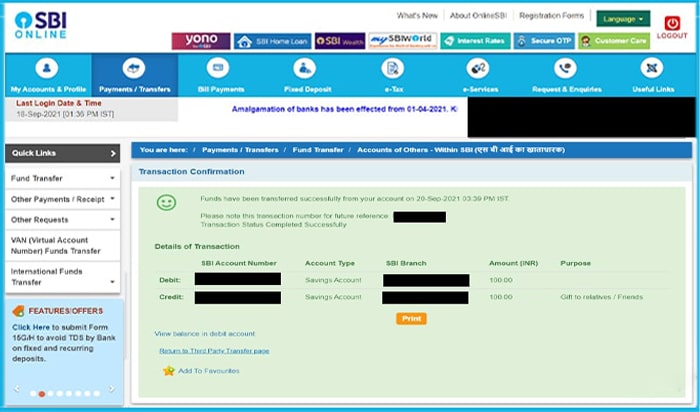 After verification, click on the submit button, and your fund transfer is completed and a successful message will be displayed
SBI NEFT, RTGS, and IMPS charges
The following are the transaction charges for NEFT, RTGS, and IMPS-
IMPS Charges
IMPS is free of any charges but this type of transaction can only be done for an amount, not more than 2 Lakhs.
RTGS Charges
| | |
| --- | --- |
| Transaction Amount | RTGS Charges (excluding GST) |
| Rs. 2 lakhs – Rs. 5 lakhs | Rs. 25 |
| Above Rs. 5 lakhs | Rs. 50 |
NEFT charges
| | |
| --- | --- |
| Transaction Amount | NEFT Charges (excluding GST) |
| Up to Rs 10,000 | Rs. 2 |
| Rs. 10,000 – Rs. 1 lakh | Rs. 5 |
| Rs. Rs. 1 lakh – Rs. 1=2 lakh | Rs. 15 |
| Above Rs. 2 lakhs | Rs. 25 |
SBI Mobile Banking
SBI mobile banking is yet another amazing banking platform service that you can use to transfer funds online within SBi as well as to third-party transfer. You can use the SBI mobile banking by downloading the SBI YONO app which is available for both Android and iOS. Make sure you have activated the mobile banking feature on your account. You can follow these steps to transfer money from SBI to SBI Account-
Open the YONO app and click on the login button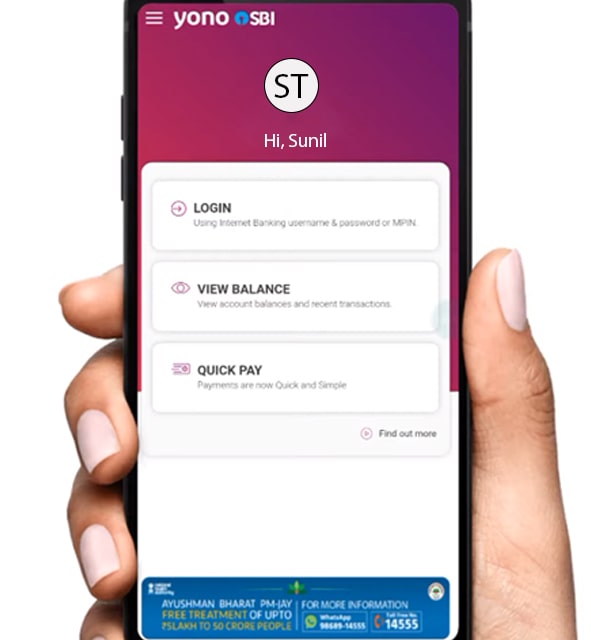 Now, YONO app will automatically pick up your account details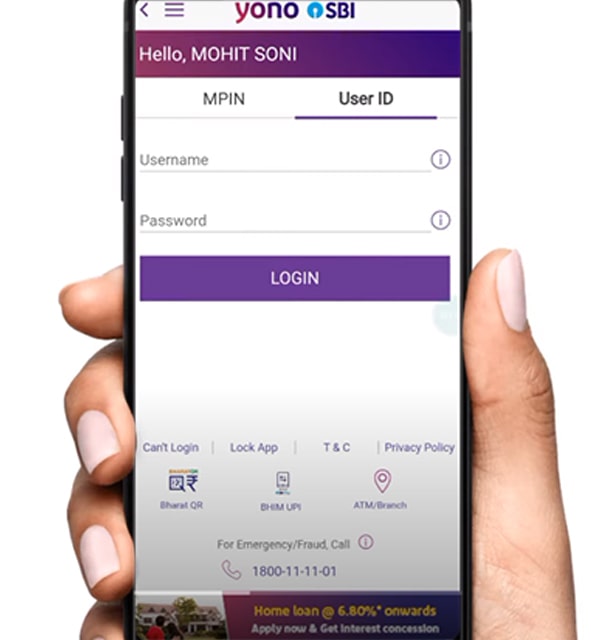 You can log in to the YONO app using MPIN or UserID and Password
After successful login, click on the YONO pay tab to open the fund transfer tab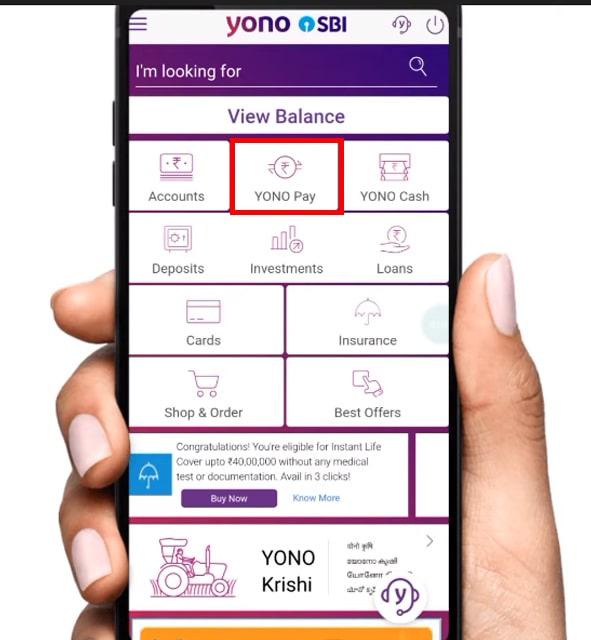 Now, you'll have multiple options to transfer funds-YONO Quick Transfer, BHIM UPI, Bank Account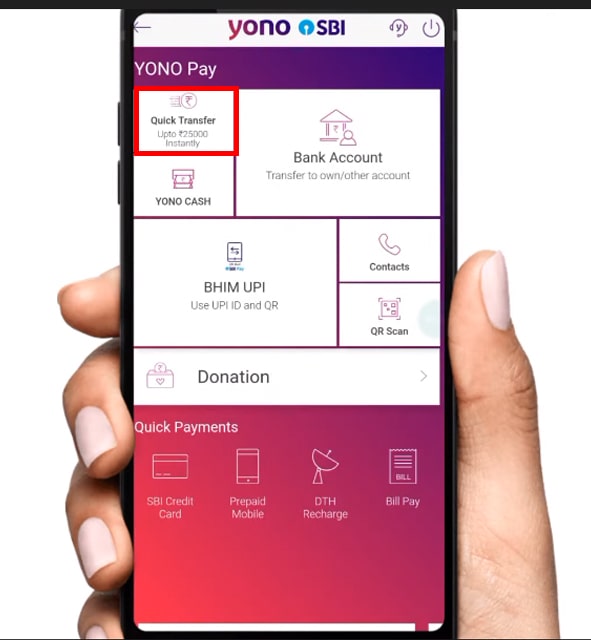 SBI Quick Transfer
You can choose this option if the amount of the payment is less than 25,000/- SBI Quick Transfer has a limit of Rs.25,000/- per day
Click on the SBI Quick transfer tab followed by selecting SBI as beneficiary bank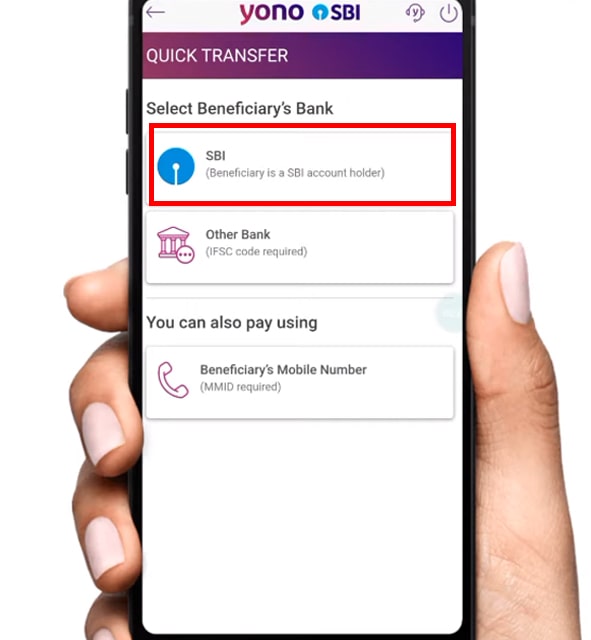 Now you have to either select the existing beneficiary or add the new beneficiary and click the next button
Now, you'll be redirected towards the page where you have to check all the details followed by clicking the next button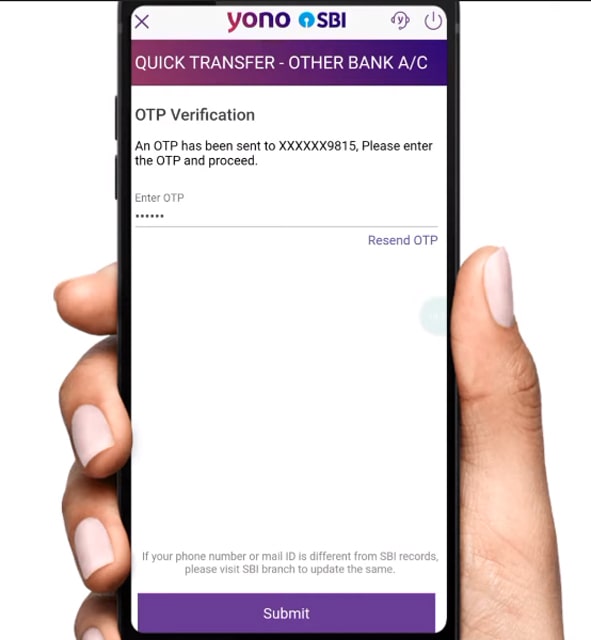 An OTP will be sent to your mobile number which you have to enter in the given field followed by clicking on the submit button
After clicking on the submit button, your payment will be successful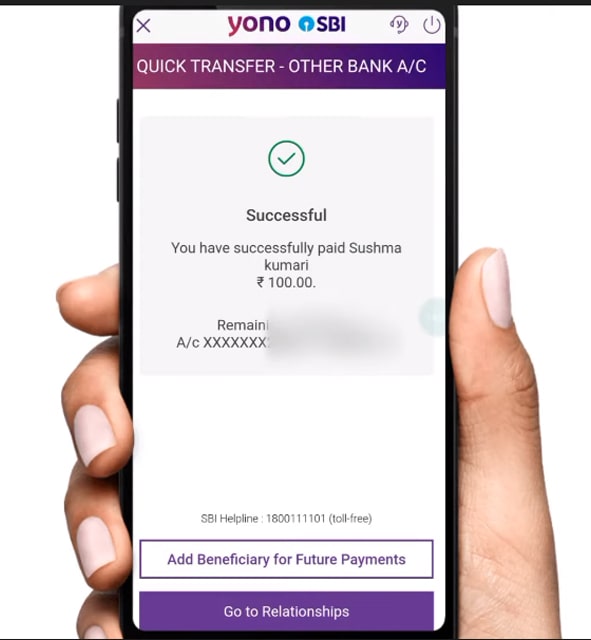 SBI BHIM UPI
You can also use the UPI payment system to transfer funds. Now, the transfer bank account can be an SBI account or a non-SBI account. The process of payment transfer remains the same regardless of the bank.
Related Article- BHIM UPI App- Generate PIN, Reset PIN, Change PIN
SBI ATM to ATM
With SBI Account, you can also transfer funds using your ATM card. You can follow these steps to transfer funds from an SBI account to an SBI account-
Visit the nearest SBI ATM and insert your ATM/Debit card to initiate the fund transfer process
Now, choose the preferred language
Enter your debit card pin and click on the "Yes" button
Now, choose the fund transfer option followed by entering beneficiary details like account number, name, etc.
Choose the type of account Savings account or current account option
Now, enter the amount you want to transfer and click on the correct followed by yes button
Your payment transfer is successful and the amount you want to transfer will be debited to the beneficiary account.
SBI ATM to ATM transfer limit
There is no limit on the number of transactions however, there is a limit of Rs.40,000/- transactions per day.
Was this post helpful?
Let us know if you liked the post. That's the only way we can improve.