NPS or National Pension Scheme is a retirement savings scheme that helps an individual to save funds that he/she can use after retirement.
It is specifically designed to help individuals by providing them with retirement benefits by offering a savings scheme during their working days.
This account acts like a social security account which offers attractive interest rates for the investment.
You can open an NPS Account in various banks and Post offices including Canara Bank which is one of the Government Banks in India.
In this article, we will discuss how to open an NPS account in the Canara Bank? documents required, process, etc.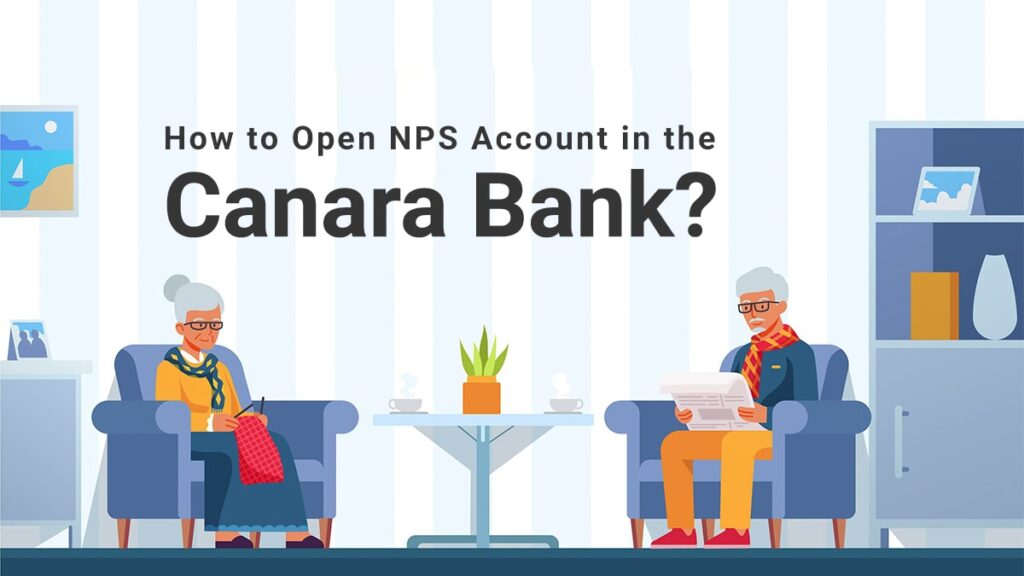 Types of NPS Account
There are two types of NPS Accounts- Tier-I (Compulsory) and Tier-II (Optional). You can opt based on your future goals. The following is the detailed information related to the NPS Account-
| | | |
| --- | --- | --- |
| Type | Tier-I | Tier-II |
| Minimum Contribution Amount | Rs.500/- | Rs.1000/- |
| Maximum Contribution Amount | Not any | Not any |
| Liquidity | Liquefying is allowed after 25 years with a 50% withdrawal limit | Liquify anytime you want |
| Interest Rate Offered (10 years) | 9.57%-10.86% | 9.59%-10.58% |
How to Open NPS Account in the Canara Bank?
NPS account can only be opened in Canara Bank using the offline methods for which you'll have to visit your nearest Canara bank premises. You can follow these steps to open an NPS account in Canara Bank-
Visit the official website of Canara bank NPS and click on the download application for the NPS account followed by taking a printout. Alternatively, you can arrange the application form from the bank premises
Now, visit the bank premises and start the application filling process by providing details like name, address, account number, etc. Also, make sure to select the type of NPS account- Tier-I only or Tier I and II both
After filling out the application form attach the documents mentioned below along with the initial fund deposit amount
Now, submit the documents to the bank representative
The bank representative will process your request and you'll receive the confirmation of the request acceptance
After that, you'll have to wait for at least 5 working days and you'll be notified about the status of the NPS account opening
After receiving the SMS about confirmation along with your NPS account PRAN number. You can also check your NPS account using the Net Banking portal and Mobile Banking app
List of Pension Fund Managers in NPS Account
You can choose from the following list of the pension fund managers to manage your NPS Account-
SBI Pension Funds
LIC Pension Fund
UTI Retirement Solutions
HDFC Pension Fund
ICICI Prudential Pension Fund
Kotak Pension Fund
Reliance Capital Pension Fund
Birla Sun Life Pension Management Ltd.
Indian Post Office
Documents Required for opening NPS account in Canara Bank
The following are the documents required for opening an NPS account in the Bank of Baroda-
Passport
Driving license
Voter's ID card
PAN card
Job card issued by NREGA signed by the State Government officer
Letter issued by the National Population Register containing details of name and address)
For minor PPF accounts, the following are the documents required-
Proof of Date of Birth i.e. Birth Certificate of the Minor
Details of Guardian (Natural/Legal) along with KYC documents
FAQ
Is there any provision for early retirement for the NPS Account?
Premature retirement is allowed under NPS however, the account must have attained at least 10 years and a lump sum amount can be withdrawn up to 20% only and the rest of the amount must go towards purchasing an Annuity scheme.
Is there any tax benefit for NPS Account holders?
Yes, the NPS Account holder gets tax benefits up to Rs.1.5 lakhs also, The NPS account has Exempt-Exempt-Exempt status which means, the maturity amount, principal amount, and interest earned all are tax can be withdrawn tax-free after maturity.
Does NPS offer guaranteed returns?
No, NPS is a market-linked scheme and usually invests in a wide range of bonds and the stock market in India. However, since the investment here is a long-term investment, the potential of your investment to grow is very high, especially in a rapidly growing economy like India.
What will happen in case of the death of the NPS account holder?
In case of the sudden demise of the NPS account holder, the account will be immediately terminated and the amount deposited till that point time will be transferred to the nominee's account.
Was this post helpful?
Let us know if you liked the post. That's the only way we can improve.