For international travelers, financial transactions and currency exchange is something that is a big concern. If you use your domestic debit card for international transactions then you will be charged with heavy fees and exchange rates.
For SBI customers, the bank offers SBI Global Debit card that can be used for international transactions. The charges on this type of card are nominal and you get better service for handling your international transaction.
SBI classic debit card is meant for domestic use only and any international transaction will be charged with heavy fees and taxes. So, instead of using SBI classic debit card, you can use SBI Global Debit Card to do your transactions.
You can easily convert your existing debit card for international transactions by activating the international transactions. There are three ways to activate the SBI Global Debit Card which is as follows-
YONO Mobile App
Internet Banking
SMS
Activate using YONO Mobile App
You can use the following step by step method of activating the SBI Global Debit card using the YONO mobile app-
Open SBI Yono mobile app and sign in using your M-pin
Once logged in, navigate to the Service Request tab followed by Debit/Credit card payments
Now enter your internet banking profile password
A new window will appear, now, if your card is new activation then click on the 'Activate Card' tab and follow the on-screen instructions to activate your SBI card
If you already have an active debit card then you can straightaway click on the "Manage Cards" tab
Now, here you have to select your bank account followed by choosing the debit card
Now click on the drop-down menu "Manage Usage" button followed by enable the international transaction.
Press next and an OTP will be sent to your registered mobile number, enter the OTP and press submit button.
Your SBI Debit Card for International Transaction is now activated
Activate using Internet Banking
You can use the following step by step method of activating the SBI Global Debit card using internet Banking-
Visit the official website of the SBI and log in to your account using your banking credentials
Now, navigate to the e-services tab form the menu and open it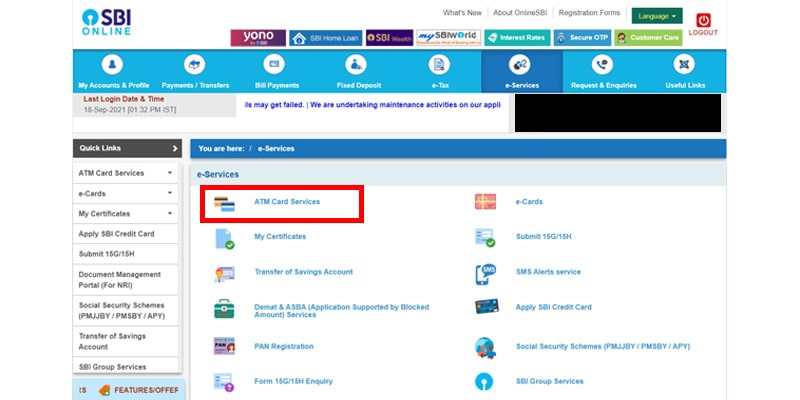 Click on the "ATM Card Limit/Channel/Usage Change" button followed by choosing a debit card, now, press continue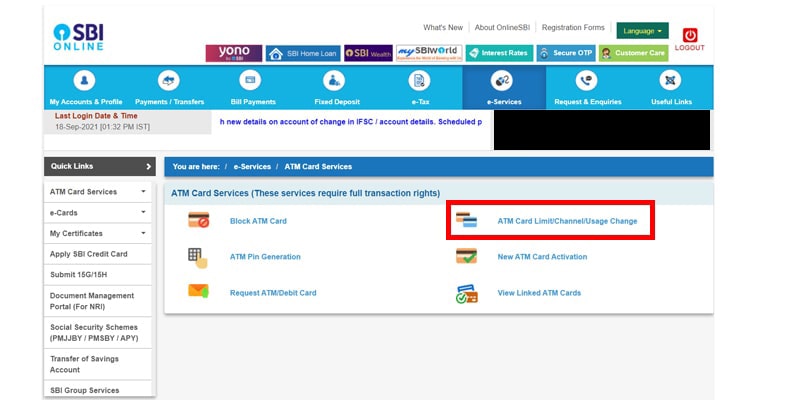 Now, select ATM card Services and click on continue button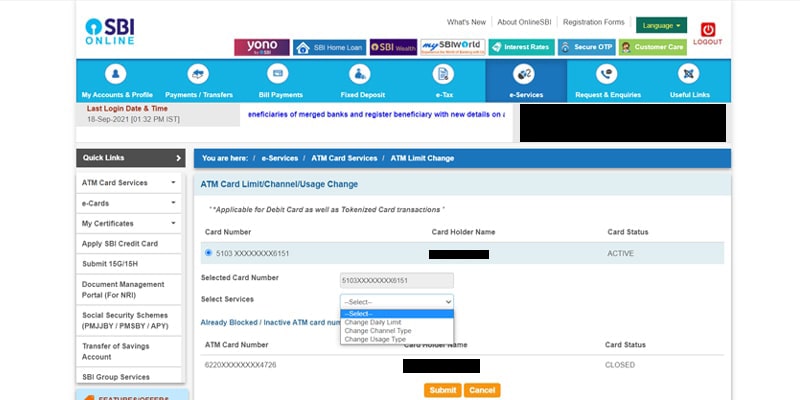 Choose "change usage type" and you'll be redirected to a different page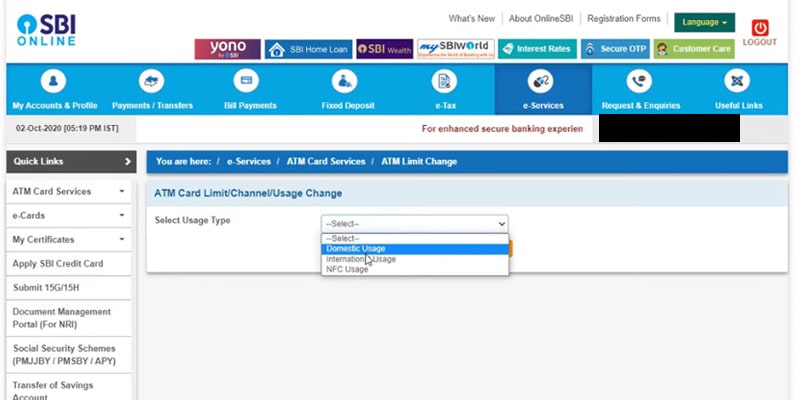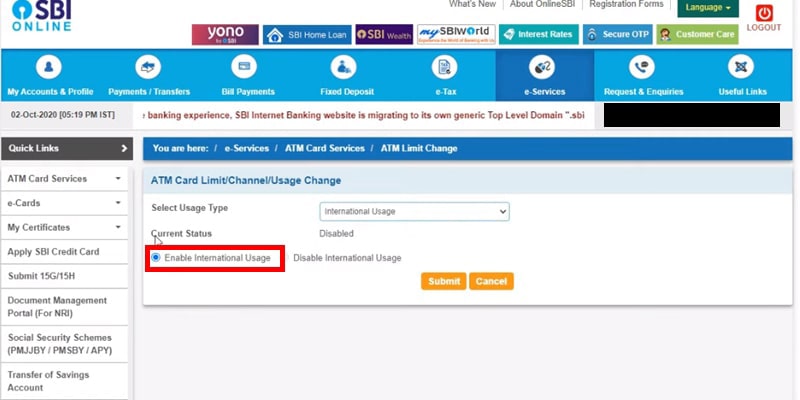 Enable the international usage and press submit button.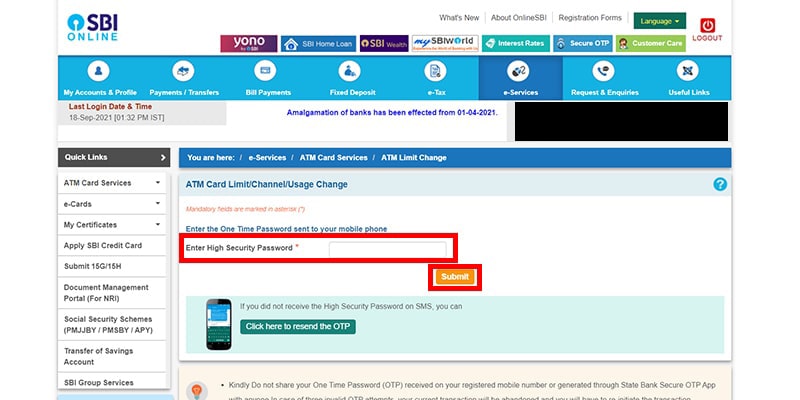 An OTP will be sent to your registered mobile number, enter the OTP and click on submit button.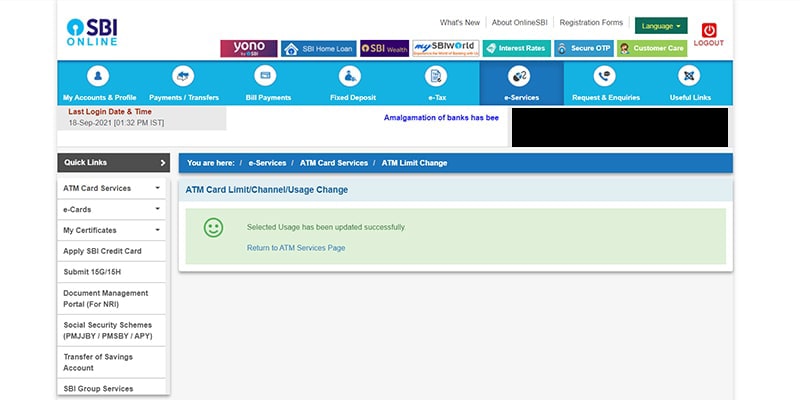 Now, your card is eligible for international usage.
Activate using SMS
The easiest way to activate international banking using an SBI debit card is by sending an SMS Unicode. You can use your registered mobile number to activate the services. Type SWON INTL (the last four numbers of your debit card) send it to 9223966666. For example- Send an SMS to SWON INTL 4321 to 9223966666
Debit Card Related Charges
The following are the debit card related charges for SBI bank customers-
Sl.No
Particulars
Type of Cards
Charges in Rs.
1.
Debit Card Issuance Charges
Classic /Silver/Global/Contactless Debit Card
Nil
2.
Debit Card Annual Maintenance Charges (Recovered at the beginning of the second year onwards)
Classic Debit Card
₹125/- plus GST
Silver/Global Contactless Debit Card
₹125/- plus GST
Yuva / Gold /Combo / My Card (Image) Debit Card
₹175/- plus GST
Platinum Debit Card
₹250/- plus GST
Pride/Premium Business Debit Card
₹350/- plus GST
3.
Debit Card Replacement Charges
₹ 300/- plus GST
4.
Duplicate PIN/ Regeneration of PIN
₹ 50/- plus GST
5.
International Transaction Charges
Balance inquiry at ATMs
₹25 /- + GST
ATM Cash withdrawal transactions
₹100/- min. + 3.5% of Txn. Amt. + GST
Point of Sale(PoS)/ eCommerce transactions
3% of transaction amount plus GST
Advantage of Using SBI International Debit Card While Traveling
The following are the advantage of the SBI international debit card-
SBI global debit card offers international transactions at discounted prices, offers and provides point-based reward programs
You can also get an offer in the airport lounge facilities while traveling
No need to carry cash, you can use this card for payments.
You can do the transaction in any foreign currency like dollars, pounds, etc.
International debit card comes with travel insurance coverage which is the most beneficial of website
Customers can easily block debit card using various means like net banking, SMS banking, etc. in case of card loss or theft.
Was this post helpful?
Let us know if you liked the post. That's the only way we can improve.