Keeping track of your bank balance is essential to check on spending, gains, and other essential financial information. Bank of India or BOI customers can find their bank balance using multiple methods like BOI missed call number, internet banking, mobile app, etc. In this article, we will discuss numerous methods that you can use to find your Bank of India bank balance.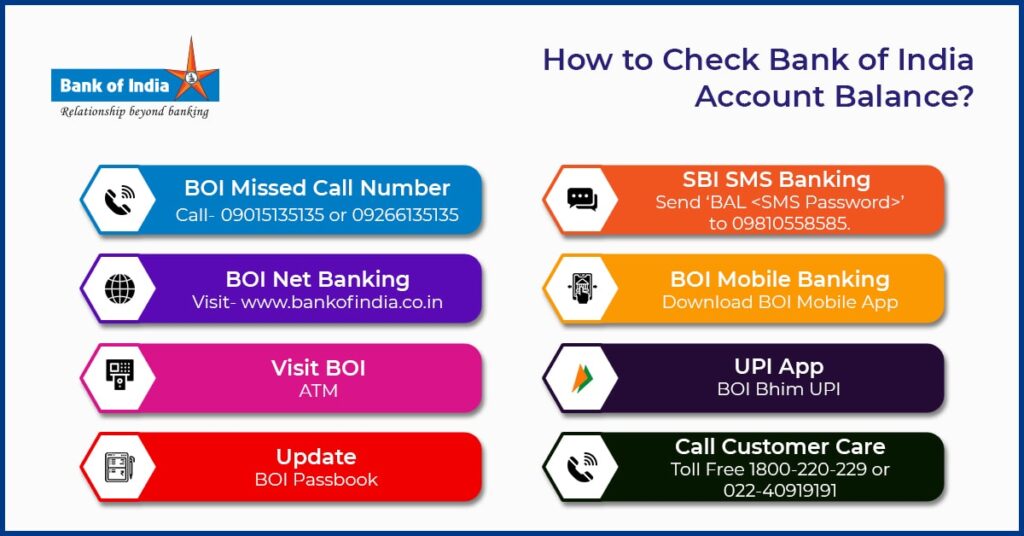 Bank of India Balance Inquiry Number
Bank of India provides a free-to-use service that facilitates their customers to give a missed call on a toll-free number 09015135135 or 09266135135 and get their account balance details via SMS on their registered mobile number. Dial the number on your registered mobile number and press the call button. After some time, the call will automatically disconnect and an SMS with your bank balance details will be sent.
How to Register Bank of India Mobile Number?
It is important to note that this service can only be availed on the registered mobile number. You can use the following method to register your mobile number-
As a Mobile number is the essential point of contact between bank and customers, therefore, for security reasons the customer needs to visit the BOI Bank branch where the account has been created. There you will find a form, fill the form with your registered mobile number along with identity proof and your mobile number will be updated within 24-48 hrs.
You can also use internet banking, mobile banking, and BOI ATM to update your mobile number. You can follow these steps to register/ change your mobile number-
Open BOI mobile app or visit the official website of the Bank of India
Click on the options tab followed by clicking on the update mobile number option
You will receive an OTP on your old mobile number by inserting the OTP on the screen you will register your mobile number on your Bank of India account
BOI SMS Banking via BOI SMS Balance Check Number
The balance on your bank account can be checked using the SMS balance checking service provided by the Bank of India. To use the BOI SMS Banking you have to send SMS to a number- 09810558585 with certain keywords. There are certain keywords that you must use on your SMS to get information related to your account. The following are the list of keywords that you can use-
| | | |
| --- | --- | --- |
| S.NO | SMS Format | Description |
| 1 | BAL <space> SMS Password | Balance inquiry |
| 2 | TRANS<space> SMS Password | Last 5 transaction |
| 3 | CHQST<space> SMS Password<space> Check Number | Stop Check Payment |
| 4 | CHGPWD<space> old Password<space> new Password | Change SMS Password |
| 5 | SUSP<space> SMS Password | Suspend SMS inquiry |
BOI SMS Banking
BOI Net Banking
Bank of India provides a global standard internet facility that helps users in using banking services in the comfort of their homes. Anyone who has an account with the Bank of India can apply for the internet banking facility. To use Net banking to find the bank account balance you can follow these steps-
Visit the official website of the Bank of India www.bankofindia.co.in
Click on the Internet Banking tab, and the click on personal
Enter your username and password on the screen and click on the login button
Now, Navigate to the Account tab and choose the bank account you want to find the details about
BOI Bank account balance details will be displayed on the screen

BOI Mobile Banking
Mobile banking is the banking facility that uses your smartphone to connect the user with the bank. For using the mobile banking facility you can download the official apps Bank "BOI Mobile" by the Bank of India and login to the app using username and password and use it like Net banking. Finding the bank balance using BOI Mobile banking is as follows-
Open the BOI Mobile banking app and log in to the mobile banking using username and password
Click on the account tab followed by choosing the account you want details about
After selecting the bank account, you will be redirected to your account summary. There you will find your bank account balance details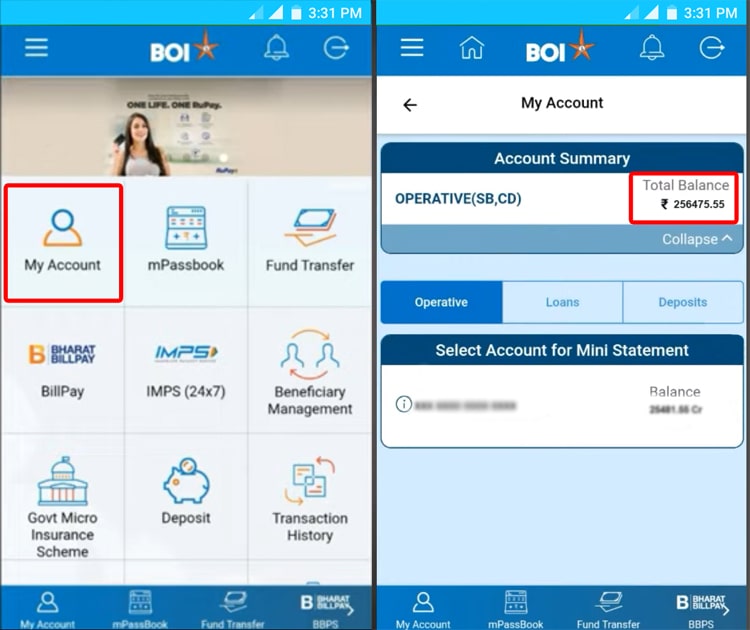 List of official BOI Mobile Applications for Smartphones
The following are the list of official Bank of India Mobile Applications for Smartphones-
BOI Mobile
BOI Credit Control
StarGlobal
BOI BHIM Aadhar
StarToken – NG
BHIM BOI UPI
Bank of Indian USSD Code
You can use the USSD Code to check your account balance. USSD Code uses your mobile network to access the banking facility where you can check basic banking details like balance, mini-statements, etc.
To use the USSD Code to check bank account balance in BOI, you can use the following methods-
Open your dialing pad on your phone and dial in *99# followed by clicking on the call button
Now, Enter your Bank short name BOI and press enter
A dialogue box with multiple options will appear, you have to select the first option i.e. Account Balance by pressing 1 followed by clicking on the Send button
Now, Your bank account details will be with your bank balance will be displayed
UPI Apps
UPI stands for Unified Payment Interface which is developed by NPCI to facilitate the banking industry. UPI is an ecosystem of payment transactions that can be used to send receive and find bank account balances using the UPI apps. There are multiple UPI apps available, BOI also has a UPI app. It is not necessary to use the bank's UPI to use UPI, you can use any UPI app. You can follow these steps to find the bank account balance using UPI apps-
Download and Install the UPI application of your liking
Enter the mobile number which is registered with your bank account
Choose the Bank of India option from the list of bank
UPI application will automatically find the account registered with the bank using your mobile number
Now, Set the UPI Pin of 4 digit
Now, on the application click on the "Check you Bank Balance"
Enter your UPI Pin and your bank balance will be displayed
Visit ATM
You can check your bank account balance using ATM Card by following these steps-
Insert your ATM card into an ATM- Machines will allow you to check your balance for free.
Type in your PIN on the machine- A four-digit number you should have set up when you opened your account.
Select the option to view your balance- You will be able to go back and make a withdrawal or print that balance.
Update Bank of India Passbook
The balance check is also possible using the traditional method of banking by updating your passbook by visiting a bank branch. For updating your passbook, visit your bank account with your bank passbook and ask the bank officials to update the passbook. Some bank branches also have a passbook printing machine, insert the passbook in the machine and the machine will print the account entry.
Call BOI Customer Care
Bank of India does not have any SMS service and to compensate, they have featured the customer care facility through which one can determine the account balance along with many details related to the account. This is time-consuming as well as not so effective as there is no written record. The toll-free number is 1800-220-229 or 022-40919191 to contact the help desk.
The following is the list of Bank of India customer care numbers-
BOI Customer Care Numbers
About Bank fo India
Bank of India is a major player in the public financial banking system. From 1906 to date Bank of India has grown rapidly ever since it has established its roots 111 years ago by Mumbai-based businessmen. It was privately owned earlier and gained its nationalization along with 13 other banks in 1969.
Bank of India is a founder member of SWIFT (Society for Worldwide Inter Bank Financial Telecommunications), which facilitates the provision of cost-effective financial processing and communication services. BOI has 5100 branches including 56 offices outside India.
FAQs
Q. How can I check my Bank of India account balance through a missed call?
A. Bank of India account balance could be checked by calling the Missed Call banking numbers 09015135135 or 09266135135.
Q. Can I add my Bank of India account in BHIM or another UPI app?
Yes, like other bank accounts, the Bank of India account could be added to UPI apps. UPI apps allow you various banking facilities, like fund transfer, account balance check, and more.
Q. Can I get a mini statement using Missed Call Banking?
Unfortunately missed call numbers will only send SMS containing the account balance. To get a mini statement through SMS, you need to send "TRANS <Your SMS Password>" to 09810558585.
Q. What is the easiest method to check the account balance of the BOI Bank Account?
The easiest method that you can use to check the BOI bank account balance is the missed call number. If you are a user of mobile banking and have installed BOI Apps or UPI apps then it is also a method of balance check that provides you easier access to your account details.
Q. How can I Register my bank account for the Internet Banking facility?
The easiest and fastest method to register your mobile number with the bank is to fill a form available at your bank branch seeking internet banking facility activation. Since internet banking facility is high-risk matter, therefore, physical verification is necessary for the activation of internet banking.
Was this post helpful?
Let us know if you liked the post. That's the only way we can improve.