Mudra Loan is a loan provided by the Government up to Rs.10 Lakhs to the non-corporate, non-farm small/micro-enterprises. It was launched by the Honourable Prime Minister Narendra Modi to empower small businessman who needs funds to start a business.
These loans are given by Commercial Banks, RRBs, Small Finance Banks, MFIs, and NBFCs to the borrower. Indian Bank is one such bank that offers Mudra Loan at a very attractive interest rate.
You can apply for the loan both online and offline means. In this article, we will discuss How to Apply Mudra Loan in Indian Bank, Interest rates, Eligibility, etc.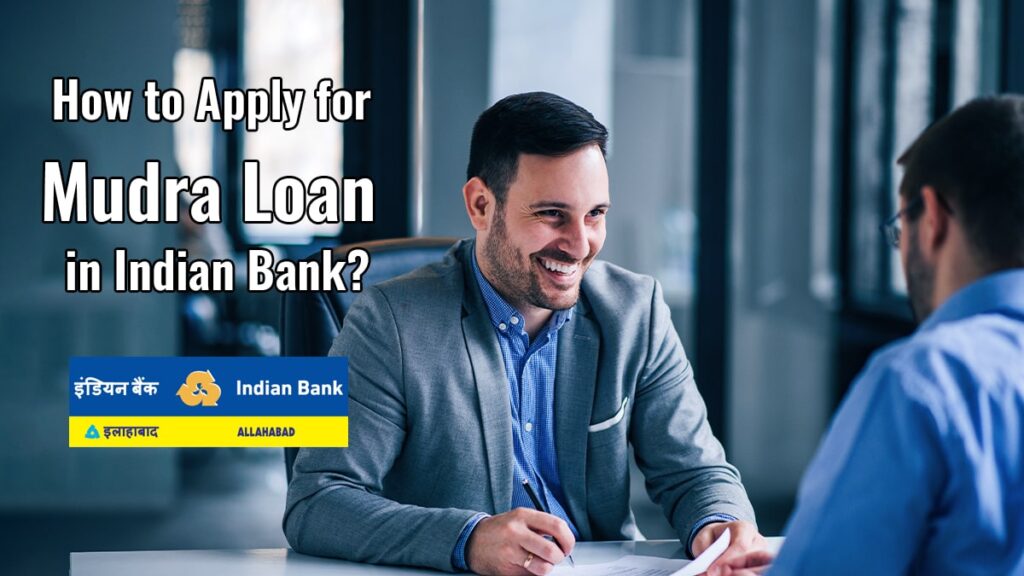 Types of Mudra Loan
The following are the types of Mudra Loan-
Shishu
This type of loan is for those individuals who have less requirement of funds up to Rs.50,000/-usually taken by the street vendors, roadside stalls, etc.
If you require a low loan amount under Rs.50,000/- you can apply for a Shishu loan with any requirement of collateral.
Kishore
Kishore Mudra loans are for those individuals who have fund requirements for more than Rs.50,000/- and up to Rs. 5 Lakhs.
Tarun
Tarun Mudra Loans are for those individuals who have fund requirements for more than Rs. 5 lakhs and up to Rs. 10 Lakhs.
Eligibility Criteria for Mudra Loan
The following are the eligibility criteria for Mudra Loan-
The applicants must be a citizen of India
The maximum amount offered under this scheme is Rs.10 Lakhs or less
The age criteria for applying for Mudra Loan must be between the age of 18 years and 65 years
The individual applying for a Mudra Loan must have a valid business plan in non-framing sector such as manufacturing, processing, trading or service sector
Documents Required for Loan Application
The following are the documents required for the Loan Application-
Duly filled loan application form with passport-sized photographs
Business Plan
Aadhar card, Voter ID, Driving license, Passport
Address proof (Water bills / Tax bills / Telephone bills / Electricity bills / Aadhar card / PAN card)
Last 6 months' account statement
Unaudited balance sheets
Income Tax Return (ITR) statement
All papers that validate the name and address of the business establishment
If person belongs to SC/ST/OBC then associated documents presented
Documents of all owners or business partners
How to Apply for Mudra Loan in Indian Bank?
The following are the steps by step instructions for applying for Mudra Loan in Indian Bank-
Online
Visit the official website of Indian Bank and navigate to the product followed by Loan products
Now, click on the mudra loan option followed by clicking on the apply button
A form will appear and a request form will appear which you have to fill with name, mobile number, email ID, amount required, city, etc.
Now, tick the agreement checkbox and click on the apply button
Your request for the mudra loan is registered and a bank representative will contact you and communicate further about the document and appointment to meet
After the loan application is processed, your bank account will be credited with the loan amount
Offline
For offline loan applications, Visit the Indian Bank branch and ask the bank representative about the loan. You'll have to fill the loan application form, attach the documents mentioned above and submit the document to the bank representative.
After review, your documents will be collected and further processing will be done. If your loan gets approved, you'll be notified about the loan grant.
Was this post helpful?
Let us know if you liked the post. That's the only way we can improve.