Pradhan Mantri Mudra Yojana or PMMY is a loan scheme launched by honorable Prime Minister Shri Narendra Modi on 8th April 2015. The loan under this scheme is for the small business owner or who wants to start a new small scale business. The maximum loan provided under this scheme is Rs.10 Lakhs. All the financial Institution are providing the scheme like Public Sector, Private Sector, RRB, Foreign bank, Micro Finance and much more.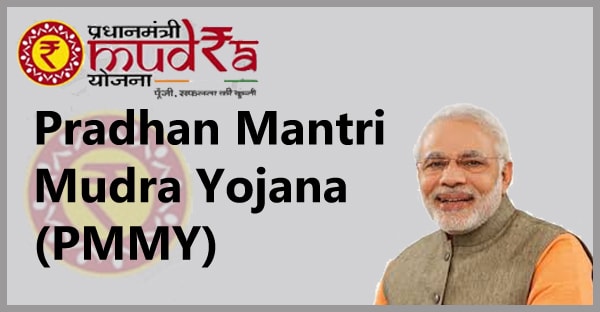 Benefit of Mudra Scheme
Mudra Scheme provides the loan to the unrecognized sectors which cannot grow due to the lack of funding.
MUDRA Debit Card is provided to withdraw the fund
There is no need to provide collateral to avail the loan
No Processing Charges applied while availing the Loan
Repayment period of the loan is extended up to 5 years
Mudra Card
Mudra Card is a Debit Card issued by the bank while availing the loan. It can be used to bail out the loan sanctioned into the Mudra Account. This debit card can also be used as a direct purchase tool used in POS Machines. It will act like a debit card we use for our normal account.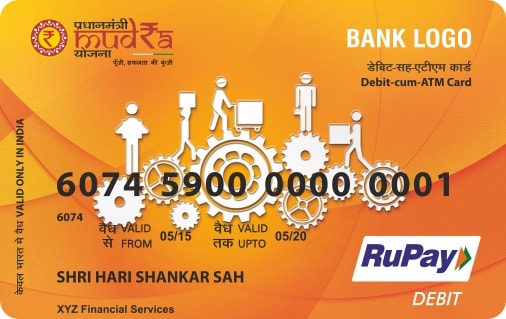 Eligibility for Pradhan Mantri Mudra Yojana
These are the Eligibility criteria for availing the loan in Pradhan Mantri Mudra Yojana –
Any Indian citizen other than the Farming sector can apply for this Scheme and whose credit requirement is less than Rs.10 Lakhs
Must have an Identity proof like Aaadhaar card, Pan card etc
If the business owner is from a Minority group or SC/ST, OBC then the individual must have a registered Certificate
Types of Loan Provided Under PMMY
There are three types of Loan provided under the PMMY and all these products are divided on the bases of the credit needs of the loan taker-
Shishu : covering loans up to 50,000/-
Kishor : covering loans above 50,000/- and up to 5 lakh
Tarun : covering loans above 5 lakh and up to 10 lakh
The name Shishu, Kishor, and Tarun are categorized as the development stages of a human symbolizing the credit required to make the business grow on the different stages. In this Loan scheme, the subsidy will not be provided but if the loan is linked with some other Government Scheme with subsidy then the PMMY will also be eligible.
Interest Rate of PMMY
The interest rate of PMMY is low as compared to the other business loan availed and the sanctioning rate for a normal business loan is also high. Mudra Scheme interest rate can be
Sector Covered Under PMMY
To serve the adequate sector with full exposure the scheme s designed to provide the maximum benefit to the people who are belonging to these sectors. All the sectors are where the requirement of the credit to grow the business and development opportunity is more. These are the following sector where the higher concentrations of businesses in certain activities/sectors, schemes are proposed for:
Land Transport Sector / Activity – Which will inter alia support units for the purchase of transport vehicles for goods and personal transport such as auto rickshaw, small goods transport vehicle, 3 wheelers, e-rickshaw, passenger cars, taxis, etc.
Community, Social & Personal Service Activities – Such as saloons, beauty parlours, gymnasium, boutiques, tailoring shops, dry cleaning, cycle and motorcycle repair shop, DTP and Photocopying Facilities, Medicine Shops, Courier Agents, etc.
Food Products Sector – Support would be available for undertaking activities such as papad making, achaar making, jam / jelly making, agricultural produce preservation at rural level, sweet shops, small service food stalls and day to day catering / canteen services, cold chain vehicles, cold storages, ice making units, ice cream making units, biscuit, bread and bun making, etc.
Textile Products Sector / Activity – To provide support for undertaking activities such as handloom, power loom, chikan work, zari and zardozi work, traditional embroidery and handwork, traditional dyeing and printing, apparel design, knitting, cotton ginning, computerized embroidery, stitching and other textile non-garment products such as bags, vehicle accessories, furnishing accessories, etc.
How to Apply For PMMY Loan Scheme?
Applying for the loan under the PMMY Scheme is made simple for a hassle-free Loan sanctioning. The process to apply for a loan in PMMY can be initiated by visiting the nearest financial corporation where you want to apply for the loan. The financial institution can be of any type like Public Sector Banks, Regional Rural Banks and Cooperative Banks, Private Sector Banks, Foreign Banks, Micro Finance Institutions (MFI) and Non-Banking Finance Companies (NBFC).
List of Document Required for PMMY Loan Scheme
Proof of identity – Self-attested copy of Voter's ID card / Driving License / PAN Card / Aaadhaar Card / Passport / Photo Ids issued by Govt. authority etc.
Proof of Residence : Recent telephone bill / electricity bill / property tax receipt (not older than 2 months) / Voter's ID Card / Aaadhar Card / Passport of Individual / Proprietor / Partners Bank passbook or latest account statement duly attested by Bank Officials / Domicile Certificate / Certificate issued by Govt. Authority / Local Panchayat / Municipality etc.
Applicant's Passport Size Photograph (2 copies)
Quotation of Machinery / other items to be purchased.
Name of Supplier/details of machinery/price of machinery and/or items to be purchased.
Proof of Identity / Address of the Business Enterprise – Copies of relevant Licences / Registration Certificates / Other Documents pertaining to the ownership, identity of the address of the business unit, if any
Proof of category like SC / ST / OBC / Minority etc (If Any)