It becomes difficult to keep a track on the account balance in our bank account as we either have to visit the bank branch or we have to find an ATM Machine to do that. Bandhan bank offers their customer a free to use Missed call balance check number that can be used to find the bank balance.
Bandhan Bank Balance Inquiry Number
The missed call number to check Bandhan bank account balance is 9223008666. After giving a missed call on the number the call will be automatically disconnected and an SMS containing the account details will be sent. You can also request to have the last 5 transaction detail send to you by dialing the Mini-statement number 9223008777.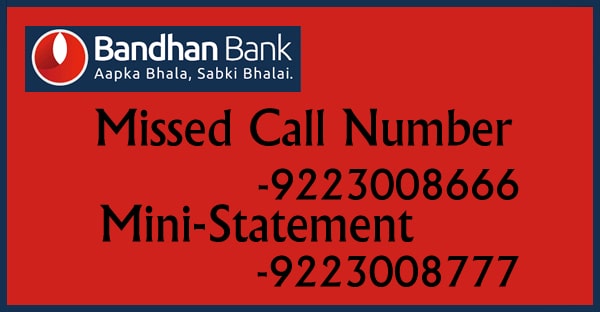 About Bandhan Bank
Bandhan Bank is a Private sector bank received the in-principle approval to function as a bank in the year 2014. Bandhan bank started as a Micro-finance company in the year 2001. After getting approval the bank soon become the 8th largest Private sector bank with 941 bank branches all over India. Apart from the Missed call Balance number, you can also use the following method to find the bank account balance-
Bandhan Bank SMS Banking
Bandhan Bank Mobile Banking
Bandhan Bank Net Banking
Bandhan Bank ATM
Bandhan Bank SMS Balance Check Number
Bandhan Bank offers their customer to use the SMS Banking to check their bank account details like Balance inquiry, mini-statement etc. the service can be availed by sending a pre-defined syntax text message to 9223011000. The syntax that has to be followed is as follows-
| SMS Syntax | Service |
| --- | --- |
| REG <Account Number> | To register your mobile number |
| DREG<Account Number> | To de-register |
| BAL<Account Number> | Balance Inquiry |
| MINI <Account Number> | Mini Statement |
| CHQBOOK<Account Number> | Cheque book request |
| CHQSTOP <Account Number> Cheque no <Cheque number> | Cheque Stop |
| CHQSTATUS<Account Number> Cheque no <Cheque number> | Cheque status |
Bandhan Bank Mobile Banking
Mobile Banking is the new age banking that uses the mobile app to do all the banking operations. It is similar to net banking but uses a mobile app interface for its functioning. The download link for respective devices are given below-
Bandhan Bank Net Banking
Net Banking is one of the best services offered by banks for their customer. Net banking can be used 24X7 and 365 days which makes it very convenient for the user. To avail of the service, you need to contact the respective branch and get the login details. After receiving the login details you can log in to the Bandhan Bank Net Banking facility.
Bandhan Bank ATM
ATM Card can be used to find the Bank Account balance. You can use any bank ATM Machine to find the bank account balance just follow the following steps to find the bank account balance-
Insert you ATM card in the ATM Machine
Enter the PIN in the Machine
Select the Balance inquiry option
Minimum Maintenance Balance for Bandhan Bank
Every bank has a minimum balance requirement cap that has to be maintained by the account holder in order to make his account operations smooth. Bandhan Bank Minimum Balance requirement are as follows-
For Savings Account-
| Savings Account Type | Average Monthly Balance Requirement |
| --- | --- |
| Premium Savings Account | Rs. 1, 00, 000 |
| Advantage Savings Account | Rs. 25, 000 |
| Sanchay Savings Account | Rs. 2, 000 |
| Standard Savings Account | Rs. 5, 000 |
| Special Savings Account | Rs. 5, 000 |
| GOS Savings Account | Nil |
| TASC Savings Account | Nil |
| BSBDA Savings Account | Nil |
| BSBDA-Small Savings Account | Nil |
For Current Account
| Current Account Type | Average Monthly Balance Requirement |
| --- | --- |
| Premium Current Account | Rs. 1, 00, 000 |
| Advantage Current Account | Rs. 25, 000 |
| Standard Current Account | Rs. 5, 000 |
| Samruddhi Current Account | Rs. 5, 000 |