Central Government Health Scheme (CGHS) has a proven history of over six decades in supplying wide-ranging medical assistance to the Central Government employees and pensioners who have chosen to enrol under the scheme. This scheme takes care of healthcare requirements covering all four pillars of Indian democratic set up- Legislature, Judiciary, Executive and Press. Its uniqueness likes in its huge capacity of beneficiary base, and open-ended substantial approach of health care provision.
CGHS supplies health care via subsequent systems of Medicine
I Allopathic
II Homoeopathic
III Indian system of medicine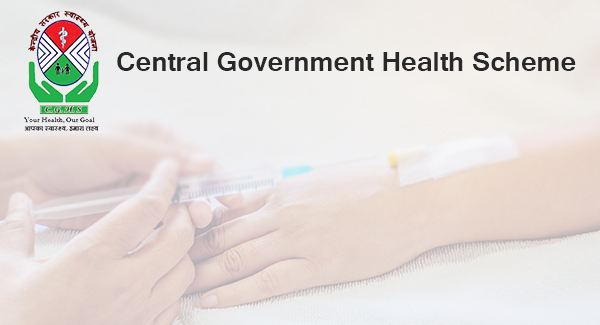 ELIGIBILITY
All existing employees of Central Government and their dependant family members living in CGHS covered regions.
All pensioners/family pensioners of Central Government receiving pension from central civil estimates along with their entitled dependent family members.
Current and past Parliamentary members.
Ex-Governors & Lt. Governors.
Freedom Fighters.
Ex-Vice Presidents.
Sitting and Retired Judges of Supreme Court and High Courts.
State Capital Journalists accredited with PIB.
Staffs and pensioners of specific Delhi-based independent/statutory bodies that are provided CGHS facilities.
Delhi Police Personnel only in Delhi region.
Employees of railway Board.
FACILITIES
There are several facilities under CGHS and some of them are listed below:
OPD treatment including issue of medications.
Specialist Consultation at Polyclinic/Government Hospices.
Indoor Care at Government and Empanelled Hospitals.
Examinations at Government and Empanelled Diagnostic centres.
Cashless treatment in empanelled hospitals and diagnostic centres for pensioners and other recognized beneficiaries.
Compensation of emergency healthcare expenditures availed at government or private hospitals.
Recompense of expenditures for purchase of hearing aids, prostheses, appliances etc. as prescribed by the physician.
Family welfare, and maternity and child health services.
Health consultation and medication dispensation in Ayurveda, Homeopathy, Unani and Siddha system of medicines (AYUSH)
CGHS Covered Cities
At present, CGHS supplies comprehensive health care to 30+ lakh beneficiaries in the below mentioned cities:
Agartala
Ahmedabad
Aizwal
Allahabad
Bengaluru
Bhopal
Bhubaneshwar
Chandigarh
Dehradun
Delhi & NCR
Gandhinagar
Gangtok
Guwahati
Importance of CGHS Card
The CGHS cards are provided to all the beneficiaries and their dependants. These cards are plastic based photo ID cards provided to each individual beneficiary with a unique beneficiary ID number. The cards need to be produced at each service junction to enjoy the inherent facilities.It is the beneficiary's responsibility to keep the CGHS cards safe and in the instance of loss, the beneficiary needs to report it to the police and the CGHS authorities.The beneficiary could obtain a duplicate CGHS card by applying to the concerned Additional Director with a copy of FIR and a payment of Rs. 50.
Procedure to get a CGHS Card
Eligible candidates can directly apply online at CGHS web portal www.cghs.nic.in or website www.cghs.gov.in. The card can also be applied offline at the wellness centres (Although the file can be filled online and submitted, there is no provision for final submission and the applicant needs to take a print of the application and submit it with supporting documents at the office of the Additional Director HQ in Delhi or Additional Director in other cities).
The downloaded form must be properly filled up with individual photographs.
Attach some important documents as per the requirements:
(i) For serving employee: residence proof, proof of stay of dependents, proof of son's age.
(ii) For differently-abled dependent son above 25 years: disability certificate from competent authority.
(iii) For pensioners: All the documents needed for serving employees plus Surrender certificate of CGHS Card in case CGHS Card was issued during service duration, attested copies of PPO/Provisional PPO/Last Pay Certificate in case PPO was not readily available post-retirement period, Demand Draft in the name of "PAO CGHS New Delhi". The DD amount will vary according to the requirement.
Dependency criteria
The CGHS has a comprehensive list of dependent persons who can avail this service. Excluding spouse and disabled son any close person living with the government employee having salary less than Rs. 9000 + DA is eligible for dependency criteria. The list includes parents (or parents-in -law in case of female employee), unmarried son till 25 years of age, dependent unmarried/widowed/divorced/separated daughters and sisters, and minor brothers.
Channel of submission
Serving employees can submit the application after due endorsement through the department. He/she can also apply for a pensioner CGHS Card along with the pension papers. The pensioner card would be issued on the retirement day (provided the application has been placed at least six weeks prior to retirement date) and would get activated from next day.
Pensioners need to submit the application with enclosures to Additional Director (HQ) in Delhi and concerned Additional Director of the city.
Addition/Deletion of names in CGHS Cards
With the death of the main card holder, the card loses its validity. Hence, the spouse needs to apply for fresh card (along with attached old CGHS card and the death certificate) after he/she starts drawing the family pension.
A serving employee needs to attach/delete the name of spouse (on marriage, death or divorce) or attach or remove the name of child (on birth, marriage or death) after submitting the form for addition duly endorsed by his department.
Validity of the CGHS Card
The service card would be valid throughout the service period of an employee.
Pensioners who make yearly contributions need to contribute prior to completion of the year in order to continue validity for the continuing year.
In the instance of transfer to a non CGHS covered region, the service card would hold validity for family members for six-months after transfer, provided CGHS contribution for this period is made beforehand. However, if transfer is made to another CGHS city then the card will hold its validity and could be easily used for treatment, investigation, and hospitalization without any need for transit permit except in the case where card holder requires high value medicines classified as "lifesaving"/restricted supply medicines for which temporary attachment to a wellness centre is needed.