Do you need IFSC Code for urgent fund transfer? Don't worry, we have got 6 ways to find bank IFSC code for you.
IFSC or Indian Financial System Code is an eleven-digit identification code given for the identification of a specific bank's branch. The code is assigned by the RBI to each bank and its branch and consists of a combination of numbers and alphabets. Here, the bank's name is represented in the first four alphabetic characters, followed by zero (0), which is the fifth character. The last six characters are mostly numeric, but in certain instances can also be alphabetic.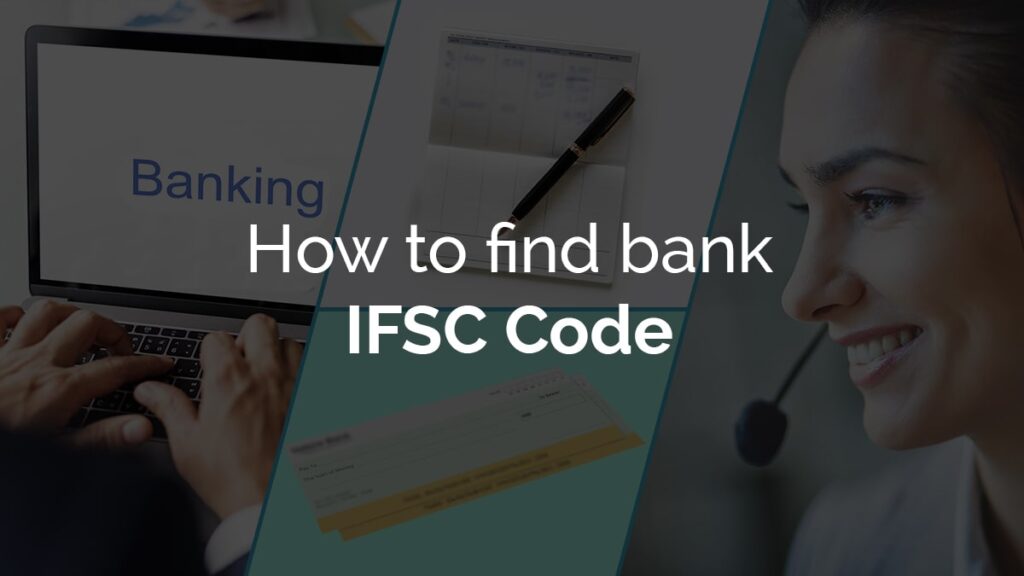 How to Check IFSC Code
There are numerous ways by which you can check and know the IFSC code of a particular bank branch.
1. Printed on the Bank Cheque leaf
Every cheque book has IFSC code printed on the top of each leaf. Hence, you can open a cheque book and instantly know the specific IFSC code.
2. First Page of Passbook
Most of the banks offer passbook to their customers. The first page of the passbook has the IFSC code printed on it. If you received the passbook from the bank, you can check for IFSC code.
3. Net Banking
You can check a particular branch's IFSC code through net banking. A majority of banks have the option to look up IFSC code when you initiate to add a new beneficiary to the bank account.
4. Customer Care
You can call the customer care number of your bank on the toll-free number or the tolled number to know about the particular branch's IFSC code.
5. Bank Personnel
You can visit the nearest branch of a bank and ask the bank personnel to help you with identifying a particular branch's IFSC code.
6. Search IFSC Code Tool
Still could not find the IFSC code? Askbank IFSC search tool is the best way to find IFSC code. You can search branch by IFSC code or IFSC by branch name. You can search in other ways too. The search in the tool starts by selecting a bank name and ultimately narrowing down the search to the branch name.
You just need to open the tool, and then the select bank, state, district, and finally select branch. The tool not only shows the branch code but also shows other information about branch like, contact number, MICR code, fax number, address, holidays and more.
Importance of IFSC Code
IFSC code is a vital banking tool that simplifies various online banking operations and makes them hassle-free. The code helps you to make instant fund transfer, and error-free NEFT and RTGS money transfer through quick validation and confirmations. Some of its essential features include
Easy identification and location of a bank's branch: With IFSC, locating the branch of a particular bank becomes easy. This enables a faster and safer transaction.
Digitalization of bank operations: Now you don't have to make a personal visit to your bank to initiate that important money transfer, but can do it at any time that is convenient to you and send money instantly as and when needed. The IFSC allows you convenient banking through your smart devices and you can even do money transfer through your android or smart phone.
Swift fund transfers: The fund transfer is swift and lands in the beneficiary account in just a few minutes. Hence, IFSC is useful when you need to make an urgent payment to an entity.
Safe money transfers: IFSC provides you with an extra layer of protection, thereby saving you from fraud or fiscal mishap. The code clearly defines the start and the end point of each transaction and makes it easy to track the funds.
Time Saving: IFSC is immensely time saving and allows you to transfer fund at any moment the need arises in a very easy procedure. Hence, it is essentially a time-saving tool.
Assists in RTGS and NEFT: With IFSC, you can engage in both RTGS and NEFT fund transfers and send money to any corner of the nation.
Was this post helpful?
Let us know if you liked the post. That's the only way we can improve.