National Electronic Funds Transfer (NEFT) is one of the easiest ways to transfer funds both online internet banking and bank branches. RBI keeps updating the charges, limits, and timings for banks and customer convenience. In the latest update, RBI has announced that NEFT transactions will be processed 24X7 from December 16, 2019.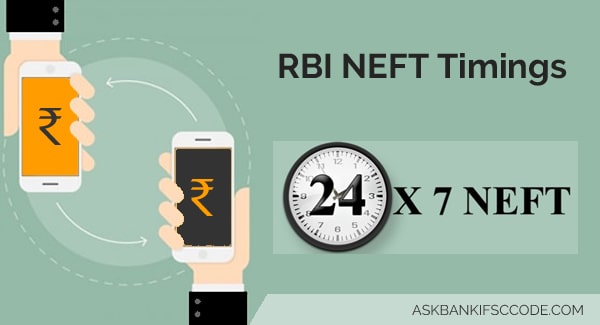 What are NEFT Charges?
RBI has waived off all RTGS and NEFT processing charges and time varying charges levied on banks by Reserve Bank of India with effect from 1st July 2019. Although banks may still charge for NEFT / RTGS transactions from customers. It could be a variable amount depending upon fund being transferred via NEFT.
RBI Batches and Timings for NEFT
All NEFT Payment request will be processed in batches, each 30 minutes.
RBI Latest Updates on NEFT and RTGS Transfer Timings
The RTGS from 1st December 2020, will be available 27X7. Like IMPS and NEFT, RTGS which is used for large transactions could be done any time now.
FAQ On NEFT Transfer
What is NEFT?
National Electronic Funds Transfer or NEFT is a payment system that operates nation-wide for transferring funds both online and offline. It uses the NEFT Batch timings to send the funds from one account to other
What is NEFT Limit?
Although there is no minimum and maximum limit set by RBI on NEFT transactions however your bank may have set maximum limit. You may contact your bank for more details on NEFT limits.
Is IFSC Code necessary for NEFT?
Yes, IFSC Code is necessary to initiate the Fund transfer. It enables the sender's bank to locate the receiver's bank branch which will make the fund transfer faster and error free.
What if my payment using NEFT is delayed or canceled?
If your payment got delayed then or it got canceled then you can contact your bank who will brief you with the situation. Banks have CFC which stands for Customer Facilitation Centre that handles the complaints regarding the NEFT fund transfer. You can find the CFC Contact details from official RBI CFC Bank List
What if Fund Transfer got canceled and the returning amount is delayed by the bank to return?
IF the NEFT Transaction is not returned within the limited amount as provided by the RBI, then the bank must pay the customer with Penal Interest at the current RBI LAF Repo Rate plus two percent for the period of delay/till the date of refund.
What details are required for fund transferring?
The Beneficiary or the receiver and the remitter or sender banks must be part of the NEFT Network and the details of the beneficiary which is the beneficiary name, account number, and account type, name, and IFSC Code of the beneficiary bank branch.