Tracking your bank balance is essential and banks provide multiple ways using which you can find account balance. Usually, to check your account balance you would visit a bank branch or use an ATM facility to track your balance, but, it is a long process and takes a lot of time. Tamilnad Mercantile Bank offers multiple ways to find your Tamilnad Mercantile Bank Balance within minutes. For using these services, you need an internet connection or mobile phone to find your bank balance.
About Tamilnad Mercantile Bank
Tamilnad Mercantile Bank is a bank which was founded in 1921 as the Nadar Bank, but changed its name to Tamilnad Mercantile Bank in November 1962 to widen its appeal beyond the Nadar community. The bank currently has 509 full branches throughout India, 12 Regional offices and eleven Extension Counters, six central processing centres, one Service Branch, four Currency Chests, 19 eLobby centres and 1094 Automated Teller Machines (ATM). The customer care number for Tamilnad Mercantile bank is 180 0425 0426 and the official website of the Tamilnad Mercantile bank is tmb.in.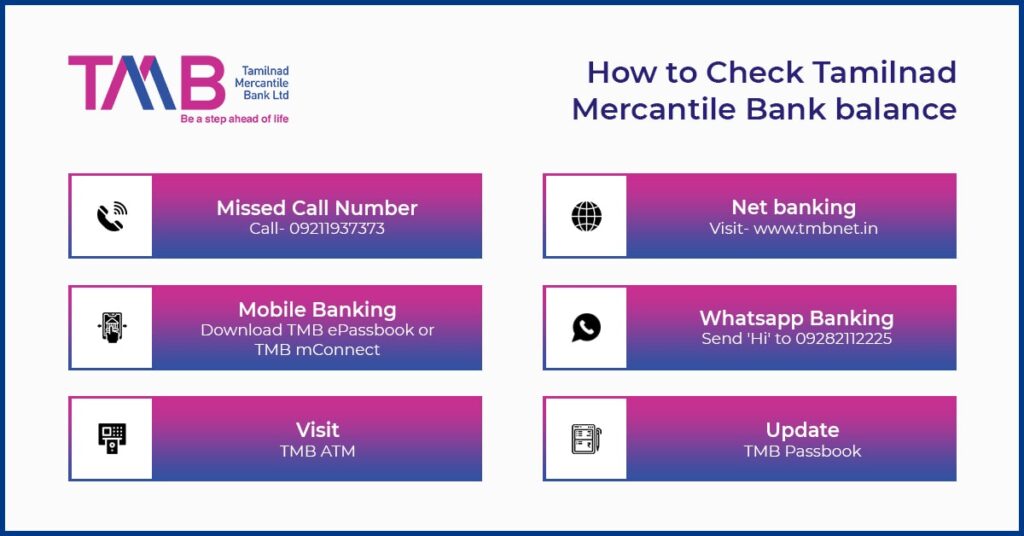 Tamilnad Mercantile Bank balance Inquiry Number
Tamilnad Mercantile bank is a free to use balance check number that helps you find the bank balance. The Tamilnad Mercantile Bank missed call number is 09211937373, after giving a call with your registered mobile number, the call will automatically be disconnected and the message will be sent to your account.
Tamilnad Mercantile Net banking
Tamilnad Mercantile Bank provides a net banking facility to its account holder. The account holder can visit the Tamilnad Mercantile Bank Net Banking website to check his/her account balance. Before logging in, you need to register with the bank branch to use net banking. After logging in you can easily check the bank balance.
Tamilnad Mercantile Mobile Banking
Tamilnad Mercantile Mobile banking is a banking facility that uses your mobile phone as a medium to connect you to the bank. Visit the official Google Play store and App Store download the official TMB mobile banking apps. After downloading, you need to activate your mobile app. You can use the TMB mobile banking apps to find the bank balance of your account. The following are the list of TMB mobile banking apps that you can use-
Tamilnad Mercantile Bank ePassbook
Tamilnad Mercantile Bank mConnect
Tamilnad Mercantile Bank ePassbook
Passbook is a book that holds your account bank records of debit and credits. ePassbook is an electronic way of keeping records. You can use mobile banking apps to get bank balance details like balance check, debits, credits etc.
Tamilnad Mercantile Bank mConnect
mConnect app is mobile banking app that give you online banking facility. You can download the mobile banking app on App Store and Google play Store. For using the Tamilnad Mercantile Bank mConnect you have to register. After successful registration customers need to login with the customer ID and password to pursue the process. Using this app you can use net banking like facility using mobile app.
Other ways to find Tamilnad Mercantile Bank Balance
You can check bank balance using the following ways-
Whatsapp Banking
Whatsapp Banking is a banking facility that uses an app to provide a customer and non-customer with banking facility. You can add this whatsapp number- 09282112225 and message "Hi" and follow up with the chats to get any details. Account related queries such as balance inquiry, mini statement, etc. are some of the facility for the bank account holders. For non-account holder, you can open bank account etc.
Using ATM
You can check your bank balance using ATM. You can check bank balance using the following steps-
Insert your Bank ATM Card in the slot
Insert your PIN on the ATM Machine
Select the balance check option
Choose savings bank or current bank, whichever is possible
Now you can find the bank balance in your bank account
Using Passbook
Updating your passbook will give you bank account balance. You can visit the TMB bank branch with your passbook. Submit your passbook to the bank official he/she will update your passbook. If your bank has a passbook printing machine then you can simply insert your passbook in the machine and it will automatically print your passbook.