On 28th May, the Goods and Services Tax Network (GSTN) introduced an important service wherein MSMEs (Micro, Small, and Medium Enterprises) can benefit from a free accounting and billing software. This service is designed especially for Indian ventures and would positively impact around 80 lakh small businesses. The service is available for SEZ units, normal taxpayers, and taxpayers who have chosen composite scheme under GST government. However, there is a ceiling on this software and only a business with a turnover less than 1.5 crore can use this service.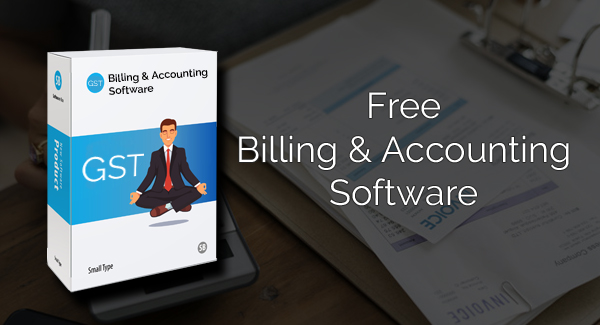 There are several benefits of this software such as creating invoice and account statement, managing inventory, and preparing GST returns. Interested companies could download this software from the official GST portal gst.gov.in.
According to the announcement "GSTN has partnered with eight billing and accounting software vendors for providing software to the micro, small and medium enterprises, with annual turnover under Rs 1.5 crore, in a financial year without any cost to such taxpayers".
The software provides both free and paid services. The free services include sale/purchase/cash ledger, invoice generation, supplier/customer masters, inventory management, and preparation of GST. The entrepreneurs can pay a small sum to avail extra services like account receivable and bank reconciliation. The main purpose of the software is to enhance the digitalization of the businesses, increase the overall efficacy, and reduce the compliance burden.
How to Download Software?
#1. Login into GST Portal
Registered GST users can login into GST portal at gst.gov.in.
#2 Navigate to Download Menu and then select "Accounting and Billing Software"

Once you enter the website, click on "Downloads" menu item. You will be greeted by three drop down menus- "Offline Tools", "Accounting and Billing Software", and "Proposed Return documents". Click on "Accounting and Billing Software" to go to the next step of download.
#3 Confirm Turnover
In the "Accounting and Billing Software" page, you will get an opportunity to download the "Accounting and Billing Software Services". Once you click this panel, you will get a prompt to confirm your turnover. The facility is available only for MSMEs with a turnover of less than 1.5 crores. Hence, here you have to confirm that your turnover is less than this value by clicking the "yes" button on the prompt.
#4 Select Software Provider Company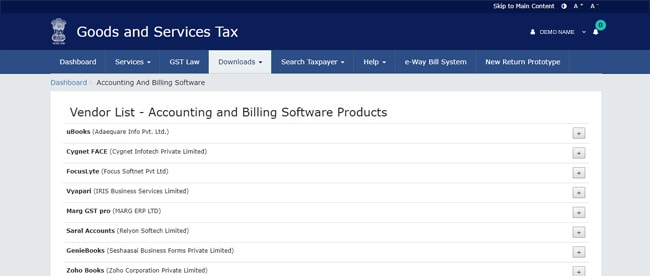 Once you have confirmed to have turnover less than 1.5 Cr, you will be provided with a vendor list. All of the vendors are well known Accounting and Billing software providers.
Select your particular vendor from the list and click on the "plus" sign to proceed to the next step.
#5 Click on External Download link
Once, you click on the "plus" sign adjacent to a vendor name, a comprehensive table will open up describing "Available Versions", "System Requirement", "Support", "Features Offered", and "Download Link". Under the "Download Link" you will get the link to download the billing software. Click on it to proceed to the final step.
#6 Accept Term & Conditions
Finally to complete the download process, click on the accept button to verify that your annual turnover is less than 1.5 crores, and that you understand that GSTN is not responsible in any way for the "Accounting and Billing Software" services.
#7 Complete Remaining Steps of Billing Software at Company Website
Once you click on the accept button, you can easily complete the rest of the steps of downloading the billing software at the company website.
SPECIAL FEATURES
Creates invoice and account statement.
Helps in inventory management.
Prepares GST returns
Free download from official GST portal