Banking Services are prone to problems like any other sector. There could be faulty customer care, frauds, card issues, unauthorized transactions, and many more problems. State Bank of India has been very proactively working on smooth customer service and launches various innovative ways to register grievances.
To deal with customers concerns, SBI has introduced a host of facilities wherein the customers can register complaint to the bank authorities and get their issues resolved. Here are 5 ways thru which you can register your complaint.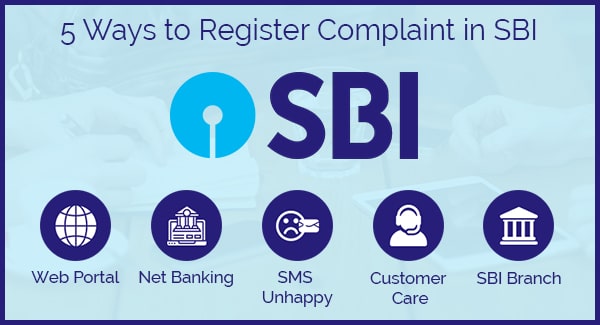 1. SBI Customer Care Portal
The SBI Online customer care portal provides a platform for customers to register their complaints. The steps to register the complaint are as follows:
Log into SBI Customer Care portal https://www.sbi.co.in/portal/web/customer-care/complaints-and-compliments
A window opens up with a subheading "COMPLAINTS AND COMPLEMENTS". There you can find four sections- "UNHAPPY", "COMPLAINT", "UNAUTHORIZES TRANSACTION", and "COMPLAINTS (NEW)". Click on the relevant section.
The "UNHAPPY" sms is described later in this article.
The "COMPLAINT" section is meant to register a grievance with the bank. Once you click on this section, a new window will open up. Here you have to input various details such as Customer Type, Account Number, Name of Complainant, Branch Code, Mobile Number, Email, Category of Complaint, Products & Services, Nature of Complaint, and Brief Detail of Complaint. The "Category of Complaint" has various options like ATM Related, Advances, General Banking, and Yono. Once you select a particular "category of complaint", the various choices under " Products & Services " would become visible. This would subsequently open up the next category of choices under "Nature of Complaint". Once you have filled in all the related information, you can click the submit button.
The "COMPLAINTS (NEW)" section is a new introduction to filling in complaints in the SBI website. This is a shorter method as here customers just have to fill in two choices- "Raise Request/ Complaint Types", and "Raise Request/ Complaint" to register a complaint. However, this section is still under construction and presently has just two options under "Raise Request/ Complaint"- namely "Prepaid Card" and "Other". A complainant can use this option to register complaint for card related issues.
The section "UNAUTHORIZED TRANSACTION" is same as "COMPLAINT", only here the "Category of Complaint" detail is blocked at "Unauthorized Transaction". Hence, here the complainant can only register a complaint for unauthorized transactions.
2. Online Net Banking
Log into the official SBI website onlinesbi.com
Select the Customer Care Option.
Choose the option "Online/ Offline Complaint Registration".
You will be greeted with several options of registering a complaint. There is an option to fill the online complaint form, an option to track the complaint, and an option for offline complaint form. Select the most appropriate option.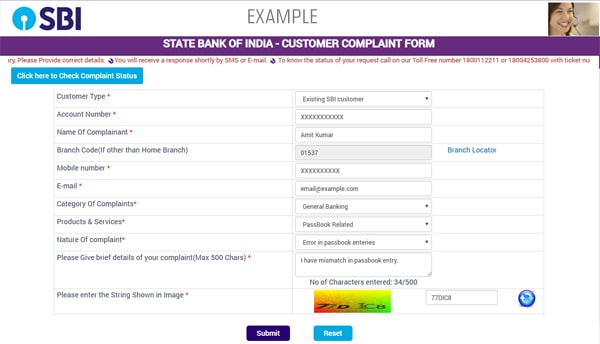 3. SMS 'UNHAPPY'
SBI launched an SMS number wherein the unsatisfied customer could reach the bank official and register the specific complaint. The customers just have to SMS "UNHAPPY" to 8008202020. On receiving the SMS, the bank executive would give a call back on that number. The customer can register the complaint with this bank official and get a redressal to the problem.
4. Call SBI Customer Care
Customers can speak directly with the SBI customer care executives at the toll free numbers 1800 425 3800 or 1800 112 211 to register their complaint against the banking facility or any service. There is an additional number +91 80 2659 9990 wherein the customers can seek help with their problems.
The SBI toll free numbers for prominent cities are as follows:
Bangalore: 1800 425 8002
Bhopal: 1800 425 7551 (BSNL), 1800 102 7551 (Airtel)
Bhubaneswar: 1800 345 6741
Chandigarh: 1800 180 1723, 1800 180 1724
Chennai: 1800 425 4424
Delhi: 1800 114 545
Mumbai: 1600 228 866
Kolkata: 1800 345 3455
Pune: 1800 112 211, 1800 425 3800
Thiruvananthapuram: 1800 425 4722, 1800 425 4844
Patna: 1800 345 6100, +91 61 2223 8388
Lucknow: 1800 180 5201
Guwahati: 1800 345 3631
Ahmedabad: 1800 233 7933
Hyderabad: 1800 425 3888
5. Visit the SBI Branch
The quickest way to have your problem solved is by visiting the nearest SBI branch. Just visit the branch in person with the required papers to prove your validity and talk out your grievance with the bank executive. The helpful bank officials would look into your query and try to resolve it in the shortest time interval.
Was this post helpful?
Let us know if you liked the post. That's the only way we can improve.