An individual life consists of a lot of ups and down as life is not constant. Term insurance will help your family in coping with the low moments of life. Death is inevitable and one can never run from it, an insurance plan protects our family at the time of our demise with full financial support. In this article, we will find out what are term insurance and the reason for opting term insurance over other insurance product.
What is Term Insurance?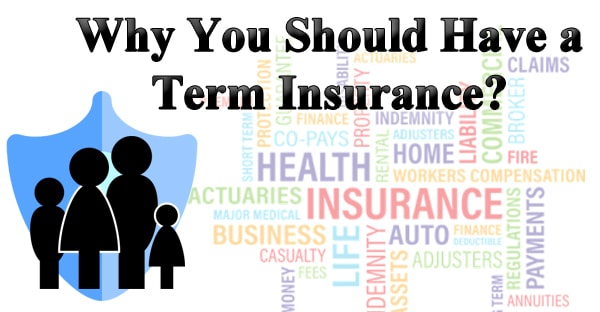 Term Insurance is a specific Insurance Product that provides insurance protection to the policyholder for the mentioned time period. During the time period when the insurance is in force, the policyholder suddenly demises a Sum Assured on Death will be provided to the nominee. If the policyholder survives the time period, then there will be no maturity amount to be paid by the corporation.
Reason to Buy Term Insurance
No maturity amount might make this insurance product undesirable to you but the following reasons will provide you with the insight of the product and why you should have a term Insurance-
High Sum Assured
The Sum Assured is an amount that is paid against the insurance claim that has been made after the demise of the policyholder. When we compare other insurance product with term insurance the Sum Assured for the term insurance is higher than the normal insurance product.
Low Premiums
Premiums amount are very low in the case of term Insurance and the sum assured is high which makes it a perfect match for those who want to secure their family future. The premium can be paid using any method monthly, yearly, quarterly, etc.
Tax Savings
Some of the term insurance can provide you with the tax savings option under section 80C of the Income Tax Act. Tax savings can be on both the Sum Assured amount and at the time of Income Tax Returns fillings.
High Claim Settlement Ratio
The claim settlement ration is a ration of how many claims are settled during the financial year. It is indexed and maintained by the IRDAI that regulates Insurance companies in India. The claims that are rejected due to any misconduct are very less which make the claim settlement fast and easy.
Secure the future
Securing the future is very important as anything can happen. At the time of our demise family suffers the most financially. An insurance product like term insurance can help in supporting the family financially.