Whenever you have bought your car, bike or planning to buy one, then you must know that a Vehicle Insurance is mandatory. As you know insurance is a financial product that helps you in covering any kind of damage or accident faced by you while operating the vehicle. Buying a vehicle is very costly and requires you to collect funds. You can also avail a loan which is offered by a lot of financers companies like Tata Capital, Bajaj Alliance, etc.
Covering a vehicle damage cost will be too high which makes it necessary for you to avail the vehicle insurance. In this article, we will provide you with the necessary information that will help you in understanding the vehicle insurance.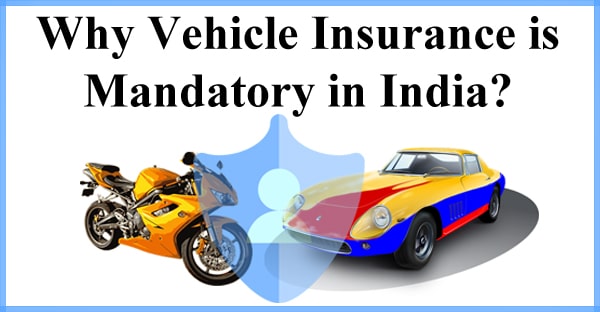 Advantage of Vehicle Insurance
Coverage
Vehicle Insurance covers all the damages that occurred while an accident has occurred that includes the dame to the driver meaning hospitalization or injury treatment and the vehicle damage that was caused due to collision by a third party or by yourself.
No Claim Bonus
If during the policy term you have not claimed for any accidental insurance then your policy is entitled to get a special discount on the premium that you are required to pay.
Why Vehicle Insurance is Mandatory?
According to the Motor Vehicles Act, 1988, a motor vehicle (including a private car) in a public road should have insurance to cover any damage to the life and property of others. This liability of death, injury or damage to property towards a third party is borne by the insurance company. The other reason is that the insurance document becomes a document that you can use to identify your vehicle to the authorities. Whenever a traffic Officer stops you for any reason then he asks for the documentation that includes license, RC of Vehicle, Pollution control slip and insurance papers.
If the vehicle owner does not obey the Motor Vehicle Act then it can result in the punishment which can be as follows-
A fine of Rs. 1000 (More) and/or could also result in the imprisonment for up to 3 months
Any person found disobeying the rules could have their driver's license suspended.
Following a violation of the law can also result in vehicle registration suspension
Conclusion
Buying Vehicle Insurance is mandatory and is offered by vehicle showroom personals to the customer at the time of buying the vehicle. If you are getting a better offer somewhere then you can also say no to the insurance and can avail the insurance later but it is a mandatory document and hence you must have it in order to operate the vehicle in Indian roads. Your vehicle will also be covering the theft of the vehicle meaning if the car or bike that belongs you gets stolen then some part of the vehicle cost will be covered by the Insurance company.