Keeping a log of the bank account is necessary and can be very helpful in our budgeting. When we want to check the bank balance of our account we visit the bank branch and update the passbook that will provide us with the bank balance details. Now banks provide advanced balance check facility that enables the account holder to find the bank balance using the missed call number, net banking, etc.
Uttarakhand Gramin Bank Missed Call Number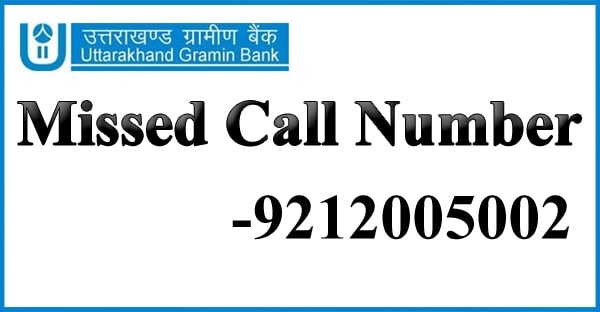 Uttarakhand Gramin Bank provides the user with the missed call balance check facility that helps the user for finding the bank balance of the account. The Uttarakhand Gramin Bank missed call number is 9212005002. The call will be automatically disconnected after 2 rings followed by an SMS Containing the bank balance details.
Uttarakhand Gramin Bank Net Banking
Net Banking is an anytime banking solution for those people who cannot visit the bank branch for using banking services. You can the net banking for all the banking activities like fund transfer, Cheque book request, balance inquiry, account statement, etc. For using the net banking you need to have login details that can be applied by filling a form. After receiving the login details you can start using the UGB Net Banking.
Uttarakhand Gramin Bank Mobile Banking
Mobile Banking is similar to the net banking in many terms but the only difference is being the use of mobile device instead of any PC or laptop. In mobile banking, the user gets a dedicated app build for using the banking services which makes it safe and faster for using. The app for using mobile banking is free to download and can be used 24X7, 365 days. The download link for the android device is listed below-
Uttarakhand Gramin Bank ATM Card
Uttarakhand Gramin Bank ATM Card can be used to find the bank balance of the account. You can use the ATM card in any of the bank ATM Machine for free of cost. You can follow these steps to find the bank balance of the account-
Insert the ATM Card in the card slot
Enter the 4 digit PIN and press enter
Now select the balance inquiry option