RBI is the central banking authority of India that regulates all the banking functions and set guidelines for the banks to operate in the country. RBI controls all the payment transfer initiated along with setting up the Bank IFSC Codes. RBI recently proposed a timing change in the various Payment transfer primarily for the NEFT.
Currently, NEFT Transaction is taken out in the batch system consist of 23 batch each batch is of 30 min. In this article, we will discuss the benefits of the 24X7 NEFT Transfer and all the details related to the NEFT.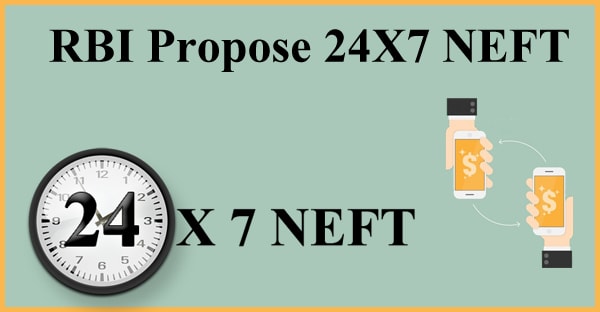 Why NEFT Transfer?
NEFT stands for National Electronic Fund transfer which transfers the fund online as well as offline. In India, there are three methods of transferring funds online- NEFT, RTGS, and IMPS. IMPS and RTGS have a limit of transfer amounts of maximum 2 Lakh limit and minimum 2 Lakh limit respectively. NEFT is the only transfer system that covers the grey area and comes with no minimum or maximum limits.
How NEFT Works?
NEFT is a system designed for people who want to transfer funds online or offline in the NEFT Batch timings. Funds are settled in a half hourly batches meaning if the fund transfer is initiated then the payment will be done within half hours.
In NEFT, there are 3 parties involved in the NEFT transfer. The first part is the sender and sender's bank, the second party is the central processing House of RBI and the third part is the receiver's bank and receiver. The process of payment transfer is initiated by the sender's bank which transfers the request to the clearinghouse and payment is deducted immediately. Now the clearinghouse will locate the receiver's bank account and the payment will be transferred to the bank account of the receiver.
Current 24X7 Payment Option
Currently, the payment transfer option that is available for transferring funds 24X7 is IMPS which can be used online. There is a limit to the transfer amount of the IMPS a maximum of Rs. 2 Lakhs can be transferred. It is an online-only method of payment transfer and therefore requires the internet banking or mobile banking facility.
RBI proposed the extension of the NEFT timings to cater to the growing needs and rising economy of the country. This step of RBI can lead to more graceful experience for the customer using the bank. This will also enable the banks to indulge more people into the banking system as the payment will be faster and will be transferred immediately. There are some other changes that are associated with the NEFT timings change that can be done after RBI Comes into the conclusion of the proposal.