Pradhan Mantri Yuva Yojana formerly known as udyamita scheme is a scheme launched by the Modi Government to provide a training and educational knowledge to the youth trying to become an entrepreneur. This yojana is sponsored by the Central Government by the Ministry of Skill Development and Entrepreneurship, Government of India.
The Scheme is targeted to run for the five year from 2016 to 2021 training over 7 lakhs student and young entrepreneur. The project budget will be around 499 crore provided by the Central and State government jointly toward the development of the entrepreneur.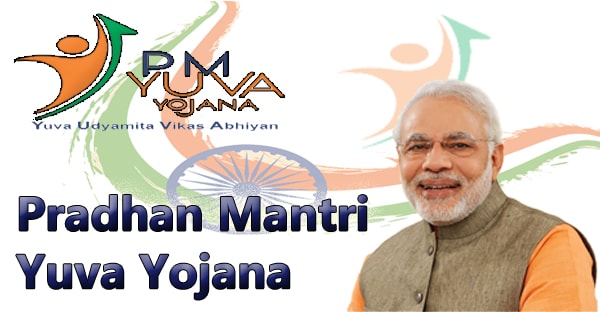 Key Points of the PM Yuva Yojana
Educating the Entrepreneur
Education is the most important aspect of this scheme by delivering the entrepreneur with skill free of cost with Massive Open-online Courses (MOOC) which will be assessable through the Learning Management System (LMS). You will also get a certification for participation in the scheme.
Creating an Ecosystem for Entrepreneur
Entrepreneur Ecosystem is a place where all the businesses, investors and companies meet and develops. It also provides a Mentor Program for an individual to get the best support needed to start a business.
Establishing Entrepreneur Hub (E-Hub)
E-Hub is a place which is established to promote entrepreneurship development programmes all over the nation. It was established at all level Nodal, Regional etc. It will be responsible for managing the entrepreneur, institute and faculty with its Cloud-Based Management Information System.
Creating a Social Environment for Entrepreneur
Organizing and creating a culture of dynamic entrepreneurship through events, branding and media. It also drives entrepreneurship research & advocacy by Supervision of the progress of the beneficiaries.
Eligibility for PMYY
Every Individual who is a citizen of India and above the age of 30 can participate in this scheme. Other than that there is no other major Eligibility requirement of the PMYY Scheme. You need to contact the joining institute before applying to ensure a smooth admission process. The list of Institute with the contact details will be listed in the official website.
How to Enroll in the PM Yuva Yojana?
To enroll in the PM Yuva Yojana you need to contact the nearest institute or development center. The institute will provide you with detail about the registration process.
Loan under PMYY
A Loan can also be availed under the PMYY scheme which provides you with adequate funding options to start your business venture. This scheme creates an ecosystem where you will be hand holded from start to the end by industrial expert and the training faculty.
Courses offered Under PMYY
In PMYY Scheme, the courses offered are divided into two levels a basic level course and an Advanced level course. All these courses can range up to 6 months and after that, the individual completing the course will be offered with the certification of participation. There are four types of institutes that offer different courses.
Institute of Higher Learning (IHL)
Institute of Higher Learning will offer six certificate programs to students. These will be facilitated by faculty through this platform, and have a strong focus on peer learning, and creates smart, collaborative teams of students. Primary goals are: Inspire and build confidence in students to startup and progress on the path of entrepreneurship, equip students with the hard skills required to start and run a venture and Support students who have ideas with guidance, networks and platforms. These are the Type of Course offered under IHL is as follows-
Orientation Course: 30 hours per Semester for 6 months
Other Higher Courses: 40 hours per Semester for 6 months
Industrial Training Institutes (ITIs)
Through this course, the students will learn skills on key aspects of setting up a small business such as Inventory management, sourcing, bookkeeping and financial discipline, digital marketing, general administration and barefoot managerial skills. The course helps students leverage their vocational skill sets and gain information about various Government facilitation and funding schemes to start their own business. These are the Type of Course offered under ITI is as follows-
Foundation Course: 15 Hours. 1-1.5 hours per week for 3 months
Advanced Course: 60 Hours. 3-4 hours per week for 6 months
Higher Secondary (HS)
Schools Courses offered at schools (10+2) will have Foundation and Advanced Course. Foundation Course is about exploring entrepreneurship where the student will understand how entrepreneurs think and act and will be inspired about entrepreneurship as a career. The Advanced Course will help students learn the basic skills necessary to start a company and run their own business. These are the Type of Course offered under HS is as follows-
Foundation Course: 15 Hours. 1-1.5 hours per week for three months
Advanced Course: 15 Hours. 1-1.5 hours per week for 3 months
Entrepreneurship Development Centers (EDC)
Through this course, the EDC candidates will be able to launch their own venture by applying the venture creation knowledge and skills to their domain of expertise. Here the modular courses will be offered as decided by the National E-hub for specific business skills such as inventory management, sourcing, bookkeeping and financial discipline, digital marketing, general administration, barefoot managerial skills and communication skills etc. Course duration will be decided by National E-hub in consultation with EDCs.
Was this post helpful?
Let us know if you liked the post. That's the only way we can improve.