The Government of India in collaboration with the Life Insurance Corporation (LIC) launched the Janashree Bima Yojna (JBY) in the year 2000 to provide life cover to people living below the poverty line and marginally above the poverty line. At present, the plan covers 45 occupation groups in India at the rural and urban level.
ELIGIBILITY CRITERIA
The eligibility criteria for JBY policy is as follows:
The applicant must lie in the age group of 18 to 59 years.
The applicant must be a member of any of the nodal agency approved occupation or vocational group.
The applicant must be marginally above or below the poverty line.
The minimum membership size must be 25.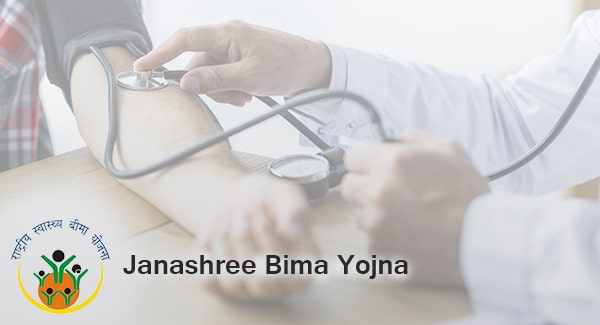 FEATURES
In this scheme, the members have to pay a premium of Rs. 200 per person where half the premium would be paid by the members or the State Government/Nodal Agency at the time of proposal submission. The Nodal Agencies are formed of Self Help Groups (SHGs), Non-government Organizations (NGOs), Panchayat, or any other institutional bodies. Hence, the remaining 50 percent of the premium would be funded from the Social Security Fund.
WOMEN SHG GROUPS
Janashree Bima Yojana also provides a distinct scheme to women Self Help Group members to provide assistance in the education of their children. The term life insurance cover for a value of Rs. 30,000 is delivered for a duration of one year. The annual premium of Rs. 200 is shared amid the LIC and the SHG member. Here the member has to pay an amount of Rs. 100, while the remaining Rs. 100 is provided by the LIC of India.
SHIKSHA SAHYOG YOJANA
The Janashree Bima Yojana also provides a social security scheme, Shiksha Sahyog Yojana (SSY), for kids whose parents are covered under the scheme. This add-on benefit of the Janashree Bima Yojana pays a biannual scholarship value of Rs. 600 to students studying in class IX to XII and even includes ITI students. However, this facility is limited to two kids per family.
BENEFITS
There are a number of added benefits to this insurance policy and some of them are listed below:
In the instance of the policy holder's death due to natural causes during the active policy term, the nominee would be provided a sum of Rs. 30,000 as death benefit.
In the case of accidental death or permanent disability of the policy holder during the active policy term, the beneficiary would be provided a sum of Rs. 75,000 as compensation value.
In the instance of partial permanent disability of the life assured due to an accident in the course of an active policy term, the sum of Rs. 37,500 would be paid as compensation.
GROUPS COVERED
The Jeevan Bima Yojna covers the below mentioned groups that lie below and marginally above the poverty line category:
Aanganwadi workers and helpers
Agriculturists Papad workers attached to SEWA
Paper product manufacturers
Beedi workers Physically handicapped self-employed Individuals
Brick kiln workers Plantation workers
Carpenters Powerloom workers
Cobblers Primary milk producers
Coconut processors Printing press workers
Construction workers Rickshaw pullers and auto drivers
Chemical products like candle manufacturers Rubber and coal producers
Earthen toy makers Rural poor
Fire cracker workers Safai karamcharis
Fishermen Salt producers
Foodstuffs like khandsari/sugar company workers
Food product manufacturers Scheme for urban poor
Forest workers Sericulture
Hamals Sheep breeders
Handicraft artisans Tenduleaf collectors
Handloom weavers Textile workers
Khadi weavers Toddy tappers
Hilly area women Transport drivers association members
Kotwal Transport workers
Lady tailors Women associated with SHG
Leather tannery workers
Manufacturer of leather products