NPS stands for National Pension Scheme which is a market-linked pension fund that offers attractive returns for the investment made over the years.
It is one of the best schemes to invest for a young person as you can start investing in NPS as young as 18 years of age and reap the benefit after your retirement i.e after 60 years of age.
Since the scheme is market-linked, the ROI in this investment is very attractive. This can be attractive especially in a booming developing economy like India where the market investment can reap amazing returns.
NPS account can be opened with many Point of Presence vendors but, one of the best PoP vendors is SBI Bank.
You can open your NPS account in SBI through online and offline methods. In this article, we will discuss How to Open NPS Account in SBI? Documents Required, Online & Offline, etc.
But first, let's find out the types of NPS Account.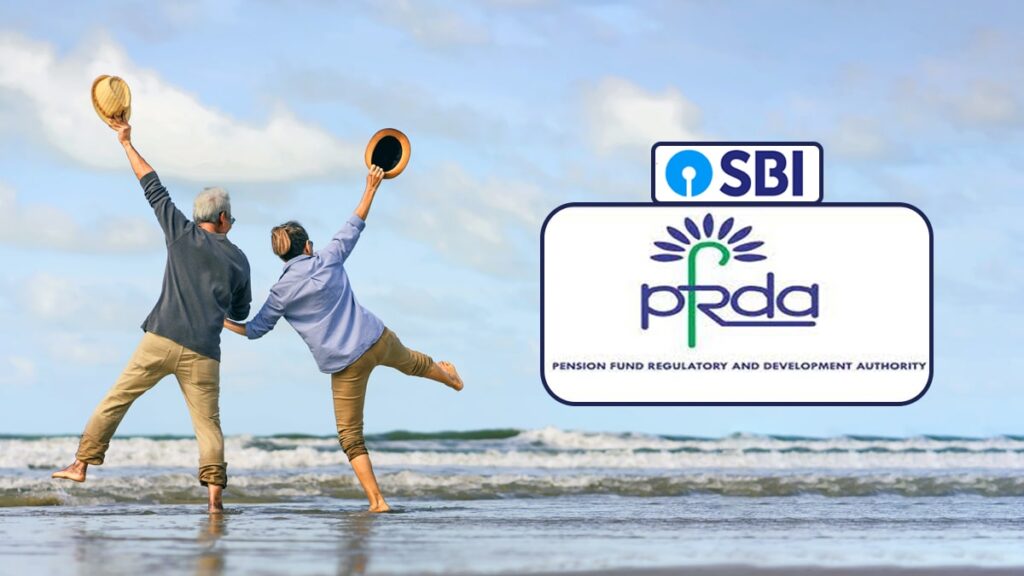 Type of NPS Account
The following are the types of NPS Account that you can subscribe to-
Tier-I
Tier-I account for NPS is a mandatory account meaning if you subscribe to NPS account then you are required to contribute to this account at least 1 in a year.
You'll also get a tax benefit of up to Rs 1.5 lakh per annum for subscribing to the NPS Account under the Income Tax Act, section 80C, and an additional 50,000 under Section 80CCD (1B).
At the time of maturity, you'll get returns for your contribution of which 40 percent of the corpus is tax-free and 40% can be used to buy an annuity scheme. Rest 20% can be withdrawn after-tax deduction.
Tier-II
This is a voluntary account that offers a flexible withdrawal and contribution system. You can only open this account if you have a tier-I account with NPS. This account is not exempted from tax benefits.
Eligibility of NPS Account
The following are the eligibility criteria for NPS Account-
The subscriber must be a citizen of India
The minimum age for opening an NPS Account is 18 years and the maximum age for opening an NPS account is 60 years
The contribution that you make to NPS Account can be extended up to 70 years of age
For Tier-I accounts, the minimum amount to contribute is Rs.500/- (for account opening also) with a minimum of 1 contribution each year
For Tier-II accounts, the minimum amount for account opening is Rs.1000/- and thereafter at least 1 mandatory contribution of a minimum of Rs.250 is necessary to maintain the account
Documents Required for Opening NPS Account
The following are the documents required for opening an NPS Account-
Identity Proof- Aadhaar Card, Class 10 and 12 certificates, PAN Card, Passport, etc.
Residence Proof-Electricity bill, Utility bills, Bank Passbook first page, etc.
Application Form for opening NPS Account
PAN Card (Mandatory) scanned
Aadhaar Card (Mandatory)
Canceled Cheque
Scanned passport size image
Scanned Signature
How to Open NPS Account in SBI?
National Pension Scheme can be opened using both online and offline methods using NPS Portal and SBI Bank Branches respectively. The following are the online and offline methods of account opening in State Bank of India-
Online NPS Account Opening
Visit the website of the NPS online portal and click on the National Pension System button followed by clicking on the registration button
A registration form will appear where you have to enter your details like Aadhaar number, applicant type, resident status, etc. followed by clicking on Generate OTP button
An OTP will be sent to your Aadhaar card registered number which you have to enter in the given field
Now, you'll be redirected to another form where you have to enter personal details and family details
You also have to provide your identity proof number and you address proof number of the document of your choice however the preferred documents is Aadhaar card and PAN Card
After filling, the form, click on the generate acknowledgment number followed by clicking on the Ok button
Now, you'll be redirected to a semi-filled application form with multiple sections. You have to check each section and fill the fields which are empty like bank details, nomination details, etc.
You also have to select the pension fund manager from the dropdown list and the investment option i.e Auto or active(you set your percentage of contribution manually)
Now, you have to upload the documents mentioned above i.e. PAN Card, Cheque book,
You also have to enter the first time contribution amount in the account followed by clicking on the confirmed payment button
Now, a declaration form open where you have to tick on the checkboxes followed by clicking on the make payment button
After successful payment, a PRAN Number will be generated which can be used by you to access your NPS Account
Now, you also have to sign the application form using the eSign system of print and courier method
After completing the signing process, your account will be created successfully and you can use your PRAN number as an account number for making future contributions to the NPS Account
Offline NPS Account Opening
Visit the nearest SBI Bank branch and ask the bank representative for the NPS account opening form
Fill the form with correct details followed by attaching the required documents which are mentioned above
Now, submit the documents to the bank representative along with the initial deposit amount
Your application will be processed by the bank and you'll be notified about the account opening via SMS
You'll also receive your PRAN Number via SMS and email that you can use to access your account
Selection of Pension Fund manager
You have an option to choose the pension fund manager. By default, the SBI pension fund is the fund manager of your account. The following are the list of Pension Fund Manger that you can choose from-
SBI Pension Funds
LIC Pension Fund
UTI Retirement Solutions
HDFC Pension Fund
ICICI Prudential Pension Fund
Kotak Pension Fund
Reliance Capital Pension Fund
Birla Sun Life Pension Management Ltd.
Indian Post Office
You can also change between these fund managers if you are unsatisfied with the performance. One-time fund manager change is allowed in a year.
Selection of Investment Option
After selecting the fund manager, you also have an option to choose the investment option. By default, it is set to auto but you can also manually set it. The following are the three investment options you get-
Equity market
Equity Market is the stock market equity shares. The percentage of the money you invest in this account is in a high-risk, high return format.
Corporate Bonds
Corporate Bonds are relatively less risky and offer medium returns for the investment you make
Government Bonds
Government Bonds are the safest bonds but relatively low in returns perspective. Since it is a government bond, therefore, you get a guaranteed return.
How to Make payment to NPS Account online?
You can make payments online using your SBI net banking account. The following are the step by step methods to pay NPS Account contribution using your Net Banking-
Visit the official SBI Net Banking portal and login using your login credentials
After logging in, click on the NPS Contribution under the payment and transfer tab
Now, you have to add NPS beneficiary on your SBI account
Enter your profile password followed by entering your PRAN number in the given field
Now, a confirmation page with your account details will appear where you have to click on the confirm button
Now, you have to enter a high-security password on the next page followed by clicking confirm button
Your PRAN account number is successfully added as a beneficiary in your SBI net banking account
Now, navigate again to the NPS contribution page and select the added beneficiary from the list
You have two options for payment i.e. pay now or standing instruction. You have to choose accordingly from this option and click on the submit button
Now, you have to select the Tier account where you want to make payment for I, II, or both followed by selecting the amount
After selecting the amount, click on the submit button followed by clicking confirm button
Now, enter the high-security password to confirm your payment
After entering the password, your NPS account contribution will be successful
Also Read- How to Open Sukanya Samriddhi Yojana Account in SBI
FAQ
Can Non-resident Indians apply for an NPS Account?
Yes, Non-resident Indians or OIC cardholders can contribute to the NPS Account opening.
Can Indian-origin foreign citizens apply for an NPS Account?
No, Only Indian nationals can apply for an NPS Account.
How many times can I contribute to my NPS account?
As many a time as you like but you are required to make a minimum of 1 contribution a year of Rs.500 in the tier-I account.
Is Tier-II account contribution mandatory?
No, Tier-II account is a voluntary account, you can contribute as much as you like and you also get the flexibility to withdraw the funds.
What are the contact details if I have a query on the NPS Account?
You can contact CRA at 022-24994200 or write an email at [email protected] or send a letter to CRA at NSDL e-Governance Infrastructure Limited, Times Tower, 1st Floor, Kamala Mills Compound, Senapati Bapat Marg, Lower Parel (W), Mumbai – 400013.
Was this post helpful?
Let us know if you liked the post. That's the only way we can improve.