Linking Aadhar cards and PAN cards is important for using any financial services provided by any of the institutions.
Whether it's a bank or income tax department, you must link the PAN card and Aadhar card to use any of the services smoothly.
The government of India made it mandatory for every individual to link the PAN with Aadhar as it facilities the ITR filling and enables the government to track taxes.
Every resident of India who has an Aadhar card has a secured data repository maintained which will have a lot of details like name, address, age, etc.
Along with these details, the repository also has financial details like linked banks, other third-party services, property purchased, etc.
PAN Card is the latest addition to this repository enabling the government to track the tax paid by the individual.
So, you need to link your PAN Card with your Aadhar Card and you can do that online. All you need is your Aadhar card number, PAN Card number, and your mobile phone.
Before finding out the steps to link a PAN card with Aadhar Card, we have to check the Aadhar and PAN card link status.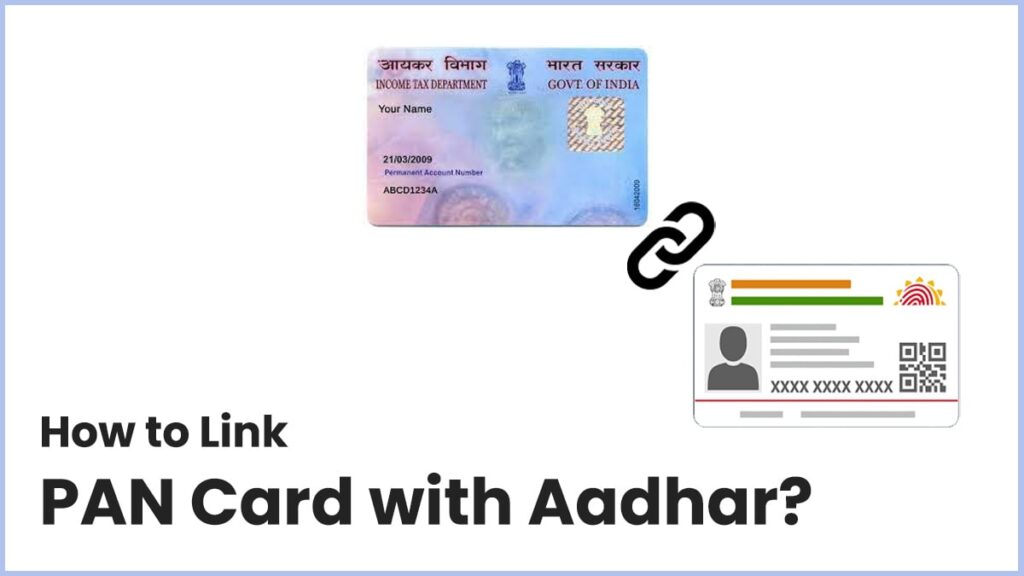 Check Aadhar Card & PAN Card Link Status
Checking Aadhar Card and PAN card link status is easy and can be done by following these steps-
Visit the official UTIITSL portal for checking Aadhar and PAN card status
Now, enter the PAN Card number followed by DOB and enter the captcha
After entering the details, you'll have to click on the submit button
The status of your Aadhar-PAN link will be displayed and you'll be able to find the status of your Aadhar and PAN card
Steps to Link PAN Card with Aadhar Card
The following are the steps to link a PAN card with Aadhar Card-
Visit the Income Tax e-filing portal and click on the register button
You'll have to get yourself registered using your PAN card as your user ID and password of your choice
After successful registration, you'll have to login to your account using your login credentials
After logging in, A pop-up window will appear prompting you to link your PAN card with your Aadhar Card
Details like your name, date of birth, and gender will be mentioned as per the PAN details
Verify the PAN details on the screen with the one mentioned on your Aadhar card
Now, enter your Aadhar card number and click on the link now button
A pop-up will appear informing you about the successfully linked Aadhar card and PAN card
FAQ
Can a person have 2 PAN Cards?
No, you cannot have two PAN cards, having more than one PAN card is a punishable offense and a heavy fine will be levied on the individual.
What is the validity of a PAN Card?
A PAN card is valid for a lifetime until the person's life.  
What is the age limit for applying for a PAN Card?
There are no age limitations for applying for a PAN Card, however, if you want to apply for a PAN Card or your child then 18 years or above will be a perfect age for applying for a PAN card.  
Can we link Aadhar and PAN with mobile online?
Yes, you can link Aadhar and PAN cards using mobile online by sending an SMS to 567678 or 56161 using your registered mobile number by following this syntax type UIDPAN(12-digit Aadhaar)(10-digit PAN).
How long does it take for an Aadhar card and PAN card to get linked?
For the Aadhar card and PAN card to get linked, it may take 4-5 working days
Was this post helpful?
Let us know if you liked the post. That's the only way we can improve.