Many customers of the bank do not know their bank account balance at a given time, either they have to visit the ATM Machine or they have to update their Passbook in the bank branch which is time-consuming and irrelevant when the bank branch is closed. Vijaya Bank provides their customer with many options through which they can check their bank balance without leaving the comfort of their home like missed call balance check number, SMS facility etc.
About Vijaya Bank
Vijaya Bank is a public sector bank and is one of the nationalized banks in India. Vijaya Bank was established by a group of farmers in an auspicious day of Vijayadashami and hence named Vijaya Bank. The current MD & CEO of Vijaya Bank is Shri R.A.Sankara Narayanan. The bank has a network of 2031 branches (as of March 2017) throughout the country and over 4000 customer touch points including 2001 ATMs.
On September of 2018, Finance Minister Arun Jaitley announced the merger of the Vijaya bank with Bank of Baroda and Dena Bank to form India's Third Largest Bank.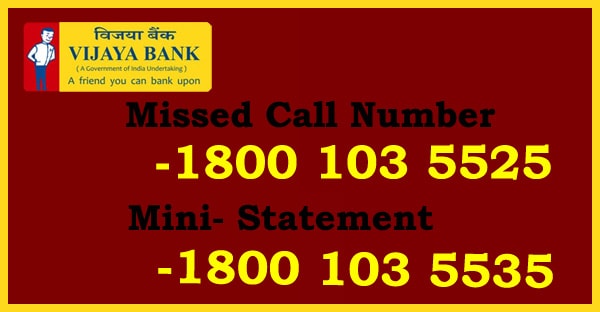 Vijaya Bank provides Account Balance check by following ways.
Missed Call
SMS Banking
Vijaya bank App
Net banking
Vijaya Bank Missed Call Banking
Balance check by giving a missed call is by far the best method to know your account balance. This is a hassle-free service provided by the bank without any cost. Vijaya bank for their customers provides a free to use missed call banking service. To avail this service you need to give a missed call on 1800 103 5525, after a few rings the call will be disconnected automatically and an SMS with your account details will be sent to your mobile number as a text message. For the mini account statement, you have to give a missed call on 1800 103 5535 the process will be the same and the mini statement will be provided to you via SMS.
Vijaya Bank SMS Banking
SMS Banking service is also available for those who want to use this service. SMS banking can be used by sending a pre-decided format of a text message and sending it to a number and as a result, you will get the details of the account via SMS. The message format to check balance is "VIJ XXXX" and send it to 575758 where "XXXX" is your last four digit of your account number.
Vijaya Bank App
Vijaya bank has an application for their Smartphone user who wants their account details on their smartphones.
Vijaya Bank Net Banking
Vijaya bank also offers net banking facility for those who want to use the online service. This can be used for other purposes too like money transfer etc. To check the account balance go to  Vijaya Bank Net Banking, then log in with your id and password.
Check Vijaya Bank Balance on ATM
ATM Machines provides free balance check facilities. You can use it in any bank ATM, all the bank ATM Machines can be used to check the balance.
How to Check the Balance?
Insert your ATM card into an ATM- Machines will allow you to check your balance for free.
Type in your PIN on the machine- A four-digit number you should have set up when you opened your account.
Select the option to view your balance- You will be able to go back and make a withdrawal or print that balance.
Minimum Balance Requirement of Vijaya Bank
The Minimum Balance required to maintain the account without any penalty is Rs.2000 for Urban and Metro areas, for Semi-Urban and Rural areas the amount is Rs.1000. For special category saving account like a student, pensioner the minimum balance is Rs.500.
Details

Non – individuals
Individuals
Non – rural
Rural
i) Balance in the account – from 'Rs. 0' to 25% of the minimum balance
Rs.130.00 per month
Rs. 67.00 per month
Rs. 52.00 per month
ii) Above 25% to 50% of minimum balance stipulated
Rs.67.00 per month
Rs.31.00 per month
Rs.26.00 per month
iii) Above 50% of minimum balance stipulated
Rs.31.00 per month
Rs.16.00 per month
Rs.16.00 per month
Was this post helpful?
Let us know if you liked the post. That's the only way we can improve.