Customers of a bank face issues when they require to check their account balance. To check the Account Balance they have to either visit the branch or use ATM Card to know their account balance. IDBI Bank provides the customer with various methods that can be utilized by the customers to find the IDBI Bank Account Balance.
About IDBI Bank
Industrial Development Bank of India (IDBI) was established in 1964 to provide financial support to the Indian industries. It is one among the public sector banks in India and is a nationalized bank to be treated on par with State Bank of India (SBI) and other nationalized banks in accordance with the notification dated 26th February 2013 by the finance ministry. It currently has 3,817 ATMs, 1,995 branches, including one overseas branch in Dubai, and 1,382 centres.
Recently, IDBI Bank has become a privately owned bank after LIC acquired the bank. RBI, after the acquiring made the IDBI as a Private Sector Bank.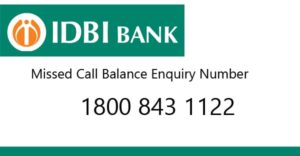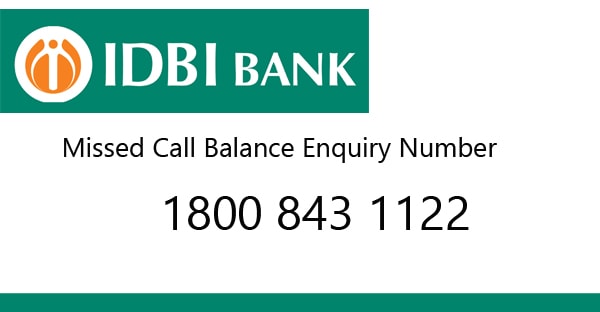 IDBI provides Account Balance check by following ways.
Missed Call
SMS
Net banking
IDBI App
IDBI Missed Call Banking
The free of charge missed call banking service is provided by the IDBI Bank to determine the Account balance and mini statement. To use this service you need to give a missed call on a toll-free number- 18008431122 for determining the account balance and 18008431133 for getting a mini statement of your bank account details. Once you called on the IDBI Bank Missed Call number the phone will be automatically disconnected followed by an SMS with the account details.
IDBI Account Balance Check by SMS
The IDBI Account Balance by SMS is as follows-
Services
SMS Format
 Balance inquiry
BAL CUSTOMERID PIN [ACCOUNT NUMBER]
Fixed deposits inquiry
FD CUSTOMERID PIN [ACCOUNT NUMBER]
Last 3 Transactions
TXN CUSTOMERID PIN [ACCOUNT NUMBER]
Cheque Payment Status
CPS CUSTOMERID PIN CHEQUE NUMBER [ACCOUNT NUMBER]
for cheque book
CBR CUSTOMERID PIN NUMBER OF LEAVES P/M [ACCOUNT NUMBER]
Request for statement
STM CUSTOMERID PIN FROM-DATE-TO-DATE [ACCOUNT NUMBER]
From date MMYY
To date MMYY
The account number is optional.
Change of PIN
CPN CUSTOMERID OLDPIN NEWPIN
SMS Banking – Demat Enquiry
Free balance Holdings(Passing the customer ID)
DB CUSTOMERID PIN
STARTS WITH [DPM CLIENT ID]
Last two Transactions
DT CUSTOMERID PIN
SMS Banking – Bill Payment
Pending Bills
GETBILL CUSTOMERID PIN [PAYEEID]
(All fields would be separated by spaces).
Bill ID:
Biller Name:
Bill Date:
Amount:
Due Date:
Pay Bill
PAYBILL CUSTOMERID PIN BILLID
(All fields would be separated by spaces).
Success or failure message.
Registered Billers
MYBILLERS CUSTOMERID PIN
(All fields would be separated by spaces).
Payee ID
Payee Nick Name
Example:
IDBI Ltd.
MYBILLERS
Change Primary Account
CPA CUSTOMERID PIN ACCOUNT NUMBER
(All fields would be separated by spaces).
Here, the account number is a must.
Help
HELP
The reply message will contain the formats for all the options available for the uses as above.
IDBI Net Banking.
IDBI through their internet services provides a net banking facility with many other features. You Can Check IDBI Account Balance by Login to IDBI Net Banking.
Choose from the given drop-down menu on the top left of the page which says Net Banking. There will be two options personal or cooperate choose the relevant option.
IDBI App
IDBI Bank provides its Smartphone users with a utility app that delivers best services about the balance as well as a virtual passbook. Download link for the respective devices is down below
Check IDBI Balance by ATM
ATM Machines provides free balance check facilities. You can use it in any bank ATM, all the bank ATM Machines can be used to check the balance.
How to check the balance?
Insert your ATM card into an ATM- Machines will allow you to check your balance for free.
Type in your PIN on the machine- A four-digit number you should have set up when you opened your account.
Select the option to view your balance- You will be able to go back and make a withdrawal or print that balance.
Minimum Balance Required for IDBI Bank
The Minimum Balance required by the IDBI Bank is Rs.5000/- for Metro and Urban Branches and Rs.2500/- for Semi-Urban branches Rs.500/- for Rural branches.
The penalty on the non-maintenance of the minimum balance for Metro & Semi-Urban, Urban and Rural are Rs.100/-, Rs.50/- and Rs.20/- respectively.