Many people who have bank account with Corporation Bank faces a lot of problems when they need to check their bank account balance. They visit the bank branch and update their passbook or they use ATM Machine for this. Corporation Bank provides their customer with many options other than the above mentioned that can be used to find their Corporation Bank Account Balance.
About Corporation Bank
Corporation bank is a public sector bank established in 1906 headquartered at Mangalore India. It is one of the oldest banks in India dated pre-independence. The bank has a pan-Indian presence. Presently, the bank has a network of 2,440 fully automated CBS branches, 3,040 ATMs, and 4,724 branchless banking units across the country.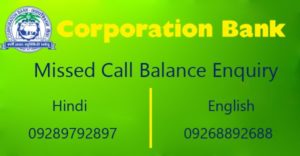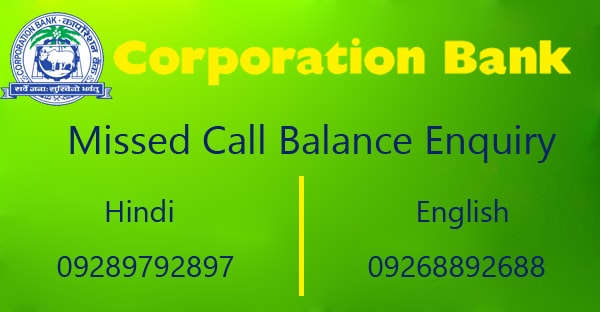 Corporation Bank provides Account Balance check by following ways-
Missed Call
SMS Banking
Net banking
Cooperation Bank USSD Code
Corp mPassbook App
Corporation Bank Missed Call Banking
Corporation bank provides customers with missed call balance check facility. This is a free service. Corporation Bank provides the details in English as well as Hindi both the languages and has a separate number for each of them. The only prerequisite is to have your phone number registered in the bank.
The Missed Call Number for Hindi is 09289792897 for domestic customers and for abroad customers, the number is 919289792897. For the customers with the English language-Domestic, the missed call number is 09268892688 and for abroad customers, the missed call number is 919268892688.
Corporation Bank SMS Banking
Corporation banking provides SMS Banking where the user can make a request for a balance check or mini statement via SMS. The number to send the message is 9243717778 or 5667716. The SMS has to be in a certain format. The format of the SMS is mention below-
| Format | Function | Example |
| --- | --- | --- |
| CBAL <A/c Number> | Mini statement | CBAL 1234567 |
| CTRN <A/c Number> | Balance check | CTRN 0012343456 |
Corporation Bank App
Corporation Bank has an app that provides its users a full bank statement in their smartphones. The user just has to download the apps and then they can easily find balance along with other bank details. The download link for the respective devices is down below.
Corporation Bank Net Banking
Cooperation bank has an online banking facility through which they can perform any banking activity 24×7 without any problem. The customer can check this facility by login in the Corporation Bank Net Banking.
Corporation Bank USSD Code
This mode of Mobile Banking is available for all customers. There is no restriction on the type of handsets for initiating transactions through this mode. In this mode, the customer dials *99#. Mobile banking session will start and the customer can check his balance along with many other services.
Check Corporation Bank Balance by ATM
ATM Machines provides free balance check facilities. You can use it in any bank ATM, all the bank ATM Machines can be used to check the balance.
How to Check the Balance?
Insert your ATM card into an ATM- Machines will allow you to check your balance for free.
Type in your PIN on the machine- A four-digit number you should have set up when you opened your account.
Select the option to view your balance- You will be able to go back and make a withdrawal or print that balance.
Minimum Balance Requirement for Corporation Bank
The Minimum Balance requirement for Corporation Bank depends on the geographical location. For the Rural areas the minimum balance requirement is Rs.500 and for Urban, Semi-Urban and Metro areas the minimum balance requirement is Rs.1000/-.
Failing in maintaining the minimum balance will cause in a penalty. The penalty amount is Rs.100 + GST for all the account Branches.