To maintain a proper ledger of the money you need to know how much bank balance you have. For that, you can use ATM machines or Passbook update but it is time-consuming. Therefore, To save time and easy banking Canara Bank provides various method to check Account Balance for Canara bank customers.
Canara Bank is one of the largest banks in the country. It was established in 1906 in Mangalore making it one of the oldest banks in the country.  The bank had a network of 6639 branches and more than 10600 ATMs spread across all over India.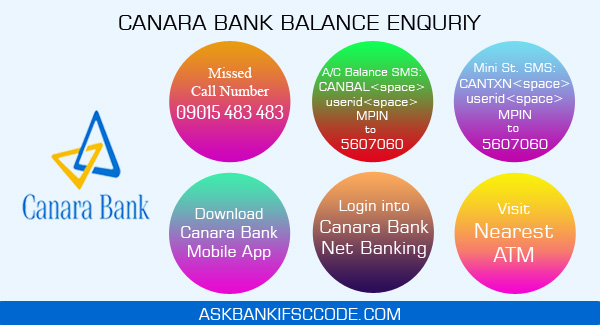 Canara Bank provides Account Balance check by following ways.
Missed Call
SMS
Net banking
Canara Bank Swipe
Canara Bank Missed Call Banking
Canara Bank has different numbers for different services they provide. The Missed Call number to check the account balance for your Canara Bank Account is 9015483483. This  number will be automatically disconnected after a few rings, after that you will get a notification about you details of Canara Bank Balance. Apart from Bank Balance Canara Bank provides other services enquiry Number too which is listed below-
| Phone number | Services |
| --- | --- |
| 09015 483 483 | To Enquire the Account Balance in English |
| 9015 734 7340 | To Enquire the last 5 Transactions in English |
| 0 9015 613 613 | To Enquire the  5 Transactions in Hindi |
| 0 9015 637 637 | Home loan inquiry |
| 0 9015 642 642 | Car loan inquiry |
| 0 9015 257 257 | Home loan for HNI customers |
| 0 9015 778 668 | Home loan for NRI customers |
Canara Bank Account Balance Check by SMS (Simply SMS)
The SMS service offered by Canara Bank works by registering your Mobile Number with the Account Number and sending the SMS to 5607060
You can check the following details by sending the SMS from your Registered Mobile Number-
| Services | Format |
| --- | --- |
| Change MPIN | CANCMPIN<space>userid<space>default_MPIN<space>new_MPIN |
|  Balance Enquiry | CANBAL<space>userid<space>MPIN |
| Mini Statement | CANTXN<space>userid<space>MPIN |
| Forget MPIN | CAN<space>FGETMPIN<space> userid |
| Cheque status | CANCHQ<space>cheque number<space>userid<space>mpin |
Canara Bank Swipe
Canara Bank has launched its app called Canara Bank Swipe that enables its users to experience all the banking services in this single apps. The download link of the app is given below.
Canara Bank Net Banking.
Canara Bank through their internet services provides a net banking facility with many other features. Apart from transferring funds, you can also check Canara Bank Account Balance by Login to Canara Bank Net Banking.
Check Canara Bank Balance by ATM
ATM Machines provides free balance check facilities. You can use it in any bank ATM, all the bank ATM  Machines can be used to check the balance.
How to check the balance?
Insert your ATM card into an ATM- Machines will allow you to check your balance for free.
Type in your PIN on the machine- A four-digit number you should have set up when you opened your account.
Select the option to view your balance- You will be able to go back and make a withdrawal or print that balance.
Canara Bank Minimum Balance Requirement
The minimum balance required for the Canara Bank depends on the location of the branch
For Metro, Urban and Semi-Urban, the Average Monthly Balance is Rs.1000/-
for Rural branches, the Average Monthly Balance is Rs.500/-
Metro, Urban and Semi-Urban Branches
Rural  Branches
Average Monthly Balance against the stipulated amount of Rs. 1000/-
Penalty per month
Average Monthly Balance against the stipulated amount of Rs. 500/-
Penalty per month
Rs. 999/- to Rs. 700/-
Rs. 20/- +
Tax
Rs. 499/- to Rs. 350/-
Rs. 20/- +
Tax
Rs. 699/- to Rs. 400/-
Rs. 30/- +
Tax
Rs. 349/- to Rs. 200/-
Rs. 30/- +
Tax
Rs. 399/- and below
Rs. 40/- +
Tax
Rs. 199/- and below
Rs. 40/- +
Tax