Baroda Uttar Pradesh Bank is an initiative under the Government of India's RRB Act 1976 [23(1)] that promotes rural banking in India. According to the 3837 Government of India directive, dated 26.11.2019, Baroda Uttar Pradesh Gramin Bank, Purvanchal Bank and Kashi Gomti Samyut Gramin Bank have been amalgamated into Baroda U.P. Bank. The Bank of Baroda acts as the sponsor for this new amalgamated bank with its Head Office in Gorakhpur. The Baroda Uttar Pradesh Bank aims to transform into a banking body with a sound fiscal commitment to pursue a wholesome financial development of rural regions and progresses towards this goal with 3Cs- Care, Competence and Compassion towards its customers.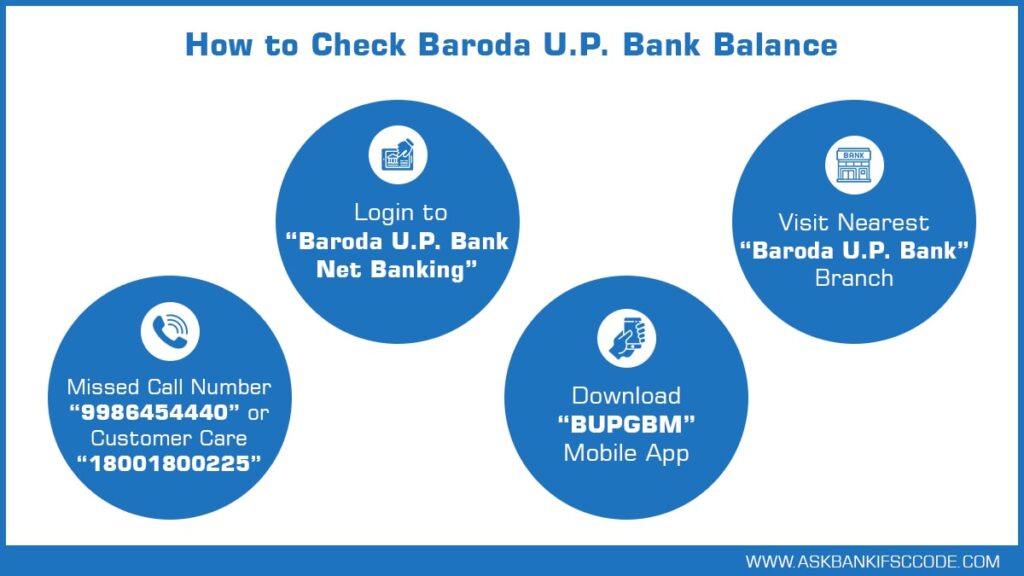 As an important step towards this goal, the Baroda U. P. Bank provides several easy facilities to its customers to check their current bank balances. You can use any of the below listed steps to instantly know the existing balance in your account.
Check Baroda U. P. Bank Balance through Missed Call Number
You can also check your Baroda U. P. Bank balance through the missed call facility. The bank has issued a missed call number for the convenience of their customers. Hence, anytime you want to check your bank balance, you can give a missed call on the number 9986454440 from your registered mobile number and get an instant update about your account balance in the form of an SMS.
Check Baroda U. P. Bank Balance through Internet Banking
Internet banking is one of the easiest methods to check your account balance. With this method, you can check your current bank balance from any safe browsing facility with few easy steps. However, before proceeding with this facility, you need to register under Baroda RRB connect. The steps to achieve this is as follows:
Go to the site ibanking.barodarrb.co.in
In the right-hand side, under the column 'Download Forms', click on the dropdown button 'Retail User'.
A new window would open up with the heading 'Baroda Utter Pradesh Gramin Bank' and underneath you can find the subheading 'APPLICATION FORM FOR INTERNET BANKING (FOR INDIVIDUALS). Download the form, fill in the relevant details like Customer ID, Account No., Name of Birth, Date of Birth, Residential Status, Communication Address, etc.
Submit the completed form at the base branch where you maintain your account for processing.
You will receive your User ID by post at your communication address. Collect the password from the base branch where you had earlier submitted the application form by showing the acknowledgment receipt.
You can use the Customer ID and password to check Baroda U. P. bank balance and engage in other online activities like online fund transfer within the bank, online stop payment of cheque, and viewing account summary.
Check Baroda U. P. Bank Balance through Mobile Banking
This internet based mobile banking app is available in Windows, iOS, and Android mode. It offers numerous financial and non-financial services such as funds transfer (both within and outside the bank), balance enquiry, mini statement, transaction history, and cheque status enquiry.
To prescribe for BUPGBM- Connect, you have to register through the base branch. You can download the application software through Google Play Store or through the bank's website. Just visit barodagraminbank.com and scroll down the webpage. Under the column Mobile Banking, click on the link "Application form". The form provides several facilities like registration for BUPGBM-Connect, De-Registration for BUPGBM-Connect, Linking and De-linking Bank Account with BUPGBM-Connect, and Resetting of mPin. Download the form and after filling in the essential information, submit it at the base bank to request the mobile app's password.
After activation of the mobile app, you can log-in to the app and change its password and MPIN.
After applying for BUPGBM-Connect in Bank's system, you will receive a welcome SMS on your registered mobile number within a one-day period.
Your mPIN will also be delivered to your registered mobile number.
Simultaneously, you will receive an SMS for the APPBUPGBM-Connect download link. Click on the link to download and install the mobile application on your registered mobile number.
The steps to install the BUPGBM-Connect app are as follows:
Download the BUPGBM-Connect from the Google App-Store into your mobile phone.
Run the app.
You will be prompted to enter your registered mobile number. Type the number and press OK.
You will receive an OTP in the form of an SMS. Type in this OTP in the allotted space.
Next, you will be asked for the login password. You need to select a secure four-digit numeric login password. Confirm the password in the allotted space.
After login password, you need to reset your mPIN. You need to reset it from the homepage interface.
Please note that the initial mPIN is supplied to you via a text message on your phone which you need to insert for the app to be activated. However, for subsequent use, you need to reset the four-digit mPIN. You need to maintain the secrecy of both your mPIN and password.
Check Baroda U. P. Bank Balance through Customer Care Number
The Baroda U. P. Bank balance can also be checked through its customer care number. The facility is extended to all Baroda UP Bank customers wherein they can check their existing bank balance by calling on the customer care number 18001800225 from their registered mobile number and following the directed steps to know the existing balance.
Check Baroda U. P. Bank Balance through Bank Visit
In case, you are not comfortable with the online mode, you can also visit the local Baroda Uttar Pradesh Bank to check your existing bank balance. Just remember to take along your bank passbook and identification proof and the bank officials would help you to update the bank balance in your passbook.
Was this post helpful?
Let us know if you liked the post. That's the only way we can improve.