Buying gold is the favorite activity for us Indians. It's not only for investment but also for the cultural importance attached to the Gold.
Gold symbolized prosperity and happiness which is why during the Danteras festival, buying gold is considered auspicious.
Gold is considered to be the safest and most valuable investment that you can make however, the only problem that you might face is the price of gold as well as the storage.
Gold is expensive and you'll require a lot of funds to buy gold at the same time storing the gold is also a tedious task.
Both of these problems can be solved by starting a daily SIP on gold investments. Sounds confused?
Don't worry, It's not a fraud or scam. It is a legit way of investing in Gold. You can start buying Digital Gold as low as Rs. 10/- daily and even order Gold coins when you have total of .5 gram and above.
You can redeem the digital gold in real gold or money which is amazing. This not only reduces your stress of safeguarding real gold but also helps you in investing in gold if you are low on funds.
One stone two birds.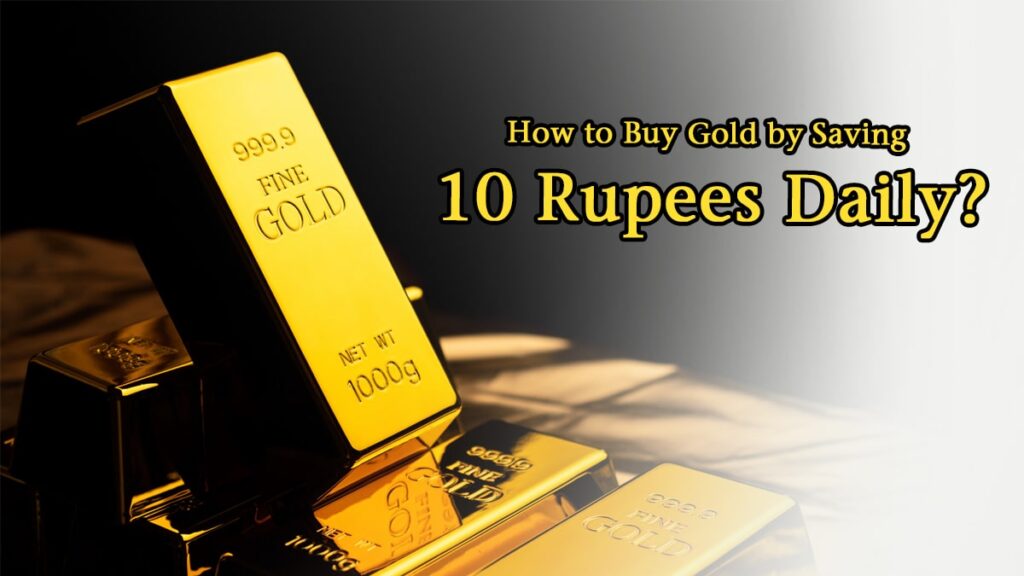 What is Digital Gold?
Digital Gold is an investment tool that provides you with Gold in gms based on your investment amount but in form of digital securities in your Demat Account.
You do not get physical delivery of the gold but a virtual form of gold investment which is stored in your name as reserves in the vaults.
Whenever you want to redeem them it can be physically gained by trading your eGold shares for physical gold.
Platforms Offering Digital Gold Investment
The following are the platforms offering digital gold investment in India-
Paytm
Paytm is a famous financial solutions company providing a wide range of financial products for customers.
Paytm also provides you an option to invest in gold through the Paytm Money App. You can download the app from the play store or app store. After KYC and Demat Account opening, you'll be able to start investing not only in gold but also in stocks and mutual funds.
Phonepe
Phone pay is an app-based fintech company providing various finance-related products to customers like UPI payments, bill payments, etc.
Phonepe also allows customers to purchase digital gold from their app. Your gold will be stored in your CDSL Demat Account and Phonepe will act as your asset management partner.
Groww
Groww is an investment-focused app that provides you with various investment options including investment in eGold.
You can start investing in gold for as low as Rs. 10/- using this app. The best part about this app is that unlike some gold or stock-focused apps, Groww provides a complete solution for your investment journey.
Jar
Jar is an amazing gold investment startup that provides you with gold investment options like SIP-based investment, both one-time and recurring.
You can setup autopay and the amount will be deducted from UPI app, which will be used to buy Gold with the current Gold price. This can be good option for those who do not have investment habits.
You can order 24 Carat Gold coins when you have enough amount to buy .5 gram gold coins or above.
FinPlay
FinPlay is a wealth-growing startup that not only manages your investment but also teaches you about investment and stock selection.
This can be great for beginners who do not know anything about investments.
How to Redeem Digital Gold to Physical Gold?
You can follow these steps to redeem Digital Gold to Physical Gold-
The very first step is to submit a delivery instruction slip to the depository participant(DP) with a surrender request form
DP then transfer the eGold unit to the NSEL account based on Delivery Instructions Slip (DIS)
Now, DP then attests the signature of the investor on the transfer request form (TRF) and handover the same to the investor along with the acknowledgment of DIS
Then you'll have to submit the DIS & SRF to NSEL specifying the center from where you intend to take delivery
Then NSEL computer all the taxes, package charges, delivery charges, etc. for your physical gold.
The total amount that you'll receive will be communicated by NSEL via the Email ID provided in the SRF
You'll then require to make payment through DD/Cheque in favor of "National Spot Exchange Ltd"
Charges to be paid For Digital Gold
When you take physical gold for the investment, you are required to pay certain charges imposed on the Government as taxes or delivery charges, etc.
The minimum amount of gold units that you can redeem is 1gm of gold coins or in denominations of 8gms, 100 gms, 1kg, etc.
When you choose to receive the physical delivery of the gold, you'll have to pay VAT as per the current rate. you'll also have to pay other taxes for redeeming gold physically.
FAQs
Is eGold investment reliable?
Yes, eGold investments are safe. When you invest in digital gold, the asset management company will allocate physical gold and peg it against your eGold unit. So, your investment will always be safe and will not be subject to the speculations of the Gold management company.
What is the purity of the gold delivered by NSEL?
The gold provided by the NSEL has a purity level of 995 which is fully insured.
What are the locations where eGold can be redeemed by NSEL?
The physical delivery of the Gold can be redeemed by NSEL in selected locations like Ahmedabad, Mumbai, Delhi, Kolkata, Indore, Kanpur, Jaipur, Hyderabad, Cochin, Bangalore, and Chennai.