SBI has devised an easy method to help its customers block their SBI ATM cards from the comfort of their homes and offices. Timely blocking your card saves you from frauds and major economic losses in the instance of theft or loss. So, if your card is stolen, lost, or compromised, you can effortlessly block your SBI ATM cum Debit card with these handy steps.
Through Customer Care Number
One of the convenient and easily accessible way to block ATM card is using SBI customer care. SBI provides the facility to block the SBI Debit card through a telephone call from your registered mobile number. You can make this call to SBI Customer Care Numbers anytime of the day 24X7. The helpline numbers are:
1800 11 2211 (Toll Free)
1800 425 3800 (Toll Free)
080-26599990
These SBI Debit card block numbers are accessible from all landlines and mobile phones in the country.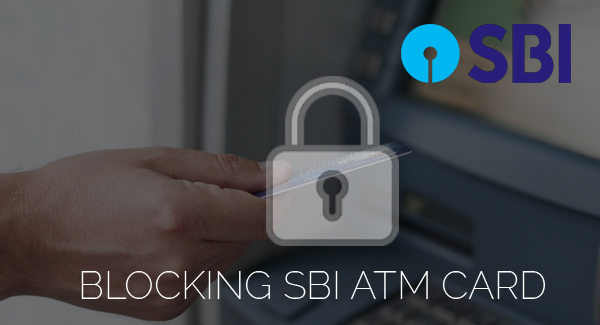 Through SMS
SBI also provides an easy offline method of blocking your ATM cum Debit Card. To start the process you would require keeping handy your registered mobile number and the last 4 digits of your SBI ATM/Debit Card. The steps to block an SBI ATM/Debit card through SMS are as follows.
Send an SMS 'BLOCK XXXX' to 567676
 Here, XXXX is the last four digits of your SBI ATM cum Debit Card.
Example: "BLOCK 6151"
On dialing the SBI customer care number, First select the language and then press option to block ATM card and you will be connected to customer care executive for further assistance.
Through SBI Net Banking
If you use net banking, then you can easily block your SBI ATM card on the internet by visiting the official SBI site. The steps to blocking the card are as follow.
Step 1: Open the website www.onlinesbi.com and log in with your username and password.
Step 2: Select "ATM Card Services>Block ATM Card" link beneath the "e-Services" tab.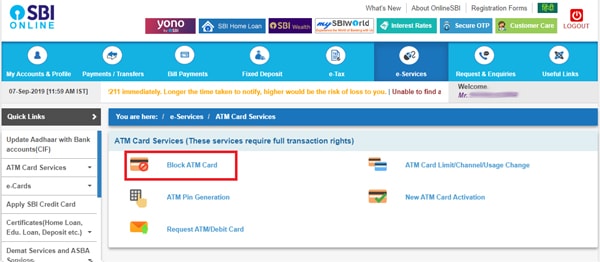 Step 3: Select the Account, under which you want to block your ATM cum Debit Card.
Step 4: Carefully look at all the active and blocked cards displayed on the site. Keep in mind that only the first 4 and last 4 digits of the card(s) would be visible.
Step 5: Carefully select the card which you wish to block and click "Submit". You will get confirmation notification to block the card. Hence, verify the details and confirm.
Step 6: Scroll down the page further and write down the reason for blocking from the choices "Lost" or "Stolen". Once selected, click on "Submit" tab.
Step 7: Next, you will be greeted by a remark option where you can put in any remark (if you want to) on the given.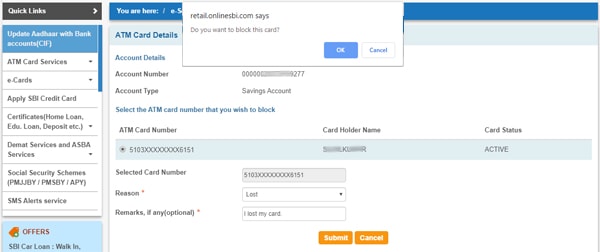 Step 8: Next, you will be promoted to select the mode of authentication from two choices- SMS OTP or Profile Password. Select the one that is more comfortable for you.
Step 9: On the subsequent screen, enter the OTP password /Profile password as selected earlier and click the "Confirm" button.
Step 10: You would be greeted with a success message along with a Ticket No. after the ATM cum Debit Card has been successful blocked. Please, note down this Ticket No. for future reference.
Note: Prior to blocking an account online be sure of the account number because once you block an SBI ATM card through online portal, you will not be allowed to unblock it through the net and would necessitate a visit the branch to make the necessary changes.
Through SBI Mobile Banking
You can also block your SBI ATM card from your registered mobile number. The steps are as follows.
Step 1: The first step to cancel the SBI ATM cum Debit card through mobile banking is to download the app 'SBI Anywhere Personal- Mobile Banking application' from the Google Play Store.
Step 2: Once the app is successfully downloaded, login to SBI banking application.
Step 3: Now choose the 'Services' option available in the home screen.
Step 4: You will be greeted by a new page. Here click on the 'Debit Card Hot Listing' option.
Step 5: On the subsequent page, you have to select the ATM account linked with the ATM card that you intend to block.
Step 6: You will be greeted by a new pop up window where you will have to select a reason for blocking the card from the options 'Lost' and 'Stolen'.
Step 7: The page also contains a remark option where you can put any remark on the given space.
Step 8: Click on 'Confirm' option.
Step 9: You will receive an OTP (One Time Password) on your registered mobile number. This OTP could be auto-detected by your mobile, or you can also enter it manually to authenticate the password.
Step 10: Click on the 'Submit' option.
Step 11: You will be greeted by a new pop-up window confirming your blockage as successful. Click on 'Ok' to proceed.
Step 12: You will receive a SMS alert that your SBI ATM cum Debit card has been blocked successfully. Save this message for future references.
Hope you were able to block your SBI debit card using any of the above method. You may contact your branch for immediately help and guidance too. Find SBI nearest branch to you.