In the instance of loss, theft, or breach of information, the Punjab National Bank provides a whole list of options through which you can easily block your ATM card at the earliest. The PNB customers can block their card through net banking method, SMS method, call to the customer care unit, and also by personally visiting the local branch office.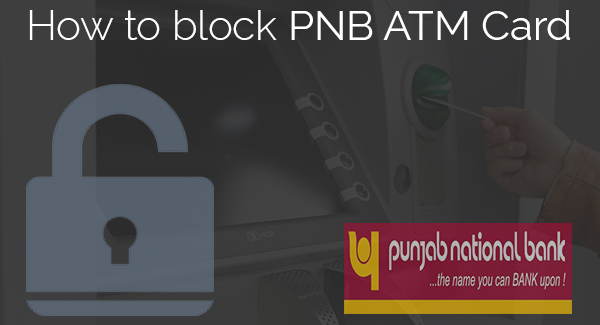 Through PNB Customer Care Number
The customers of Punjab National Bank can also block their PNB ATM card by calling the below listed customer care numbers:
Punjab National Bank toll-free number: 1800-180-2222 or 1800 103 2222
Punjab National Bank helpline number: 0120-2490000
ATM switch direct call: 011-23319972
Once you dial any of these numbers, you would be greeted by a PNB customer care executive. Share the details of your PNB Debit card with this executive and answer the queries to validate your account. On getting right responses, the executive would help you with an instant blocking of your Debit card. You would then get a confirmation message on your registered mobile number confirming the blockage of your card.
Through SMS Method
The SMS service is one of the easiest ways for Punjab National Bank customers to block their ATM card. However, to avail this service, a customer must have his or her number registered with the bank.
In order to block the PNB ATM card, the customer has to send an SMS " Hot space Card Number" at the number 5607040 (for example HOT 5726540000000012). Once the bank receives the message, they will block the debit card of the customer and send him/her an intimation message of the same.
Through PNB Online Net Banking
A PNB customer can easily block the PNB ATM Card through net banking method provided he or she has an active internet banking account and have the information about the existing username and password. The steps to block the card are as follows:
Log in to the official website of Punjab National Bank.
Click on the link for personal banking option.
In the new page, login using your Punjab National Bank username and password.
Select your choice of language and then click on the "sign in" button.
There will again be a new page. At the top bar of your screen, you will find a "value added services" button. Click on this button.
The button shows a number of options in the drop down menu. Select the "debit card hotlisting" link.
Next, choose the specific bank account link associated with the particular ATM card that you want to block (in case you have more than one account with the Punjab National Bank).
After correctly choosing the account, click on the "continue" button.
Check your registered mobile number for an OTP (One-time password) sent by the bank.
Fill in the OTP at the designated place and click the "confirm" button.
You will be greeted with a message confirming that your Punjab National Bank ATM card has been blocked.
Through PNB Branch Personal Visit
In case you are unable to block your ATM card through the internet banking option, SMS, or customer care service, then you will have to visit the bank branch in person along with your account details and request the authorities to block the ATM debit card for you.
FAQs
How to unblock a wrong ATM card?
You could accidentally block a particular ATM card for some reason. This could be because you have more than one PNB accounts and mistakenly blocked the wrong one or you blocked an ATM card in a hurry when you could not find it and later saw it safe within your personal belongings. In these instances you can easily unblock the card and reactivate it by going to your internet banking account or by giving a call to the Punjab National Bank customer care unit.
Is there a penalty for blocking my card?
No, there is no penalty for blocking your Punjab National Bank ATM card.
What is the next step after blocking the Punjab National Bank debit card?
Once you have successfully blocked your Punjab National Bank, then the next step would be to request the bank for a new ATM debit card. You can submit this request either through your net banking account or by visiting in person the branch of Punjab National Bank where you hold your account.
If I find some money missing from my Punjab National Bank account, should I immediately block my account?
No, wait before initiating the steps to block your account. If you find some money missing from your PNB account, then engage in a thorough check of your bank statement to check the source from where the money has been debited from your account. If you are confident that this money was not transacted by you, then make an immediate contact with the bank and request with the authorities to investigate the matter. If you believe that this unnamed transaction is a result of your card details duplication or forged, then immediately go for blocking your card. After your card has been successfully blocked, you could request the bank to issue a new ATM card of your choice.