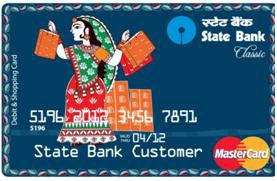 SBI is the largest public sector bank in India. It has 24,000+ branches all over India and also a foreign presence. It has 191 offices spread over 36 countries which makes it the largest presence in the foreign markets among the Indian banks. There are around 59,000+ ATMs of SBI and in 2017 SBI also launched its own Digital Banking Platform named YONO. Recently in 2017 seven of the associate banks merged with SBI Bank. These banks are State Bank of Bikaner and Jaipur (SBBJ), State Bank of Hyderabad (SBH), State Bank of Indore (SBN), State Bank of Mysore (SBM), State Bank of Patiala (SBP), State Bank of Travancore (SBT) and Bharatiya Mahila Bank (BMB). All these banks were given the same logo as the parent bank, SBI. This makes the State Bank of India now a prime bank for ATM services. If you have an SBI account and want to request for new Debit Card, you can do so from your branch or through Net Banking.
To request a new debit card from your net banking login online, you may follow the following steps:
Step 1: Login to SBI netbanking website – onlinesbi.com
Step 2: Click e-Services on the top Menu and Then click ATM Card Services. There you can see different SBI ATM Card Services options:
Block ATM Card
ATM Card Limit/Channel/Usage Change
ATM PIN Generation
New ATM Card Activation
Request ATM/Debit Card
Step 3: Click on the 'Request ATM/Debit Card' tab.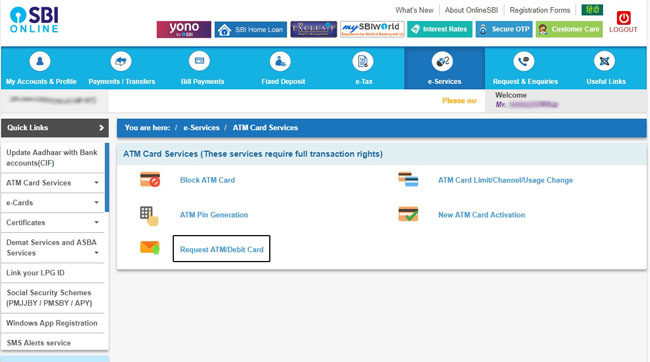 Step 4: Select Mode of Validation, Using One Time Password (OTP) or Using Profile Password.
Step 5: Click on OTP. Now you will receive an OTP in your Registered Mobile Number (RMN).
Step 6: Enter the OTP Received and click on 'Submit'.
Now you will be transferred to a new screen, there you will see your SBI account numbers and branch details.
You can select between the Profile Password Method or you can enter your SBI Profile Password and Proceed.
Step 7: Select Your SBI Account Number and then enter the 'Name' (written on the Card) and select the type of the Card from the drop-down selection.
Step 8: Read Terms and Conditions and then select the 'I Accept Terms & Conditions' box.
Step 9: Click on Submit button.
Confirm the address and other details on the next page and click on the 'Submit' button again.
Now you can see a success message saying "Congratulations! Your card request has been recorded. You will receive your debit card within 7-8 business days at your registered address".
Select Type of the card
You noticed that there are different types of cards in the dropdown list while selecting card type.
SBI Global International Debit Card (MasterCard)
BI PayPass International Debit Card (MasterCard)
SBI Global International Debit Card (Visa)
SBI PayWave International Debit Card (Visa)
SBI Classic Domestic Debit Card (Visa)
SBI Classic Domestic Debit Card (MasterCard)
SBI Classic Domestic Debit Card (RuPay)
These cards have different issuance charges, annual maintenance charges, card replacement charges, daily Cash limits at ATMs, daily e-commerce transactions limits, and other facilities. You may choose as per your convenience.