Mudra Loan is a specialized business loan that is designed to cater to the MSMEs in India. It was introduced in the year 2015 and ever since this scheme has been empowering various businesses.
This scheme is also available for Startups and can offer great opportunities for business development. You can apply for the Mudra Loan in any bank or NBFCs in India including the Government banks in India.
Punjab and Sind Bank is one such bank that offers Mudra loans. In this article, we will discuss how to apply for the Mudra Loan in Punjab and Sind Bank, documents required, process, etc.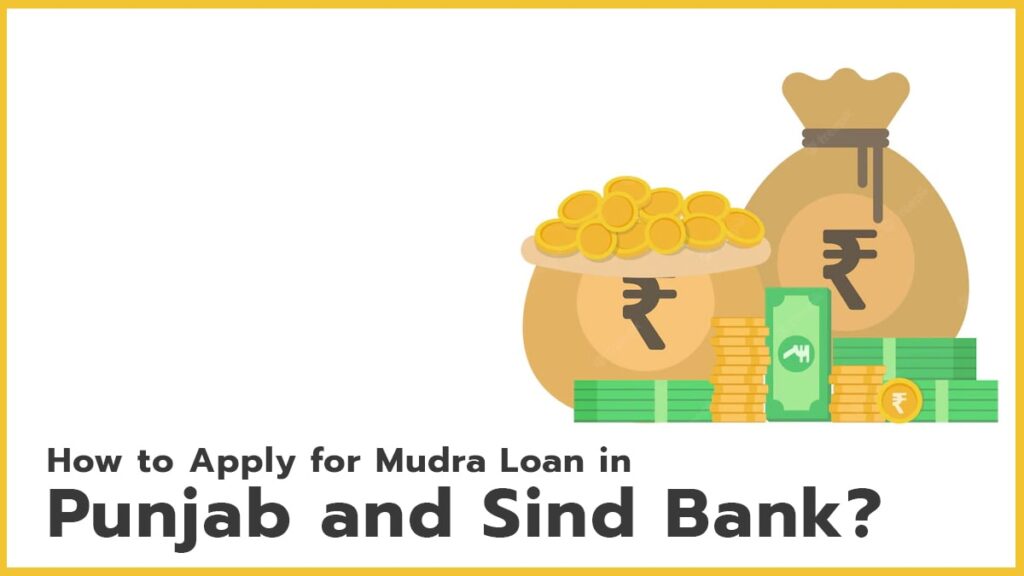 Types of Mudra Loan
The following are the types of Mudra Loans in Punjab and Sind Bank-
Shishu
As the name suggests, a Shishu loan is a loan that is relatively for a small amount i.e. up to Rs.50,000/-
Kishor
Kishor Mudra Loan is a medium amount loan i.e. you can apply for the mudra loan for the amount of more than Rs.50,000/- up to Rs.5 Lakhs/-
Tarun
Tarun Mudra Loan is a loan in which you can apply for the loan amount of more than Rs.5 Lakhs/- and up to the maximum limit i.e. Rs. 10 Lakhs/-
Eligibility Criteria for Mudra Loan
The following are the eligibility criteria for the Mudra Loan in Punjab and Sind Bank-
The applicant must be a citizen of India with the resident status
Your company must be legally registered as a proprietary concern, partnership firm, private limited, public limited company, etc.
If you are a startup then you'll have to prepare a business plan for your startup
How to Apply for Mudra Loan in Punjab and Sind Bank?
You can follow these steps to fill out the application form for the Mudra Loan-
Visit your nearest Punjab and Sind Bank branch and ask the bank executive for the Mudra Loan requirement
He/she will provide you with the application form which you'll have to fill with details like name, address, startup/business details, Amount requirement, etc.
Now, attach the below-mentioned documents along with the application form
After that, the bank executive will review your application and provide you with details related to the scheme
Now, you'll have to pay the processing fee, some banks do not charge a processing fee for the Mudra Loan
After that, your application will be forwarded to the department concerned and within a few days you will receive a call/visit by the bank officials regarding the loan
After completing all these processes, you'll be notified with the details related to the loan amount, interest rate, tenure, etc.
Now, if the loan has been sanctioned to you then your bank account will be credited with the funds and you will receive an SMS confirming that
Documents Required for Mudra Loan
The following are the documents required for the Mudra Loan in Punjab and Sind Bank-
Identity Proof: Aadhar card, Voter ID card, PAN card
Business Plan
ID Proof of SC/ST category, if any applicant falls under this category
2 passport-size photographs of the applicant
Age Proof
Address Proof- Credit card bill, Utility bill, etc.
Income Proof
Last 12 months' bank statement
Business establishment certificate
UDYAM and/or Startup India registration
FAQ
What are the minimum and maximum tenure for the loan repayment?
The minimum and maximum tenure for the loan repayment are 12 months to 5 years respectively.
Is ITR necessary for applying for the Mudra Loan?
Yes, ITR is a necessary document that you'll have to provide for Mudra Loan, however, for Startups, instead of ITR, you can provide the business plan and income generation planning.
I have a Startup and need Mudra Loan, but do not have any ITR?
For Startups, Mudra Loan specifically does not require any ITR and you'll have to submit only the business plan.
Do I have to provide the bank with some collateral for Mudra Loan?
No, Mudra Loan does not require any collateral for the loan.
What is the interest rate for the Loan in Mudra Loan scheme?
In Punjab and Sind bank, the Mudra Loan interest rate is 8.85% p.a. onwards and the interest rate for a loan varies from a variety of methods.
Was this post helpful?
Let us know if you liked the post. That's the only way we can improve.