On Friday the 30th August, the Union Finance Minister Mrs. Nirmala Sitharaman declared a strategic move by the government to strengthen the flagging economic sector. The Finance Minister shed light on a series of mergers that involved 10 state-owned banks struggling under a mountain of debt and ensured stronger balance sheets to boost lending and revive monetary growth.
This merger brought down the total state-owned banks from 27 to 12.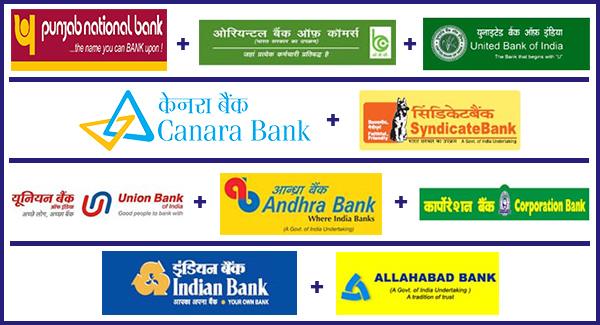 This is the first big merger in the new regime of Prime Minister Narendra Modi's government. The Narendra Modi led BJP won second time in a row in the May 2019 assembly elections.
Punjab National Bank, Oriental Bank of Commerce and United Bank will unite to transform into nation's second-largest bank having a net business of over 17.95 lakh crore INR and with a total of 11,437 branches.
The merger is the biggest one and involves Punjab National Bank, Oriental Bank of Commerce and United Bank. After this merger, the three banks would form India's second-largest bank after the State Bank of India (SBI) and would have a total business worth Rs 17.95 lakh crore with 11,437 branches spread out throughout the country.
How it Looks After Merger
Given below is a list of the public sector banks after consolidation :
Bank of Baroda
Bank of India
Central Bank of India
Indian Overseas Bank
Punjab & Sindh Bank
State Bank of India
UCO Bank
Merger of Punjab National Bank, Oriental Bank of Commerce and United Bank of India
Merger of Canara Bank and Syndicate Bank
Merger of Union Bank, Andhra Bank and Corporation Bank
Merger of Indian Bank and Allahabad Bank
The Finance Minister also announced the merger of several other banks- Canara Bank and Syndicate Bank; Union Bank of India, Andhra Bank, and Corporation Bank; and Indian Bank and Allahabad Bank.
After being amalgamated with Allahabad Bank, the Indian Bank would transform into the seventh-largest public sector bank with a net business of Rs 8.08 lakh crore; while the merger of Union Bank of India, Andhra Bank and Corporation Bank will make the trio the fifth-largest public sector bank in the Indian market.
"We shall continue with two banks that will have national presence — Bank of India with Rs 9.3 lakh crore business size and Central Bank with Rs 4.68 lakh crore business size," Sitharaman said.
Mr. Rajeev Kumar, the banking secretary declared that there would be no retrenchment in any of the banks. "Rather, employee benefits and human resource conditions will improve. The best practices will be followed. We will especially ensure that no employee is negatively affected because of this," he said.
Kumar further asserted that the mergers would be good for the Indian economy. "This is exactly the right time for these consolidations. This will not cause any disruption because anchor banks will draw from their experiences. The synergy will boost the economy and provide great stability," the bank secretary said.
The union of Syndicate Bank and Canara Bank would transform them into the fourth-largest public sector bank with a net worth of Rs 15.20 lakh crore and a total of 10,324 branches. The amalgamation of Andhra Bank, Corporation Bank and Union Bank of India would make them the fifth-largest public sector bank on the Indian soil with a net worth of Rs 14.59 lakh crore and a total of 9,609 branches.
The Allahabad Bank would merge with Indian Bank to become the seventh-largest public sector bank having a worth of Rs 8.08 lakh crore with a strong base of branches in the south, north and east of the nation. The Finance Minister added that the Bank of India and the Central Bank of India would continue to exist and operate as before.
In the previous year 2018, there had been a merger of Dena Bank and Vijaya Bank with the Bank of Baroda that resulted in the third-largest bank by loans in the nation.
The mergers would leave the country with just 12 public sector banks, including SBI and Bank of Baroda. Moreover, Indian Overseas Bank, Uco Bank, Bank of Maharashtra, and Punjab and Sind Bank that possess sturdy regional focus, would continue to exist as separate entities.
Mrs. Sitharaman further revealed governance reforms in public sector banks by informing that their boards would be provided complete autonomy and would be given freedom to engage in succession planning. Bank boards would even be provided flexibility to charge sitting fee of independent directors, the Finance Minister continued, adding that non-official directors would assume roles in parallel to independent directors.
"To make management accountable to board, board committee of nationalised banks to appraise performance of general manager and above including managing director," she said.
After the mergers, the boards would have autonomy to appoint chief general manager level according to the business requirements. They could also employ chief risk manager at market-linked compensation to draw optimum talent.
Last week Mrs. Sitharaman had disclosed the first of three planned inducement packages which involved tax reductions, enhanced liquidity in the banking sector (formal and shadow), a rise in government spending on auto and infrastructure, and speedy recompenses of goods and services tax (GST).
The move was followed by liberalisation of overseas investment rules in four sectors that included coal mining, contract manufacturing, single brand retail and digital media.