Employee Provident Fund or EPF is an account that is a savings account targeted towards the savings of the salaried person who saves some amount of money from their salary for retirement. Retirement is a very important stage of a person as after this stage the person does not work. The financial requirement for the individual does not slow down which makes it essential to source a capital generation method. EPF help in meeting the financial need when the user is retired or is jobless. The interest rate is higher which ranges from 8-12%.
Recently, EPFO has announced the New Withdrawal rule which provides more liquidity. Now you can withdraw 75% of the amount if you are jobless for a month. Addition of the new clause 68HH has been inserted after para 68H in the 1952 EPF act.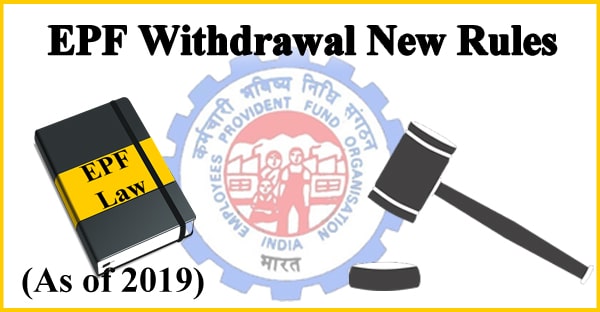 According to the 68HH, "A Non-refundable advance to a member in case of continuous unemployment for a period of not less than one month.- The Commissioner or, where so authorized by the Commissioner, any other officer subordinate to him, may permit a member, on ceasing to be an employee in any factory or establishment to which the Act applies, a non-refundable advance up to seventy-five percent of the amount standing to his credit in the Fund, if he has not been employed in any factory or other establishments for a continuous period of not less than one month immediately preceding the date on which he makes an application for such non-refundable advance."
What New Notification Tells You?
The Notification that adds a new para to the EPF Act can be concluded by the following points-
You can withdraw 75% of the EPF Credit in case you are unemployed for a month
This is a non-refundable amount which cannot be returned to the EPFO.
The one month period is the waiting period after the application for the withdrawal is initiated to the EPFO
After withdrawal, the account will still be continued with the remaining credit.
66HH is the new para added into the existing law which will not change or affect the existing law
Earlier you are allowed to withdraw 100% of the EPF Balance in two cases

If the women getting married then there will be no waiting period of two months the full amount in the EPF Account will be provided
A person unemployed for two months can withdraw the full EPF Balance.
Was this post helpful?
Let us know if you liked the post. That's the only way we can improve.